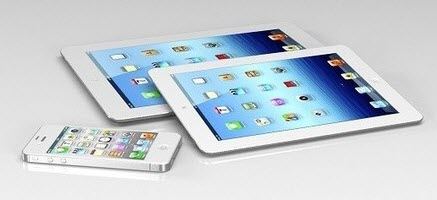 "Help me out! I was trying to restore iPad mini backup file from iTunes, but I was asked to enter iPad mini encrypted backup password. I don't recall ever checking "Encrypt backup files" to set an backup password for my iPad mini when I backed it up in iTunes! I don't wanna any of my photos, contacts locked permanently! Is there any easy solution to this problem?"

It is often the case that when iTunes asks for password to unlock iPad mini backup file, some people can't remember ever setting one. Forgot or lost your iPad mini backup password can be very frustrating, but it's not the end of the world, in order to decrypt the forgotten password and gain forensic access to encrypted iTunes backup password for iPad mini, you can do an iPad mini backup password recovery, iPad mini Backup Password Crack is a highly recommendable tool, it find iPad mini backup password for you with which you can unlock your backup. It's the fastest and most efficient solution.

Free Download

How to Find Lost/Forgotten Encrypted Backup Password to iPad mini?

This program can find your lost password to iPad mini backup efficient, thus enabling the transfer of your apps, photos from your older iPad, etc. No damage or data loss would be caused. Just follow the 3 steps below:
Step 1: Import Key Container File
Download and run it to start to find password to unlock iPad 4 mini backup file.
The program will detect iPad mini encryption backup file automatically, thus you can select the backup file and "Enter" button. But if your targeted backup file isn't listed, just click "Import" to complete file importing.
Step 2: Select a Suitable Attack Type
This program offers three types of attack for you to unlock iPad mini backup password: Brute-force Attack, Brute-force with Mask Attack and Dictionary Attack. For the sake of efficiency, it's advisable that you choose the most suitable type accordingly.
1) Brute-force Attack-Don't Remember Password to iPad mini Backup at all
Under Brute-force attack, no settings are necessary, simply choose this type and click "Start" to continue.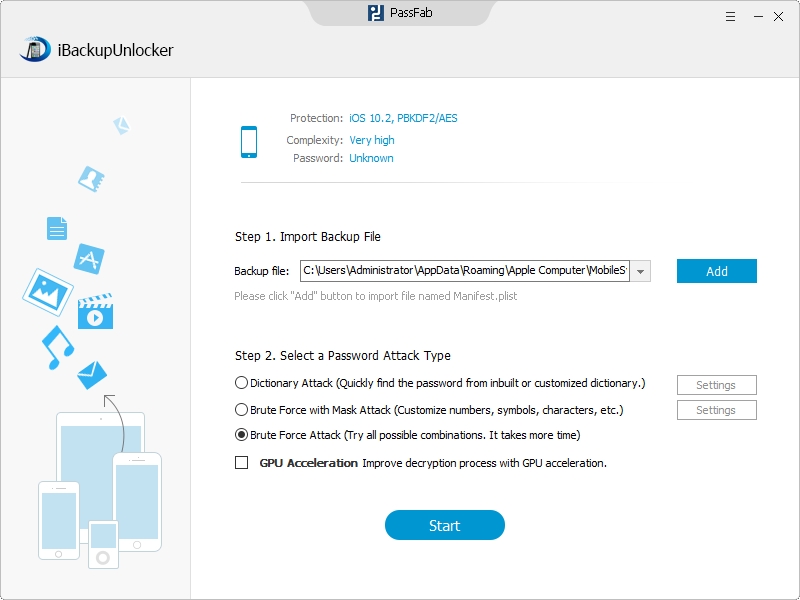 It by no means will cost too much of your time, but it may a little longer compared with other 2 types.
2) Brute-force with Mask Attack-Still Remember Parts of the Backup Password
After choosing Brute-force with Mask Attack, click "Settings" to set related parameters. The following interface will appear: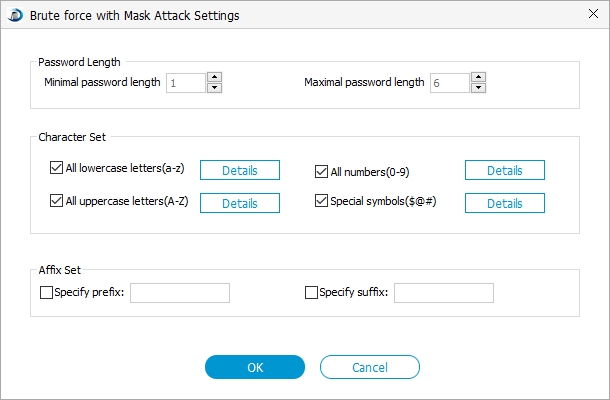 Done defining settings, go to step 3 to recover iPad mini backup password.
3) Dictionary Attack-Have an Integrated Dictionary or Self-created one
After choosing Dictionary Attack, enter "Settings", Choose from the default or self-created dictionary of all the passwords in text file form.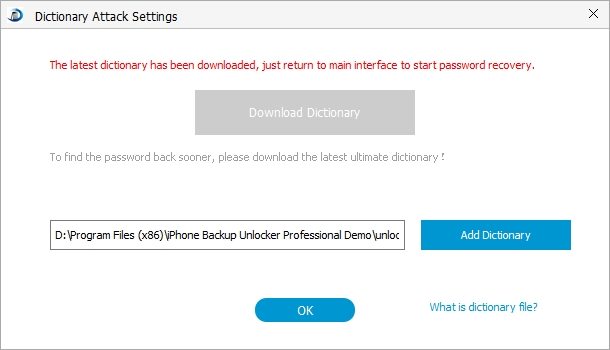 Step 3: Start to Crack Encrypted iTunes Backup Password to iPad mini Backup
After choosing the most suitable type of attack, start to find encrypted iTunes backup password to iPad mini backup by clicking "Start".
The lost iPad mini backup file password will be regained in minutes with which you are able to restore iPad mini backup files from iTunes.
Remember to reset iPad mini backup password with the old password in case you forget it next time.
How to Reset Backup Password for iPad mini?
It's better to reset the password to one that's frequently used, given your not remembering backup password experience, Here's how:
Step 1: Connect your iPad mini to your computer, locate your iPad mini in iTunes.
Step 2: On the right column you'll several items, click "Change password" under "Backup" option.
Step 3: Enter old password, put in new password and confirm it and you are done.
iPad mini Backup Password Crack will save your day! Forgot iPad mini backup password will become less an unpleasant experience with this tool.