You want to restore your iPhone backup file from iTunes backup only to get the message "iPhone backup password incorrect". You wonder why because you never locked your iTunes backup file. But indeed there is such automatically locked problem. PassFab iPhone Backup Unlocker is truly a great powerful tool to deal with iPhone backup password incorrect issue.
Free Download
What is iPhone Backup Unlocker?
Generally, iPhone Backup Unlocker is such a tool which enables access to password encrypted iPhone backup file and helps to recover password to unlock iPhone backup incorrect. It features with fast and efficient speed and high compatible ability with all versions of iTunes and iOS. Its operation steps are simple as below.
How to Unlock iPhone Backup Password if iPhone backup password is incorrect?
You can download the free trial version in the above for a try at first. Follow the steps below to learn how to solve iPhone backup file password incorrect problem.
Step 1: Import iPhone Backup File
Launch it, then the main interface shows like below.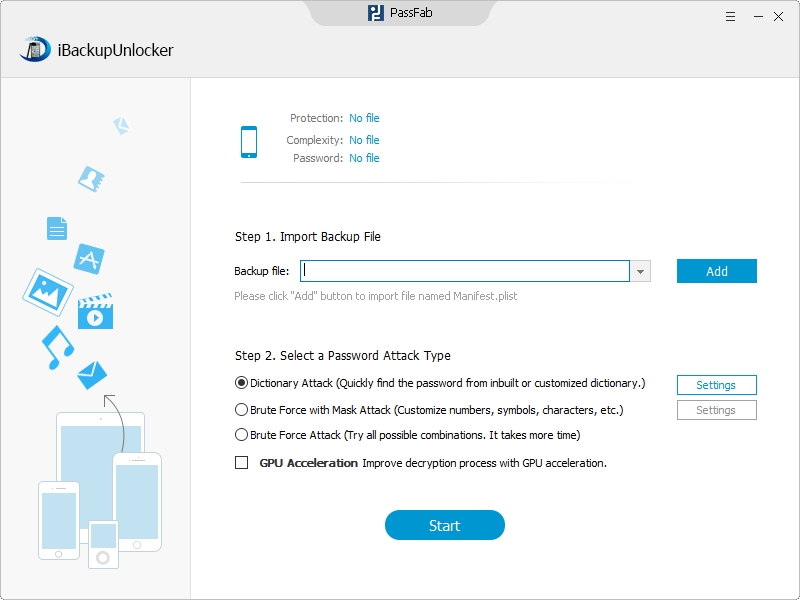 The program will detect and find directory of the backup file automatically. Select your backup file from its destination folder. Click "Open" to finish file importing.
Step 2: Select an Attack Type and Define the Settings
There are three types of attack for choice.
Option 1: "Brute-force Attack". If you forgot your password completely, this selection will try all possible combinations by default, no need to define any settings.
Option 2: "Brute-force with Mask Attack". If you still remember some characters of your password. For instance, if you remember your password length is 5 and the first character is "a", you can set minimal password length as "1" and the maximal length as "6", and filled the required blank "Specify prefix" with "a".
Option 3: "Dictionary Attack". Here you should choose "Use Default Dictionary" or "Browse Dictionary File" if you have a password list.
These are the three types of attacks, you can choose one fit for you accordingly.
Note: Dictionary is the most time-saving one, you are advised to run it as a priority.
Step 3: Start to Recover iPhone Backup Password
Click "Start" to start cracking the password. During the process, you are allowed to "Stop" and then save the project to continue next time or to end the project.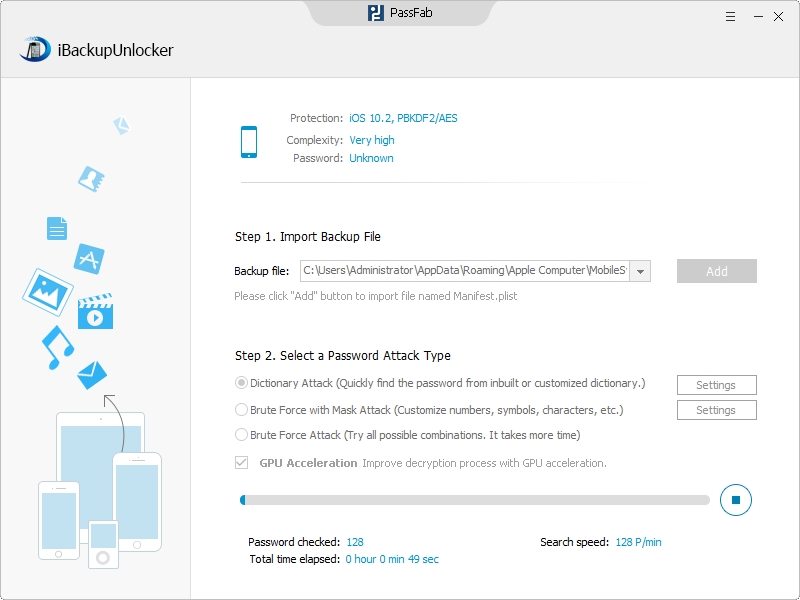 Within minutes, your desired iPhone backup password will display in the following File Opening Password Box.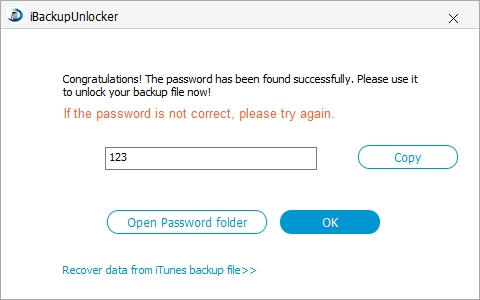 Done well! Congratulations to find the iPhone backup password successfully. iPhone backup password incorrect for windows problem has been fixed.
Tips for avoiding backup password incorrect problem
Whenever you set a password for your iPhone backup file or other papers, take a note of it in your notebook or save it as a text or word document in your PC. Note each password and relevant information in detail to avoid forgetting it. This based on the old saying "The palest ink is better than the best memory."
In strict accordance with the above advice, I bet you won't encounter "Password incorrect" problem in the future. In worst situation, there is still iPhone Backup Unlocker to make remedies.