When Windows XP detects a problem from which it can't fix, it displays Stop messages. Your screen disappeared and a blue screen pops up with text-mode error messages that can help you diagnose and possible resolve the problem detected by the Windows kernel.
However, for starters, fix Windows XP blue screen is not as easy as you imagine according to the text messages. Before fixing a Windows XP blue screen or blue screen of death error (BSoD) you must first identify why your Windows XP computer has gotten the Blue Screen.
Buy Now
Cause of Windows XP Blue Screen
1. A new installed drive or program may be the main culprit of blue screen error in Windows XP. Several times when Windows updates itself automatically it will download certain drivers. Or say you just installed a camera or printer. If you confirm this is the reason, then either uninstall it, or do a Windows XP restore.
2. Some viruses can cause Windows XP blue screen on startup, when they infect the master boot record (MBR) or boot sector.
3. An overclocked or misconfigured BIOS can cause Windows XP BSODs.
4. And more.
How to Fix Windows XP Blue Screen of Death?
No matter what reason, you should fix blue screen error on Windows XP as soon as possible. It is especially urgent when a project stored on your computer is needed to handle with. How to do it? You can rely on a third-party software program to fix Windows XP blue screen, such as Windows Boot Genius, which provide you with a boot CD/DVD/USB to solve all booting issues including Windows XP blue screen within minutes. Its fancy interface allows every level of computer user to finish the task without any effort.
Then follow the steps below to repair blue screen of death in Windows XP.
Step 1: Create a Boot Disk
In this step, you need to burn a bootable disk. Insert a blank CD/DVD or writable USB flash drive into a computer that can run normally. Download, install and run this software. You only need to perform a click of mouse on the "Burn" button in the center.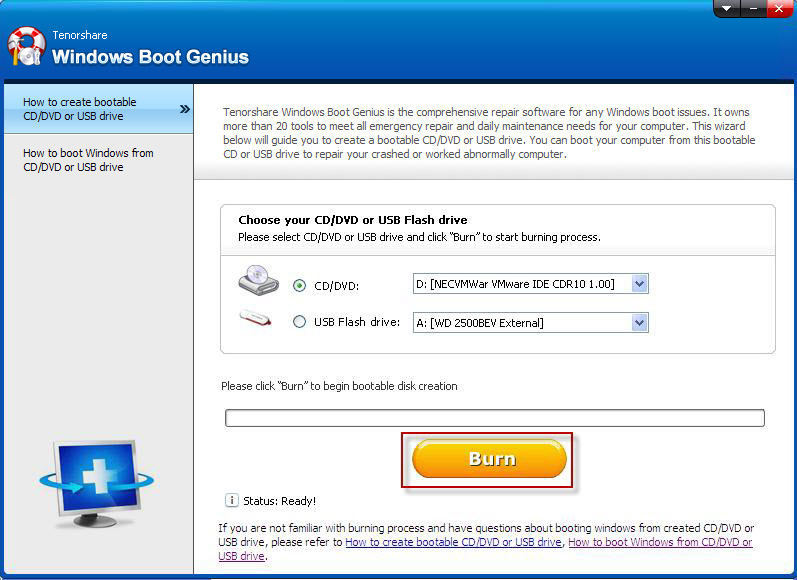 Step 2: Boot Computer from CD/DVD/USB
Turn to Windows XP computer with blue screen, and insert the newly burned bootable CD/DVD or USB to it. Start the computer and press F12 to get into the Boot Menu. Choose the CD or USB as the first boot device and proceed. Press F10 to save and the computer will reboot automatically and attempt to boot from CD/DVD/USB.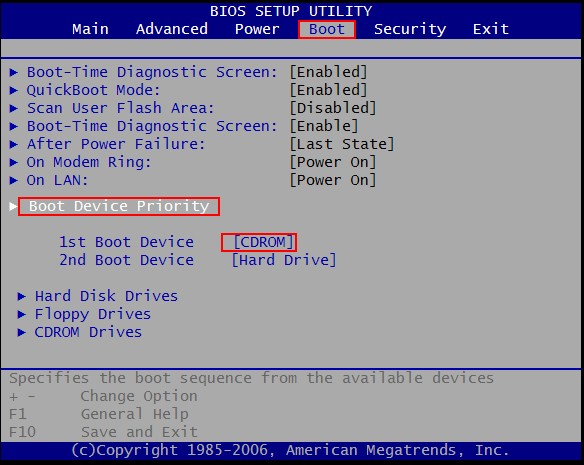 Step 3: Back up before Windows XP Blue Screen Fix
Then you will enter Windows Boot Genius under WinPE system:
Before repair, you should back up Windows XP system at this time. Put any pictures or programs or any other information you want to keep onto a disc, or flash drive, or some other storage device: click "Windows Rescue" -> "Windows Backup", and then follow the wizard to finish Windows XP backup.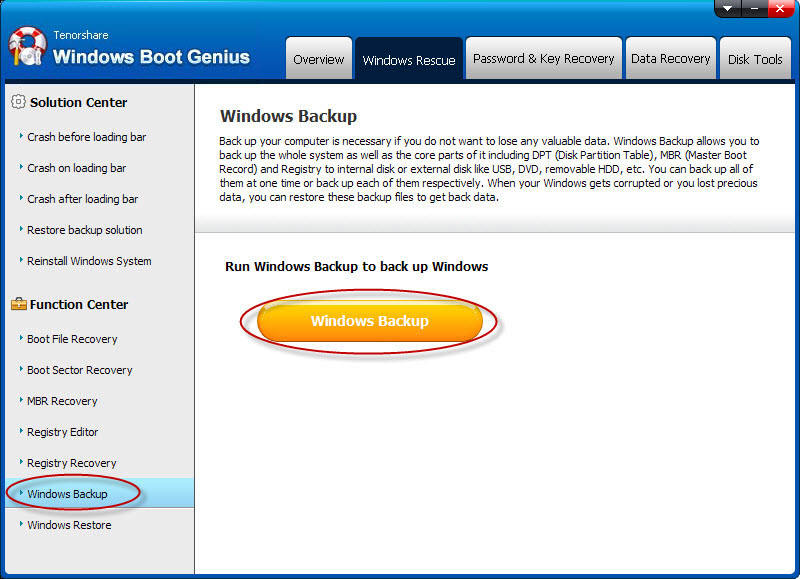 Step 4: Fix Blue Screen on Windows XP
Go to "Windows Rescue" Option -> "Solution Center" and select the solution based on the symptoms of your crashed computer. For example, to fix Windows XP blue screen on boot, select "Crash before Loading bar". Try every repair tools it provides one by one until your computer works normally.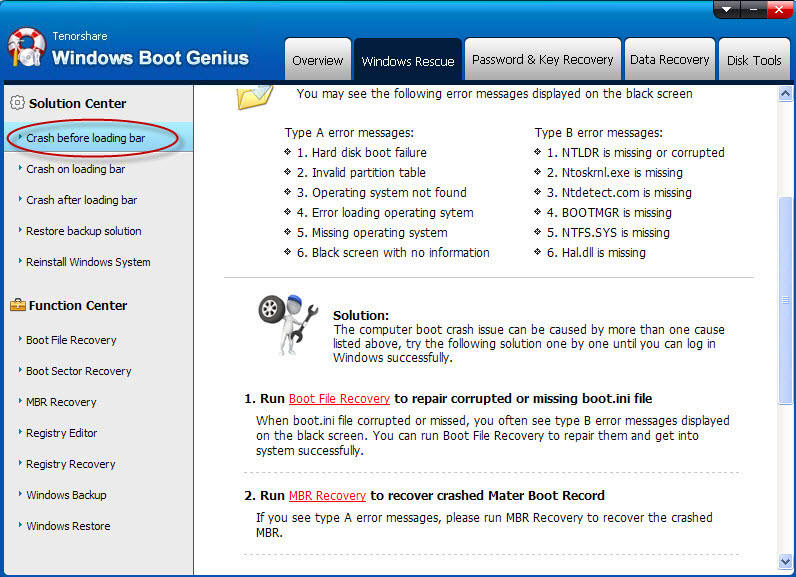 Then eject Windows XP blue screen fix disk, restart your computer, it will works as normal now. If not, repeat Step 4 to fix Windows XP blue screen error again.