Nowadays computer is playing an increasing important role in our life. We use it to send business emails that could immediately received, we chat through it, we shop on the Internet, we complete our papers and thesis with the aid of computer… While when using computer, the most headache thing is that Windows fails to boot. And we have no idea what to do with the giant machine that stores so much information and data. As the saying goes, when god closes a door, it will open a window for you. There is always a way out. Follow me and with the tutorials below I'm sure you will know what to do when Windows fails to boot.
Buy Now
How to Deal with Windows 7 Boot Failure
Here in this post, you will learn how to repair Windows boot failure by burning a Windows boot CD/DVD or USB flash drive. And we take fix Windows 7 boot failure for example. In order to achieve this, prepare a blank CD/DVD or USB flash drive in advance. And most importantly, we need the help of Windows Boot Genius, a professional software tool designed to solve a series of Windows boot-up problem as well as Windows data recovery issue. You need only 3 steps to fix your Windows problem.
Step1. Make your own bootable CD/USB drive
Insert the blank CD/DVD or USB flash drive to a computer that you have access to. Run Windows Boot Genius on the computer after installing it, and a window below will be shown. In the main interface, select CD/DVD or USB Flash drive, and then click "Burn" to begin boot disk creation.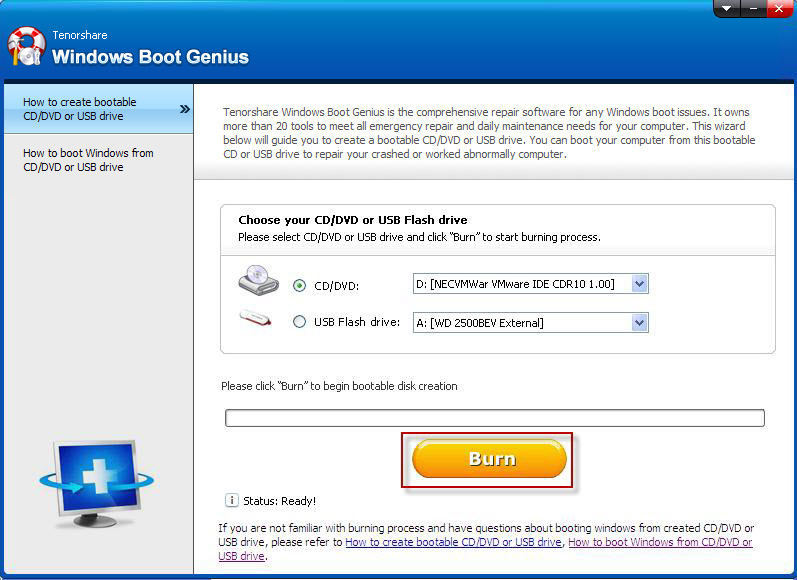 Step2. Boot your computer from the boot disk
Now turn on the computer which encounters Windows 7 boot failure. Insert the burnt CD or USB to the computer, and restart it. When the system begins to load, press F12 to get into the Boot Menu, then set CD or USB as the first boot device. Press F10. And the computer restart and attempt to boot from CD or USB. This works the same for different Windows OS, if you want to fix Windows XP boot failure, you also need to burn a boot disk.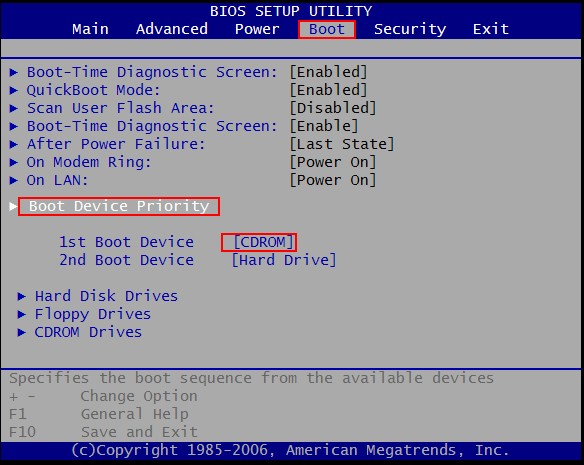 Step3. Fix Windows boot failure
When the main interface of Windows Boot Genius appears, go to the "Windows Rescue" option, and choose " Crash before loading bar" on the left side of the window. Here you can read the symptom that you encountered when started your computer. According to it, there are causes that make your Windows boot failure and solutions to different causes. You can try the solutions one by one until you can fix your Windows issue successfully.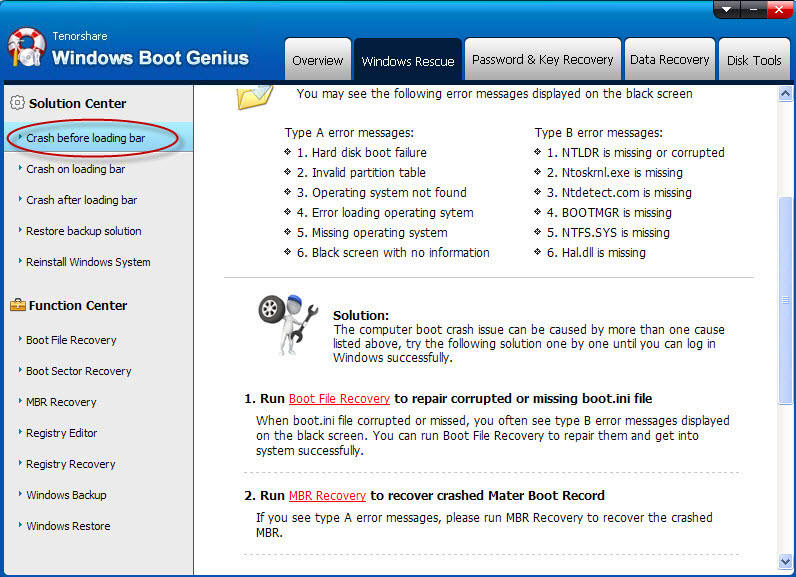 Finally when the problem is fixed, take out the Boot CD/USB drive, and restart your computer. And you'll find that "Windows boot failure error" successfully fixed. In addition, the program works equally well with the newest Windows 8. You could repair Windows 8 boot failure with Windows Boot Genius as well.