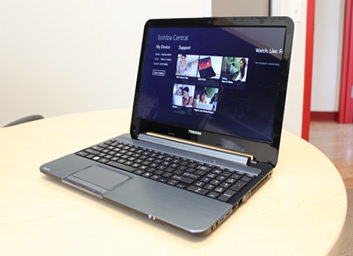 "I lost my password for my Window 8 Toshiba laptop and can't get in computer. Any one can help me?"
Windows 8 has been reimagined to be all about you. Put what matters most right on your start screen, and get instant access to your people, apps and stuff, so you can spend less time searching and more time doing. Luckily, Toshiba laptop and desktops are now available with the beautiful, fast and fluid Windows 8 operating system. However, if you come across some problems like you forgot Toshiba laptop Windows 8 password, you will not be that happy. As for this case, we have some tips not only for you to avoid forgetting Windows 8 password in Toshiba, but also for you to get your Toshiba Windows password reset.
Part 1. How to reset Windows 8 login password on Toshiba laptop?
There are 3 methods to do Toshiba Windows 8 password reset when you forgot password for Toshiba in Windows 8.
Methods 1: Use Windows Password Recovery Tool
Windows 8 Password Recovery Tool can help you easily change your login password on Toshiba computer without Windows system reinstallation. It can recover administrator and standard user password for both local account and Microsoft account.
Free Try Windows Password Recovery Tool
World's 1st Windows Password Recovery Software to Reset Windows Administrator & User Password.
Free Download
Free Download
Step 1: Here are the instructions of how to reset administrator password Windows 8 on Toshiba laptop, for other user account, use the same instructions.
Download Windows 8 Password Recovery Tool Ultimate and run it on an accessible computer.
Step 2: Burn a Windows 8 Password CD/DVD/USB Flash Drive. There are 2 ways to do so: Quick Recovery and Advanced Recovery Wizard. To reset Microsoft account password, you'd better select the latter.


Step 4: You should disable UEFI Secure Boot firstly if your computer with Windows 8 preinstalled uses UEFI, and set BIOS.
Step 3: Reset Toshiba Laptop Windows 8 password for either local account or Microsoft account and restart your computer.
Method 2: Use Windows 8 password reset disk to recover Toshiba password
Windows password recovery tool can help you easily reset your Toshiba Windows 8 password with a few clicks. If you have created a Windows password reset disk for your locked account, you can use it to reset the password. Just three steps:

Firstly, log on your Toshiba computer with the target Windows account and then enter a wrong password in the welcome screen password box, and hit Enter.

Secondly, insert the Toshiba password reset disk in locked computer and then click "Reset password".

Thirdly, follow the steps in the Password Reset wizard to finish resetting Toshiba password.
Method 3: Use Toshiba Windows 8 admin account
Since administrator account can create, change a password for any account, you can use an account which has administrator privilege. But if you are the only user in your computer, you should pass this method.
Step 1: Click "Start" button, type "lusrmgr.msc" in the Search box and press "Enter" key.
Step 2: Double-click the Users folder, and all user accounts will be listed. Then right-click a user account which you want to reset its password and select "Set Password".
Now, you must figure out the first one is the most effective among them. What's more, it's compatible with Windows 7, Vista, XP, Server 2008, Server 2003, Server 2000 etc.
It can reset Windows 8 password on Toshiba and has no limits to the password. Below are the hot models for Toshiba Windows 8 system. No matter which one you are using, you can try Windows password recovery tool if you need to reset your password.
| | | |
| --- | --- | --- |
| Toshiba Satellite C850-BT3N11 | Toshiba Satellite C870-ST4NX3 | Toshiba Satellite U945-S4130 |
| Toshiba Satellite C855-S5194 | Toshiba Satellite S855D-S5148 | Toshiba Satellite L850D-ST4NX1 |
| Toshiba Satellite C855-S5132NR | Toshiba Satellite P840T-ST4N02 | Toshiba Satellite C855-S5137 |
| Toshiba Satellite S955-S5376 | Toshiba Portege Z935-P390 | etc. |
Part 2. How to prevent forgetting Windows 8 password on Toshiba?
1. Write down your strong Windows 8 password on a post-it so you can view it when you forget it.
2. You can take the most effective way. To use a password manager tool to help you remember and replay all your complex passwords.
3. Use a password hint. When you create your administrator password on Toshiba, create a password hint. If your password is changed by others, you can get your password back by using the hint.
Free Try Windows Password Recovery Tool
World's 1st Windows Password Recovery Software to Reset Windows Administrator & User Password.
Free Download
Free Download