How to Reset Windows 8 Login Password on Sony Laptop?

May. 28, 2013 2:42 pm / Posted by Shawn Hamilton to Password
Follow @ShawnHamilton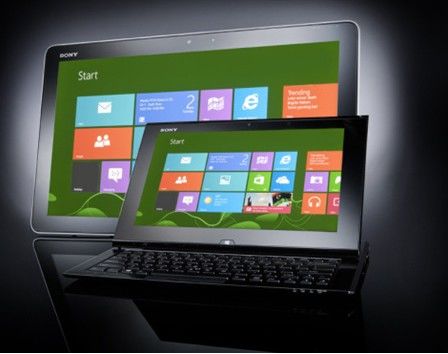 Questions on Sony laptop Password
"Help! I forgot my Sony Windows 8 login password. I have no idea how to recover my password. Help, please tell me how I can do for my laptop"-A Sony user asked.
You may often hear the question like this. In most case, they might want to change or reset Windows 8 password in Sony. Here we will give some solutions and we recommend the best one.
Answer to Reset Windows 8/8.1 Password on Sony Laptop
Part 1. The best way to reset Windows 8 password in Sony
Despite being Microsoft's most secure operating system ever, it's inevitable to forget Windows 8/8.1 password in Sony laptop. You can use Windows 8 Password Recovery Tool to retrieve forgtten administrator and standard user password for both local account and Microsoft account. All it takes is several minutes, a Windows 8 system recovery disk or USB flash drive.
Here are the instructions for you to reset Sony Windows 8 password:
1. Free download Windows Password Recovery Tool Ultimate.
Free Trial Windows Password Recovery Tool:
Buy Now Windows Password Recovery Tool:
Download Windows 8 Password Recovery Tool Ultimate and install in on any available PC. It is compatible for any PC.
2. Burn to a Sony Windows 8 password reset disk.
Burn Windows Password Recovery Tool Ultimate to a CD/DVD or a USB flash drive. There are 2 ways to do so: Quick Recovery and Advanced Recovery Wizard. To reset Microsoft account password, you'd better select the latter.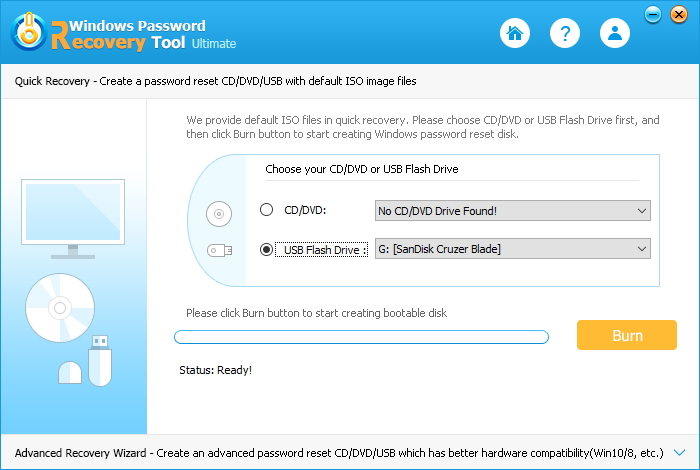 3. Reset Windows 8 Password on Sony
a. Insert newly created CD/DVD or USB Flash Drive and reboot your computer from it. You should disable UEFI Secure Boot firstly if your computer with Windows 8 preinstalled uses UEFI, and set BIOS.
b. When the CD/DVD or USB disk boots, you'll see Windows Password Recovery Tool Ultimate is initializing.

c. Select the Windows installation to remove the password, then choose "Reset your password" and then click "Next". Then select the account you'd like to change password for, and type the new password. Click "Next" to proceed.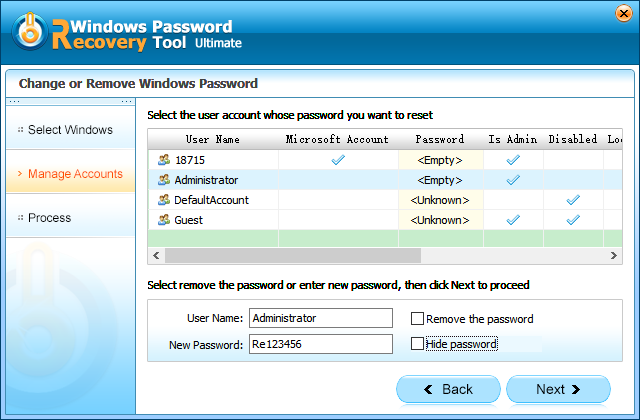 Part 2. Other Ways to Sony Laptop Password Reset for Windows 8
If you search the Internet for solutions to reset Windows 8 administrator password in Sony or other user's password, there will be some different ways. But they are not reliable all the time because of their weaknesses.
1. Use a password reset disk. It is a hot and useful suggestion, but you have to create it in advance before you forgot your Sony password. What's more, it only applies to user account password reset. Thus it is not workable for an instant Sony computer password reset in Windows 8
2. Try a Microsoft Account. It is another good choice if you happen to get one in advance, but you have to connect your Sony computer to the cloud, which is not safe for your privacy.
Comparing the two parts, we recommend Windows Password Recovery Tool for you to use since it is easily and efficiently handled. And it will not cause you any data or files losing. You can be safe to choose this tool when you forgot Windows 8 password on Sony laptop, especially your computer's model is included in the picture below.
| | | | |
| --- | --- | --- | --- |
| Sony VAIO E Series SVE1135CXW | Sony VAIO E Series SVE15134CXP | Sony VAIO S Series SVS1512ACXS | Sony VAIO E Series SVE17137CXB |
| Sony VAIO E Series SVE14132CXW | Sony VAIO E Series SVE15134CXW | Sony VAIO E Series SVE15134CXS | Sony VAIO T Series SVT13134CXS |
| Sony VAIO E Series SVE1513CXW | Sony VAIO E Series SVE15135CXS | Sony VAIO E Series SVE1135CXB | etc |
Free Trial Windows Password Recovery Tool:
Buy Now Windows Password Recovery Tool:
comments powered by