Recently got a new iPhone 5 (AT&T, Sprint, T Mobile or Verizon) and don't know how to activate your new iPhone 5 as the activation process is different depending on what model of the iPhone you have and what version of the operating system you're running.
The activation process of iPhone 5 is same as iPhone 4S, and the 4 and 3GS but different from the older iPhone. This article is writing for iPhone beginners who haven't had an iPhone before and want to activate their new iPhone 5. Following I will offer a way to activate iPhone 5 for your reference.
How to Activate Your iPhone 5 without Any Efforts
To activate your iPhone 5, you need to have the latest version of iTunes installed.
1. Power on iPhone 5 by pressing the on / off button.
2. The first step of the activation process is to set the location which involves selecting the language and set your home country.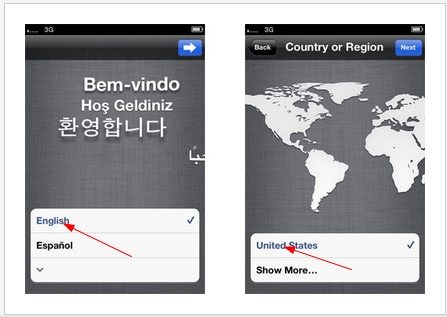 3. Accept the terms of service and access a Wi-Fi network.
4. Set up iCloud and activate features such as Find My iPhone and Location Services.
5. Then you have to choose a way to set up your iPhone from three options:
Set Up as New iPhone: For iPhone beginners who haven't had an iPhone before
Restore from iCloud Backup: For people have iOS devices before. If you have used iCloud to backup your data from other Apple devices, then you can download the data from iCloud account to your new iPhone 5.
Restore From iTunes Backup: A little similar as the choice "Restore from iCloud Backup". For people have iTunes backup files to download the data from iTunes account to their new iPhone 5.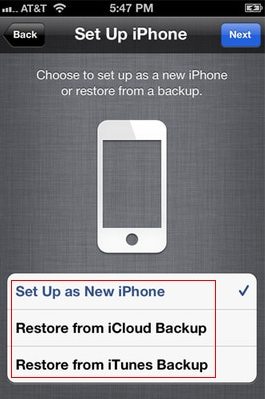 6. Sign in with an Apple ID. (If you don't have an Apple ID, just create one following the onscreen prompts.)
Note: Apple ID is a necessity for purchasing Apps at iTunes and syncing your iPhone with iCloud etc.
7. Enable the options of "Use iCloud" and "Back Up to iCloud". (You can also backup to your computer.)
8. Select whether "Use Find My iPhone". If you enable it, you can use the iPhone's built-in GPS to locate a lost or stolen iPhone.
9. Decide whether enable Siri (the iPhone's voice-activated assistant that you can talk to to perform actions).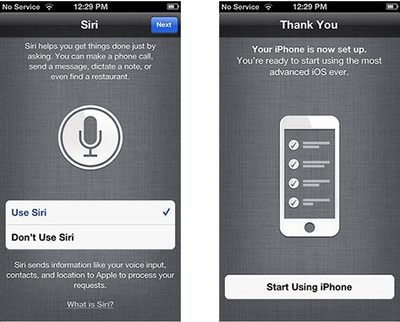 After doing all of these steps, you will complete the activation process of iPhone 5. The steps seem a little tedious but the operation is really simple. And while using your iPhone 5, you may encounter some other problems such as call failing, iPhone stuck in recovery mode and losing iPhone 5 data. If you lost iPhone 5 data, iPhone Data Recovery can be a great assistance to you.