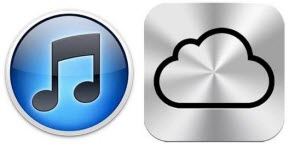 iTunes and iCloud are two common backup tools for iOS device users. We periodically used them to backup our iPhone, iPad or iPod touch, but do you know which one is the best to back up your iOS device. Just keep reading and find out that using iTunes Backup or iCloud to backup your iOS device.
Choose the Best iOS Backup Method: iTunes or iCloud
Each backup method has its own advantages. To choose the best iOS backup method, we need to have a clear idea about them first.
1. What is iCloud and iTunes Backup?
iCloud automatically backs up your iOS device over Wi-Fi each time it's turned on, locked, and connected to a power source after you enable Backup on your device.
iTunes can back up your settings, Messages, Camera Roll, documents, saved games, and other data when you sync with iTunes.
2. When is iCloud Backup the Best Option for You?
iOS 5 or later users can use iCloud to backup the important data on their iPhone, iPad or iPod touch. The iCloud Backup provides an easy and reliable backup solution for users to backup their iOS device wirelessly and automatically without the need to connect to computer.
iCloud Backup is a recommended solution for you if:
You prefer that iCloud take care of backups for you automatically when your device is connected to Wi-Fi and power.
You want to restore data to your device from anywhere you want over Wi-Fi connection.
You don't connect your iOS device to a Mac or PC very frequently.
You don't own a Mac or PC.
You would like an automatic backup solution to use in conjunction with iTunes Backup
3. When is iTunes Backup the Best Solution for You?
iTunes has been long used to back up data for iOS device. It is the traditional way that users have their iOS device backed up.
iTunes Backup is a recommended solution for you if:
You frequently use the computer that hosts your iTunes Backups.
You don't have an iCloud account or don't want to use iCloud.
The photos and videos saved in your device's Camera Roll regularly exceed 1 GB in size or you tend to have very large backups. (iCloud only offers 5 GB of free storage. See How to Manage iCloud Backup Storage)
You want on-site and networked backups.
You would like a manual or secondary backup solution to use in conjunction with iCloud Backup.
Additional Tips: What Do iCloud and iTunes Back up?
iCloud backup the important data of your iOS device: Purchased music, movies, TV shows, apps, and books; Photos and videos in your Camera Roll; Device settings; App data; Home screen and app organization; iMessage, text (SMS), and MMS messages; Ringtones; Visual Voicemail.
iTunes backup the important data of your iOS device: Contacts and Contact Favorites; App Store Application data including in-app purchases; Application settings, preferences, and data, including documents; Calendar account and events, Call history, Camera Roll, Game Center account, Notes, etc. (Click http://support.apple.com/kb/ht4946 to see details)
Now you can choose a best iOS backup method according to your own situations. In fact, you can use iCloud Backup and iTunes Backup together but remember that use iCloud Backup turns off Automatic Backups via iTunes. You need to manually backup when you want to backup to iTunes.
P.S.: Lost iOS data without iTunes backup or iCloud backup? Don't worry! iPhone Data Recovery can recover data directly from your iOS device without backup.