How to Reset Forgotten Acer Windows 8 Password on Laptop or Notebook

2014-10-15 13:26:15 / Posted by Shawn Hamilton to Password
Follow @ShawnHamilton
Forgot Windows 8 password for Acer Inspire? Can't access to your laptop because youforgot Acer Windows 8 password? Don't worry, here we list the best ways to reset Acer Windows 8 password for local administrator or user accounts on laptop.
Free Trial Windows Password Recovery Tool Ultimate:
How to Recover Acer Laptop Windows 8 Password?
Password of Windows 8 is the password tied to an account used to access the Windows 8 system. It is a great tool for Windows 8 users to share a Laptop with others, and want their own settings and configuration without having to share personal data.
I: For the Windows 8 administrator password reset on Acer
1. Try to type the user account password. When Windows 8 system was setup on your Acer laptop, the primary user account will be configured with administrator privileges.
2. Use the Microsoft account if you have one. With the release of Windows 8, Acer laptop users now can use the Microsoft account to access the Windows.
3. Reinstall the Windows 8 system on your Acer laptop. It will cause data loss.
II: For the Acer windows 8 recovery password of user accounts
Note: It is strongly recommended that Acer laptop Windows 8 users should write down passwords on papers and keep them in a safe place.
It does happen for many times that we fail to reset Windows 8 password on Acer laptop even though we try all these above methods after we lost Acer windows 8 password. What should we do? Try Acer Windows 8 password recovery (Windows Password Recovery Tool) to help you reset Acer Windows 8 password on laptop.
Windows Password Recovery Tool is the one of the best password recovery software for users to easily reset password on Acer Windows 8 laptop, including passwords for administrator and other user accounts. With high compatibility, it also supports other Windows system, like Windows 7/ Vista/XP, etc.
How to Easily and Fast Reset Acer Windows 8 Password Using Acer Windows 8 Password Recovery?
The steps of Acer windows 8 password reset for administrator and user accounts are the same. Here is the instance of how to reset Acer Windows 8 administrator password.
Step 1: Download Acer Windows 8 Password Reset
Download and install Windows Password Recovery Tool on any available PC.
Step 2: Burn Windows Password Recovery Tool to CD/DVD or USB Flash Drive.
Here we take USB flash drive for example.
Insert a USB Flash Drive into a USB port on the available PC and specify the USB burning drive from the pull-down list of the USB flash options. Click "Burn" button.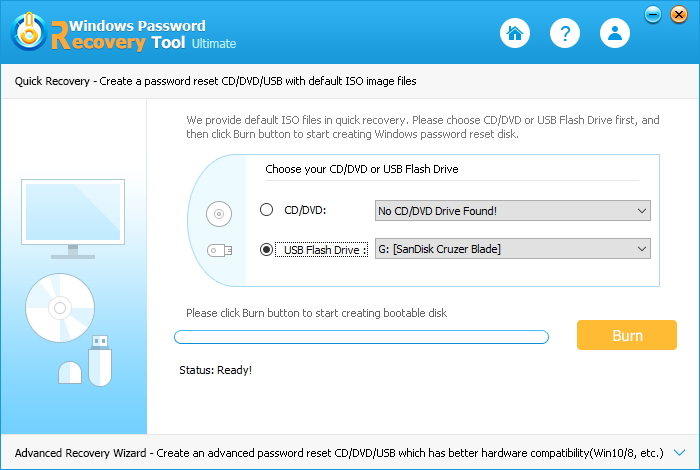 1. Click "Yes" button.

2. Select "OK" in the pop up burning completed successfully window.
Step 3: Reset Acer Windows 8 administrator password on laptop or notebook.
1. Insert newly created CD/DVD or USB Flash Drive and reboot your Acer laptop in Windows 8.

2. Select Windows installation to remove the password, and then choose "Reset your password". Click "Next" to proceed.

3. Choose "administrator" account, select "Remove the password" and click "Next" to proceed.

4. You have finished Acer Windows 8 recovery password successfully. Click "Reboot" to restart your Acer laptop and login Windows 8 without any password.
So easy! This wonderful tool just takes you several minutes to reset Acer Windows 8 password with 100% free risk.
Free Trial Windows Password Recovery Tool Ultimate:
comments powered by