Forgot iPhone's Passcode - Quick and Efficient Way to Bypass iPhone Passcode

2013-02-26 4:28:31 / Posted by Shawn Hamilton to iPhone Backup Password
Follow @ShawnHamilton
If you have forgotten iPhone passcode and entered the wrong passcode six or more times, you'll get the following message:
What's worse, you may even get the message iPhone is disable, connect to iTunes after too many attempts: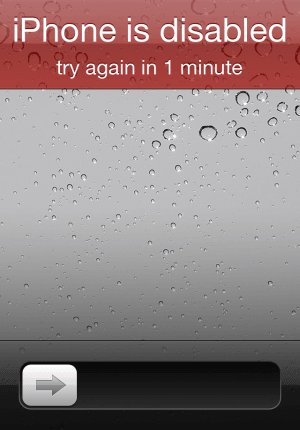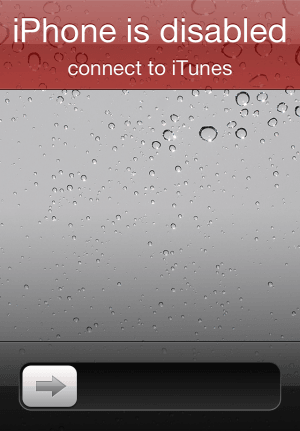 Got into panic? Now, let's expore the trick to bypass the forgotten iPhone passcode. After this, you can regain acess to your iPhone freely.
Download "iPhone Data Recovery" to Restore Lost iPhone Data:
Windows Secure Download
Mac Secure Download
How to Wipe out iPhone Passcode or Password that You Forgot?
You may find a bunch of methods on how to bypass the password you've set on your lock screen, like taking advantage of an iOS bug to make a fake emergency call, using iExplore, iPhone Browser, or SSH on your jailbroken device to delete the passcode, none of them work now. Some would wonder, then what are we supposed to do? Don't be panic, there's methods that proves to be effective every time you try, which is to restore your iPhone or iPad, iPad mini, iPod touch.
Note: The methods mentioned in this article are applied to all iOS devices: iPhone 5S, iPhone 5C, iPhone 5/4S/4/3GS; iPad Air, iPad mini with Retina display, iPad 4 (iPad with Retina Display), the New iPad (iPad 3), iPad mini, iPad 2; iPod touch 4th and iPod touch 5.
Well there are 2 methods to restore your iPhone: To enter Recovery Mode for one, and to enter DFU mode for another. The thing is that performing a standard recovery may not solve your problem, DFU will help you out!
The main difference between DFU mode and recovery mode is the iBoot: Recovery Mode uses iBoot when restoring and upgrading your iPhone while DFU mode escapes the iBoot so that you can downgrade the current firmware. Without entering DFU mode, it's impossible for you to downgrade your iPhone, because the iBoot doesn't allow you to. In addition, one way to tell the recovery mode from DFU mode is to check your iPhone screen, if you see a "connect to iTunes" logo, you are in recovery mode, because in DFU mode, the screen is turned off.
Now let's get started the specific operation to disable iPhone lock screen passcode.
Method 1: Enter iOS Recovery Mode to Disable the iPhone Lock Passcode
Putting iPhone into Recovery Mode is one of the most efficient and common ways to disalbe/crack iPhone lock passcode. In the past, you may find many pages to introduce you to enter iPhone Recovery Mode. Are they all with complicated steps like holding on "Home" and "Power" button and then release ...button...? This is narrowly OK if your "Home" and "Power" button is still work. After all, with a lot of efforts, you accessed iPhone Recovery Mode in the end.
Now, I will introduce you a fairly easy, quick and efficient way to do this - Using ReiBoot. Just take it easy, it is totally free and safe software. No data loss and device damage promised. You can enter and exit iPhone Recovery Mode with one click via Tenorshare ReiBoot. Abandon the complicated steps on other pages to enter or exit iPhone Recovery Mode from now on.
Method 2: Enter DFU Mode to Reset iPhone's Passcode?
If you are unlucky to fail to bypass iPhone passcode with Recovery Mode, DFU mode is another choice. (Actually, with Tenorshare ReiBoot, there is little chance to fail to unlock passcode). Follow the following steps to enter DFU mode:
1

Step 1: Backup your iPhone with iTunes or Transfer the Data to Your Computer
2

Step 2: Enter DFU Mode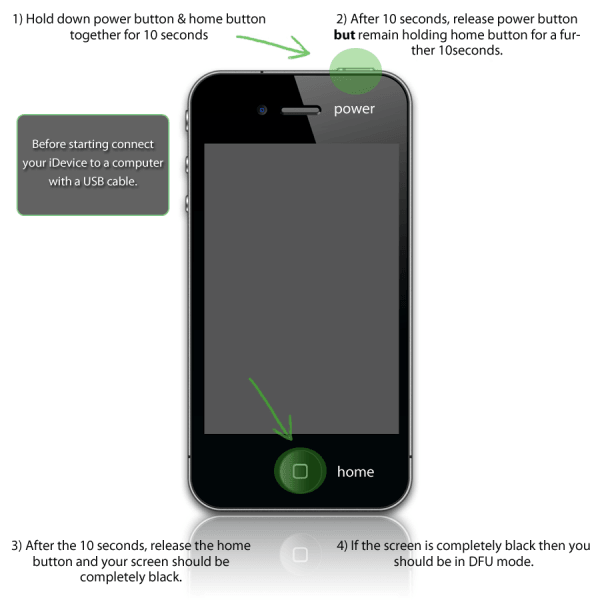 1. Connect your iPhone to your Computer.
2. Turn iPhone off.
3. Hold power and home together for exactly 10 seconds.
4. Release "Power" but keep holding "Home" until iTunes telling you that your iPhone has been detected in recovery mode, click "OK". You are now in DFU mode, note that it may take a few more times to enter DFU mode, be patient.

3

Step 3: Restore iPhone

Click the "Restore" button in iTunes and then wait for iOS to download and install on your iPhone.
4

Step 4: Sync your iPhone

After restoring, in order to get back your data, simply sync your iPhone with iTunes, then you can access your iPhone without a passcode. Set another one, and don't forget it next time.

Just in case, if you are one of those who fail to restore your iPhone because your iTunes backup didn't work, or whose iPhone become inaccessible after being restored, free download iPhone Data Recovery, it should be the optimal choice to restore iPhone data.

Free Download "iPhone Data Recovery" to Restore Lost iPhone Data:

Windows Secure Download

Mac Secure Download
Buy Tenorshare iPhone Data Recovery
($69.95)
(For Windows Version)
Buy Tenorshare iPhone Data Recovery
($79.95)
(For Mac Version)
comments powered by