Windows 8 Password Recovery Tool: How to Recover Windows 8 Password Easily

2013-09-13 17:12:12 / Posted by Ruby Johnson to Windows 8 Tips
Follow @Ruby Johnson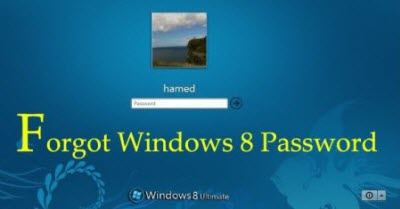 Forgot Windows 8 password? This almost drives you crazy. Windows 8 is gradually accepted and used by us. While using Windows 8, you may encounter all kinds of trouble and forgetting Windows 8 password is one of the trickiest ones. Read on and learn about how to reset Windows 8 password recovery with Windows 8 password recovery tool.
Recover Windows Password with Windows 8 Password Recovery Tool
There are so many Windows password recovery tools on the Internet saying that they can recover Window 8 login password. Instead of try them one by one, I recommend Windows 8 Password Recovery which is trustworthy by many users. It can easily recover Windows 8 administrator password (user password as well) for both local account and Microsoft account and fully support various brands of desktops, laptops including Dell, HP, IBM, Sony, Lenovo, ASUS, etc.
Here are the steps of using Windows 8 Password Recovery:
Additional Tips: Other Ways to Recover Windows 8 Password
Besides Windows 8 Password Recovery utility I mentioned here, there are also some other ways for you to remove Windows 8 password. But these ways need to works under some conditions. If you want to recover Windows 8 password immediately, Windows 8 Password Recovery is your straightforward choice.
1. Recover Windows 8 login password with Password Reset Disk
The password reset disk here is not the same as we mentioned above. It is the one you created before you forgot the password. Follow steps below to reset Windows 8 password with previously creating password reset disk.
Click Reset Windows Password link under the password enter box, and then insert a Windows password reset disk.
Follow the steps in the Password Reset Wizard to create a new password.
Login your Windows computer with the new password.
2. Recover Windows 8 password with Another Account with Administrator Privileges
Another easy way to recover Windows 8 password is using another administrator account if you have one. Follow the instructions below to reset Windows 8 password for the locked user.
Login the Windows 8 computer with the workable user.
In search box, type in: cmd.exe, and click CMD.exe. Choose "Run as administrator".
In command prompt, type in: Net user <user name> <new password>, and then press "Enter" to execute the command. After the command completed successfully, you can login your Windows 8 with the new password.
Now you may have a clear idea about how to recover Windows 8 password with Windows 8 Password Recovery tool and the two other ways to reset Windows 8 password. You can choose a suitable method according to your own conditions.
Free Trial Windows Password Recovery Tool :
comments powered by