"I have set my account picture, but now want to delete the pic and back to the default. How can I do it?"
Some Windows 8.1/8 users complained that they changed their user account picture but the images they used are still shown on the right side of the user account settings. However, Windows itself doesn't offer you an option to remove these unused user pictures. Does it mean that it is impossible to delete account picture in windows 8.1/8? This is definitely not. Here is a very simply way to remove account picture in Windows 8/8.1.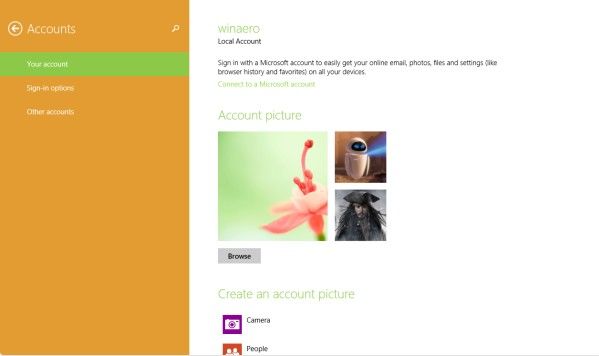 P.S.: Need to remove account password in Windows 8.1/8, here we have top 4 methods to remove password in Windows 8.1/8.
Free Download
Free Download
Steps to Remove Account Picture in Windows 8/8.1
In File Explorer, type the following in the address bar: C:\Users\YOUR USER NAME\AppData\Roaming\Microsoft\Windows\AccountPictures.

Note: Replace the "YOUR USER NAME" text with your actual user name, i.e. for my PC it should be.Or simply type %appdata%\Microsoft\Windows\AccountPictures

After that the Account Pictures folder will be open. Simply delete all the images you do not want to see in your personalization settings.
Additional Tips: How to Reset Account Picture to the Default in Windows 8.1/8?
If you also look ways to reset account picture to the default on in Windows 8.1/8, tutorial below will help you.
Start the MS-Explorer [Windows+E] and enter the address C:\ProgramData\Microsoft\User Account Pictures in the Explorer Address-Bar. Then you will find the default picture for your account.
Copy the picture you want and paste it on your desktop for later use.
Now open PC settings, Windows 8 users click on Personalize, then click the Account picture option. Windows 8.1 users click on the Account picture option on the right side.
Click on Browse in the right pane and go to the picture you just pasted on the desktop. Click the picture to select it and then click Choose image button at the bottom right corner.
That's all for how to remove account picture in Windows 8.1/8. If you have any further questions, please leave a message in the comment place, we will reply you ASAP.
Free Try Windows Password Recovery Tool
World's 1st Windows Password Recovery Software to Reset Windows Administrator & User Password.
Free Download
Free Download