Forgot Password to Login to Windows 8/8.1? How to Reset it

Dec. 02, 2014 11:26 am / Posted by Ruby Johnson to Windows 8 Tips
Follow @Ruby Johnson
Forgot the administrator password to login to Windows 8/8.1? Microsoft account password was lost but Microsoft online password reset (www.account.live.com/password/reset) can't help you change the password? Here I'd like to share three ways that I usually use to reset Windows 8 /8.1 password for myself and my friends.
No.1: Reset/Change Windows 8/8.1 Local Account and Microsoft Account Password with Bootable USB
The bootable USB I recommend here is different from the one created with Password Reset Wizard. To be accurate, it is a professional Windows Password Recovery Tool (Windows Password Recovery Tool). It is a bootable disk which can be burned when your Windows 8/8.1 gets locked. What you need is a normally workable computer, a blank USB flash drive, and Windows Password Recovery Tool 6.0 full version. Then get down to the detailed steps on how to change Windows 8 Microsoft account and local account password when Windows 8/8.1 forgot password.
Free Download Windows Password Recovery Tool 6.0 full version and install it on the workable computer that you prepare.
Free Trial Windows Password Recovery Tool:
Buy Now Windows Password Recovery Tool:
Warm Prompt
: Two versions of Windows Password Recovery Tool are advised here:
1. Windows Password Recovery Tool Standard -- the Cheapest but only support reset/recover/remove Windows 8 local (admin and standard) password
2. Windows Password Recovery Tool Ultimate -- More expensive but can reset Windows 8 Microsoft and Local account password.
Step 1. The ultimate version of this program has two modes to burn bootable USB for Windows 8.1/8 password reset (default ISO image and Advanced Recovery Wizard). Select one, and then insert the blank USB into the workable computer and click "Burn".




Step 2. Insert the newly burned bootable USB into the locked Windows 8 computer and change the BIOS sequence to boot from USB.



Note

:

1. If the locked PC is preinstalled with Windows 8/8.1 and uses UEFI, you should disable UEFI secure boot before setting the BIOS.
2. If the locked Windows 8/8.1 computer was upgraded from Windows 7 or lower OS, you can directly set the BIOS to boot it from USB flash drive.

Step 3. Select Windows installation > tick "Reset your password"> Next > Select the account you need to reset password of (here you can Remove the password to automatically login to Windows 8/8.1) > Next.


Step 4. Click "Reboot" to reset Windows 8 login password.
No.2: Reset Windows 8/8.1 Login Password with Password Reset Disk Previously Created via Password Reset Wizard
For local account, when you set password to protect it, you can create a password reset disk with Password Reset Wizard to save password information so that you can use it to reset forgotten password. If you did it before your Windows 8/8.1 forgot password, you can use it to help you gain access to your Windows PC now.
Note
: This can only be applied to Windows 8 admin password reset and standard password. If you want to change forgotten password for Microsoft account, I suggest you turn back to
No. 1 way
.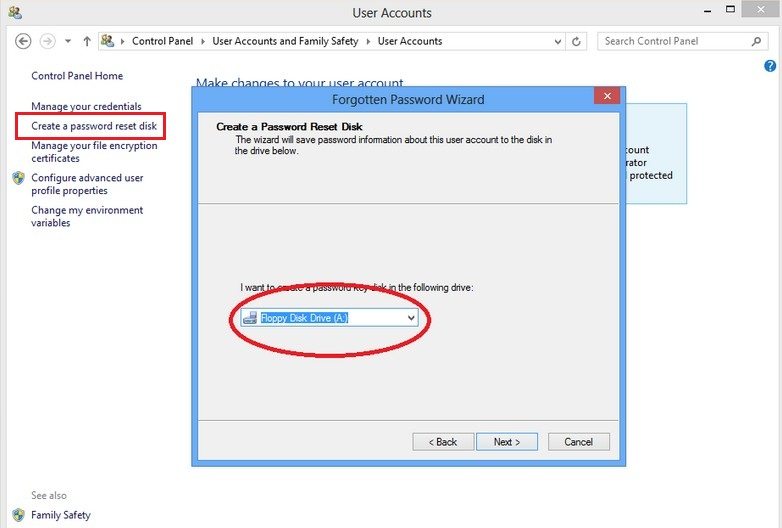 Step 1. Plug the previously-created password reset disk into your locked Windows 8 PC.
Step 2. Type anything in the Password box and hit "Enter". Then you can see "Reset password" link shows up. Click it.
Step 3. When you see Password Reset Wizard window appears, click "Next" to continue.
Step 4. Type a new password and retype it to confirm the password change. And you can set a password hint now. Then click on "Next" to proceed.


No.3: Reset Forgotten Windows 8/8.1 Password with Command Prompt (cmd)
This is another way that you can use to access your Windows 8/8.1 when you lost the login password. But different from Windows 8 password reset USB, this way has rigid limitations. You must have enabled Windows 8/8.1's built-in administrator account before you forgot your account's password or you have another account with admin privilege to login to the Windows 8/8.1. If you have, follow the steps below:
Step 1. Log into your Windows 8/8.1 with the administrator account.
Step 2. Press "Windows +R" to open "Run" box ("Windows" button is between Ctrl and Alt). Then type "cmd" to enter into Command Prompt.
Step 3. Type "net user Username new password" in Command Prompt.


No matter which way you choose, once the password is reset successfully, you can access your Windows 8/8.1 normally.
Free Trial Windows Password Recovery Tool:
Buy Now Windows Password Recovery Tool:
comments powered by