How to Downgrade Windows 8 to Windows 7 Easily

2013-10-31 10:21:01 / Posted by Ruby Johnson to Windows 8 Tips
Follow @Ruby Johnson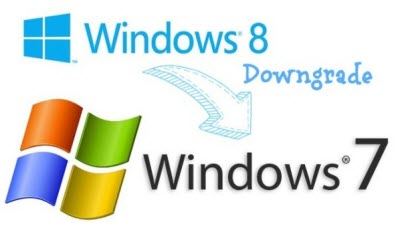 Still being fed up with the Windows 8 operating system or suffered software incompatibilities after the installation? No matter for what, no you want to downgrade Windows 8 to Windows 7. Read this article and learn about how to downgrade Windows 8 to Windows 7.
Is It Possible to Downgrade from Windows 8 to Windows 7?
Some Windows 8 PCs come with what are called "downgrade rights". If your PC comes with Windows 8 Pro (Windows 8.1 Pro), you can downgrade Window 8 (Windows 8.1 Pro) to Windows 7 Pro free just by installing it on top of your existing OS.
Some computers came with Windows 7 but upgraded to Windows 8, you can revert your computer to the Windows 7 system it came with.
You can install it on a new computer preinstalled Windows 8 with a retail copy of Windows 7 you aren't using. But you need to ensure the new computer has hardware drivers that work with Windows 7. With this way you can downgrade Windows 8 consumer preview to Windows 7.
Free Trial Windows Password Recovery Tool:
Things You Need to Know before Downgrading Windows 8 to Windows 7
If you have decided to downgrade from Windows 8 to Windows 7, there are something you need to know.
Firstly, although you have rights to downgrade Windows 8 to Windows 7, it doesn't mean running the older OS on newer hardware will be problem-free. For example, warns that it hasn't tested all of its Windows 8 hardware with Windows 7.
Secondly, if your PC is younger than 2 years old then you'll need to disable UEFI because the Secure Boot feature prevents other Operating Systems from loading.
Finally, create a recovery drive that contains a copy of your new PC's recovery partition. This will allow you to restore the original Windows 8 system if you wipe the recovery partition.
How to Downgrade Windows 8 Pro to Windows 7 Pro?
To downgrade Microsoft Windows 8 Pro to Windows 7 software, you need to accept the End User Software License Terms and follow steps below to perform the downgrade.
Obtain genuine Windows media and a corresponding product key for Windows 7 Pro. (The media should come from a prior legally licensed version from the OEM or retail channels.)
Once you've obtained the media, insert it into your new computer and restart into the Windows 7 installer.
Install Windows 7 Professional as you normally would, providing the legitimate Windows 7 Pro key during the installation process.
Now you have downgraded Windows 8 pro to Windows 7 successfully. For others which don't conform to the downgrade rights, you need to reinstall your computer with a retail copy of Windows 7. Get more Windows 8 tips here.
P.S.:
Have any data loss during the downgrade process?
Windows Data Recovery
is here to recover data from your hard drive.
Free Trial Windows Password Recovery Tool:
comments powered by