How to Fix Windows 7 Black Screen When Booting Up

2013-01-26 11:21:35 / Posted by Shawn Hamilton to Windows 7
Follow @ShawnHamilton
Windows 7 BSOD (Black Screen of Death) is the black error screen displayed by the operating system. It is a critical system error. It may happen when you are running your laptop and unfortunately the operating system stop booting and only goes to a black screen with the mouse pointer. You can't get access to the Windows icon or anything else when that happens. Since you can't run your PC in safe mode, you have to do a clean install of Windows. However, Reinstalling Windows 7 will clear everything on your hard drive. Is there any better solution? The answer is definitely sure. You can fix Windows 7 black screen of death with Windows Boot Genius, a professional Win7 black screen repair utility. With this tool, you have no need to reinstall your operating system or to worry about losing data. Follow the guide below to repair Windows 7 black screen on startup.
Buy Now Windows Boot Genius:
Step 1. Create a Bootable CD/DVD or USB Drive.
Download Windows 7 black screen of death restore software (Windows Boot Genius) to any accessible computer and install it. Launch the program. In the main interface, choose "How to create bootable CD/DVD or USB drive" menu. In the right window, choose CD/DVD or USB drive you have inserted to the computer and then click "Burn" button to begin Windows boot disk creation.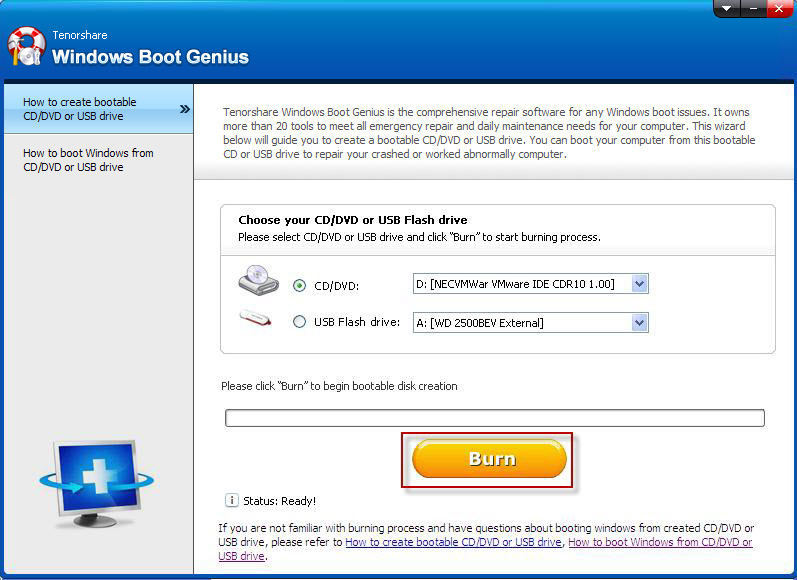 Step 2. Fix Black Screen of Death of Windows 7
Insert the newly created Windows 7 boot disk to the KSOD computer. Restart the computer and make it boot from the newly boot disk, not from local hard drive. After going to WinPE environment successfully, you will see Windows Boot Genius icon. Click the icon to run the software. In the main interface, select "Windows Rescue" menu. Then you will see various Windows repair tools presented there with detailed user guide shown in the right window. Before perform Windows 7 repair, you are suggested to backup your operating system first. Click "Windows Backup" menu to have a backup of your recently operating system. Then use the tools one by one to fix Windows 7 black screen before login or after login.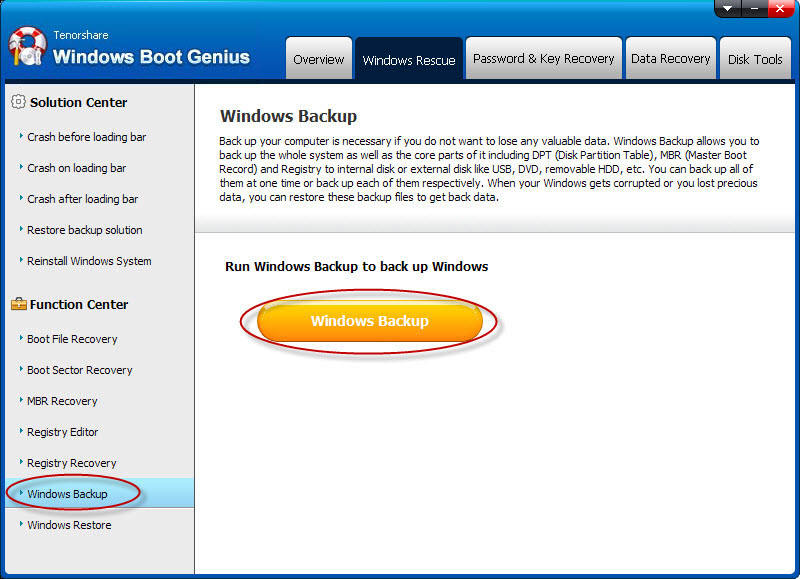 Frequently-used Windows 7 Black Screen with Mouse Repair Tools
MBR Recovery: Repair Master Boot Recorder when you encounter a black screen with no information.
Boot File Recovery: Repair Windows 7 when you receive error messages like NTLDR is missing or corrupted, BOOTMGR is missing, Hal.dll is missing, etc.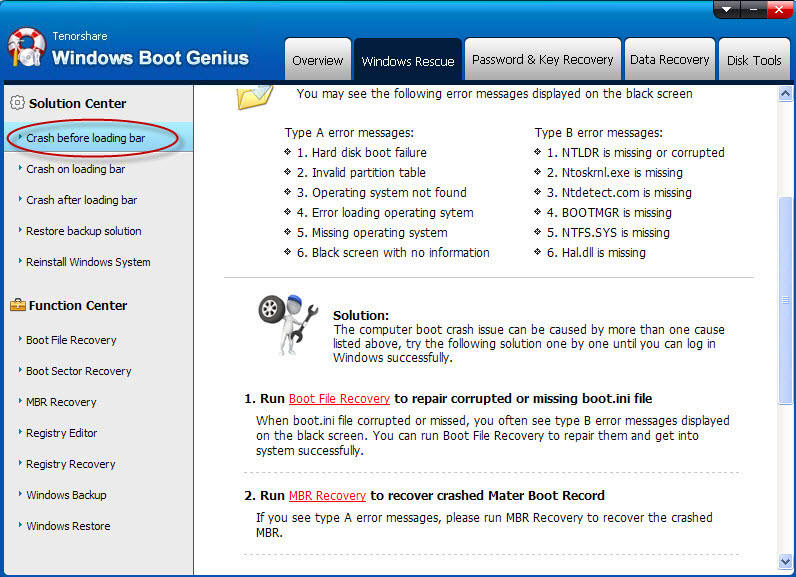 Buy Now Windows Boot Genius:
comments powered by