Have you ever met this scenario, your Windows 7 computer got a blue screen of death and it kept telling you that it needs to shut down to prevent damage? It happens when you shutdown or restart computers, but not all the time. If you are unwilling to format or uninstall operating system, how can you repair Win7 blue screen and let your computer run normally?
Firstly, you should check whether it is the hardware failure or system error. If your hardware got damaged, there is no method other than get help from computer repair service. In general, if you get a Windows 7 blue screen on startup, it means something has been incorrectly installed on your system. Please disconnect any hardware and uninstall any software that may cause Windows 7 blue screen error. Unfortunately, Windows 7 is still no better than popping up blue screen. If that happens, we recommend you repair Windows 7 blue screen of death with Windows Boot Genius, which is a powerful Windows boot repair tool with 30 tiny tools included. It can easily and efficiently fix all Windows boot issues registry corrupt, boot file lost, boot sector errors, etc. The article below tells you how to fix windows 7 blue screen of death step by step.
Step 1. Create a Windows 7 Blue Screen Repair Disc
Download Windows 7 bluescreen repair (Windows Boot Genius) software and install it in any other available computer. Run the program. In the left menu, select "How to create bootable CD/DVD or USB drive", in the burning window, check CD/DVD or USB drive you have inserted to the computer already, then click "Burn" to begin burning.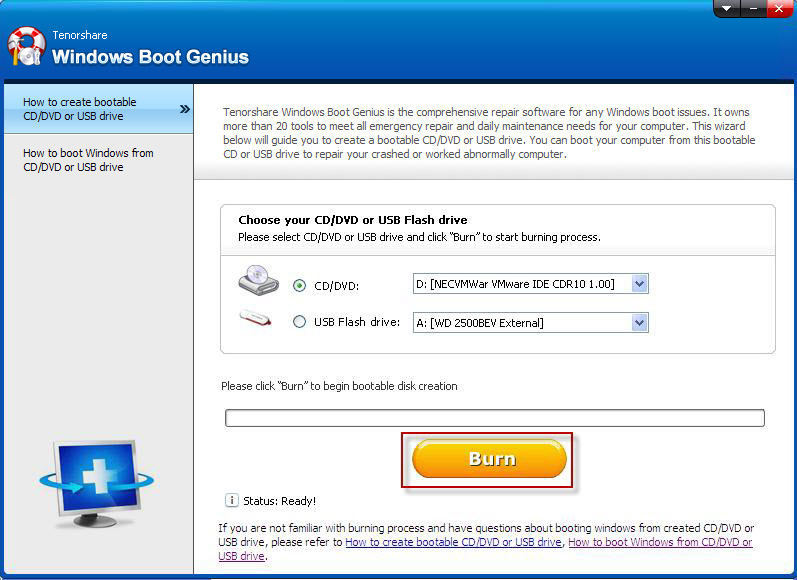 Step 2. Set BSOD Windows 7 Computer to Boot from Windows Boot Genius Disc
To repair Windows 7 blue screen with DVD/USB, insert the newly created disc to the blue screen computer, press "F2" or "Delete" button to enter BIOS setting. Make sure CD-ROM or USB drive is selected as a first priority boot device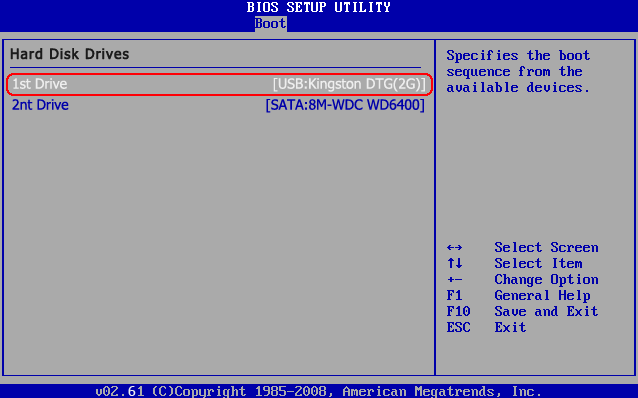 Step 3. Repair Windows 7 BSOD
Here comes the interface of Windows Boot Genius. In Overview window, select "Windows Rescue". You will see various tools available.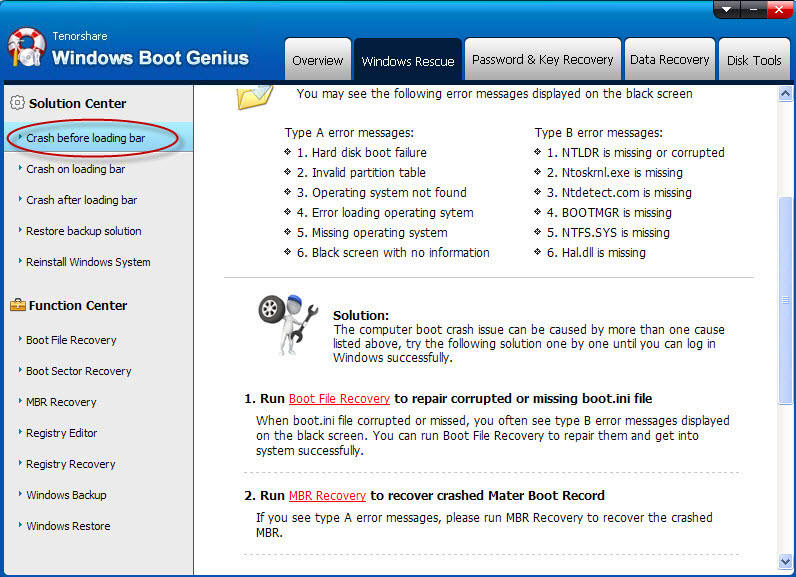 Boot File Recovery: Recover missed boot files like "Missing or corrupt file C: \Windows\System32\Config\System".
Boot Sector Recovery: Recover damaged or corrupted boot sector.
MBR Recovery: Reboot Master Boot Record to make computer boot correctly.
Registry Recovery: Recover registry to fix blue screen windows 7 when your computer can not start because the following file is missing or corrupt: WINDOWSSYSTEM32CONFIGSYSTEM, WINDOWSSYSTEM32CONFIGSOFTWARE