"I forgot my windows 7 ultimate password! I can't access it now. How do i get back in?"
Do you encounter the issue that you accidently forgot password for Windows 7 Ultimate and you sadly failed to break into the computer? Losing the Windows login password is really disastrous, which stops you accessing important files and programs in your Windows 7 Ultimate computer. Please do not try to reformat your Windows OS to cause the data loss. Actually there are really some effective ways if you want to hack Windows 7 Ultimate login password easily and safely.
Windows Password Recovery Tool is right here to reset lost or forgotten password for any Windows computer, such as Dell, HP, Acer, Sony, Toshiba, Samsung, Lenovo etc with user-friendly interface. It is the most professional and easiest software to bypass windows 7 Ultimate logon screen and admin password and even let you create a new easy-to-remember password for Local Account and Microsoft Account.
What Condition You Can Use Windows Password Recovery Tool for?
Lost user password for your Windows 7 Ultimate PC and there is no reset disk.
Forgot administrator password on Windows 7 Ultimate laptop and have no other admin accounts.
Changed your login password but unfortunately lost it.
Bought an old Dell laptop installed Windows 7 Ultimate but don't know the admin password.
Forgot Microsoft Account and Can't Login Your PC
Here you should download the Windows 7 Ultimate password recovery tool to get back the lost password and get into the Windows computer again.
Steps to Reset Windows 7 Ultimate Password
Step 1:
Download and install Windows Password Recovery Tool Ultimate:
Step 2:
Insert a CD/DVD or USB flash drive into the computer you can access and then click "Burn" to create a bootable CD/DVD or a USB flash drive.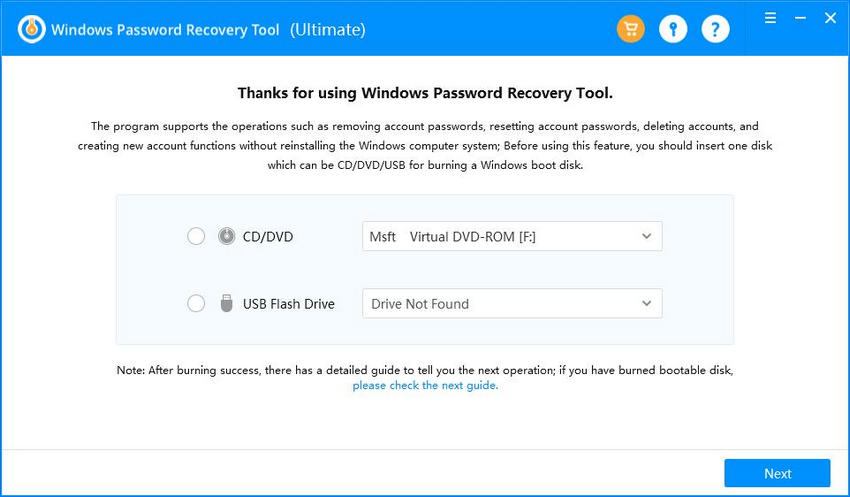 Step 3:
Select the target Windows system you would like to reset the password. Then choose "Reset your password" and click "Next".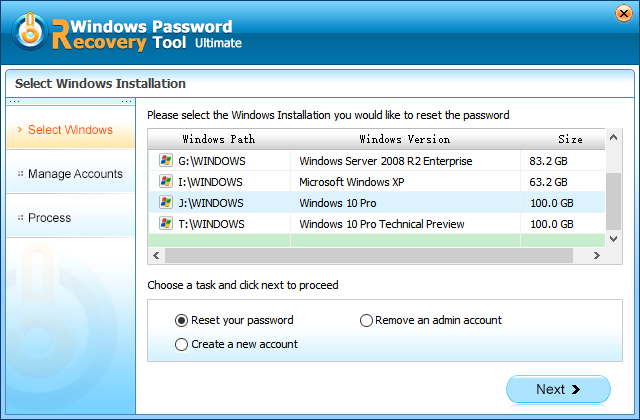 Step 4:
Select the user account whose password you want to reset from the display lists and create a new password in the "New Password" box. Finally click "Next" and "Reboot" to change the password successfully.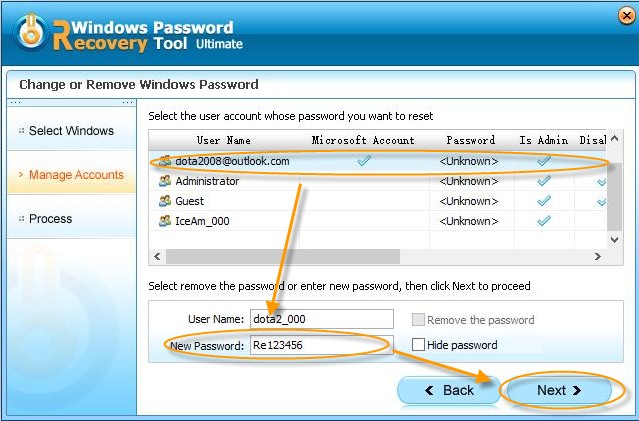 If you need to do a Windows 7 Ultimate password reset without disk, it is believed that this Windows password recovery will be your best choice. If you want to hack Windows Administrator/User/Domain password without software, here are also some tips below for you.
Addition: Try To Guess the Forgotten Windows 7 Ultimate Password
If you don't want to have a payment for any software to help you reset your lost password, please try to guess what your Windows 7 Ultimate password may be.
Birthday
Home or office address
Mobile number
Father's name or Mother's name
Your favorite number or set of numbers
Your name or lover's name
A loved one's birthday
Free Try Windows Password Recovery Tool
World's 1st Windows Password Recovery Software to Reset Windows Administrator & User Password.
Free Download
Free Download