Lost Windows 7 password is a very usually thing so that it's quite necessary to know one or two methods to deal with this kind of situation so that we won't get too frustrated if we ever lock ourselves out of our own computer clumsily. This article will provide 3 practical methods to Windows 7 users who lost password. Be noted that these 3 methods are applicable when you lost Windows 7 admin password or users passwords.
Method 1: Login to Windows 7 from Safe Mode
This is a default administrator account in Windows 7 that allows you to login without a password, so that you can still get into your computer if you lost Windows 7 admin password in normal mode.
There are 2 ways to enter Windows 7 safe mode: F8 method and command prompt method, taking a comprehensive consideration, the latter method would be recommended since F8 method sometimes doesn't work out, here's how:
Step 1:
Press "Win+R" combination and enter "msconfig" in the run box, hit the enter button.
Step 2:
you should be seeing the System Configuration window now, Switch over to the boot tab, check "Safe boot".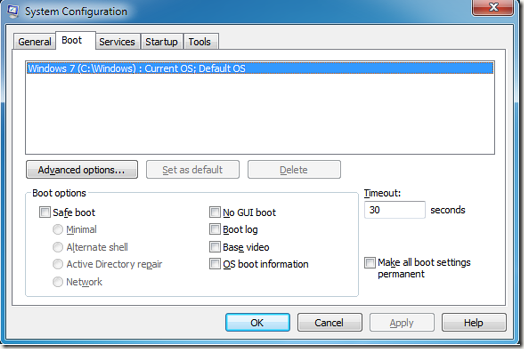 Step 3:
Choose "Minimal"-normal safe mode, click "Okay" button and restart your computer.
Note: There are 4 options under "Safe boot" besides Minimal, the Minimal Safe Mode is the default, it's the same kind you get using F8 method. Choose other options if F8 method won't work.
Should this method fail to assist when you lost Windows 7 login password, it's likely that you've already changed the password for the sake of computer security. Most users did that.
Method 2: Use Windows Reset Wizard Reset when you Lost Windows 7 Password
In Windows 7, there's a Windows password reset wizard that allows you to create a Windows 7 reset disk in advance with which you can reset your lost Windows 7 administrator password. Here's how:
Step 1:
Click "Reset password" if Windows 7 says password incorrect. You should be looking at "Welcome to the Password Reset Wizard", click "Next".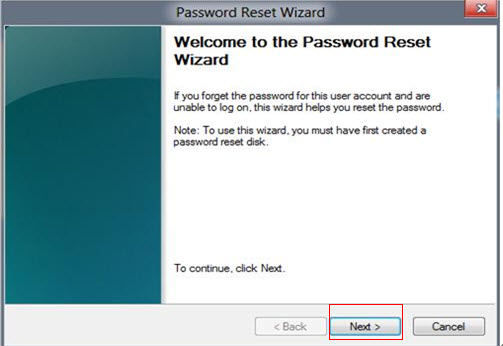 Step 2:
Insert your previously-created Windows 7 password reset disk, choose it, and click "Next".
Step 3:
Now you should be seeing "Password Reset Wizard" window, enter a new password, enter it again to confirm, click "Next" to finish Windows 7 password reset.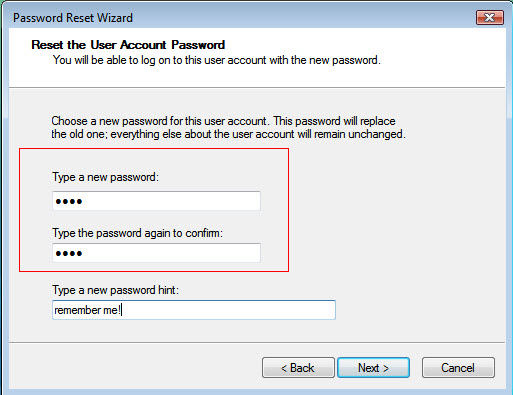 Step 4:
Click "Finish" to complete.
Method 3: Use Lost Windows 7 Password Recovery Tool
If you have no reset disk, it's time you try third-party lost Windows 7 Password Recovery tool, if you lost Windows 7 password, free down Windows 7 password recovery tool first, 100% success is guaranteed, here's a how-to-use guide:
Step 1:
Download and install lost windows 7 password recovery free on any accessible computer instead of the locked one.
Step 2:
insert a CD/DVD or USB flash drive to burn a Windows 7 password recovery boot disk/USB from the program.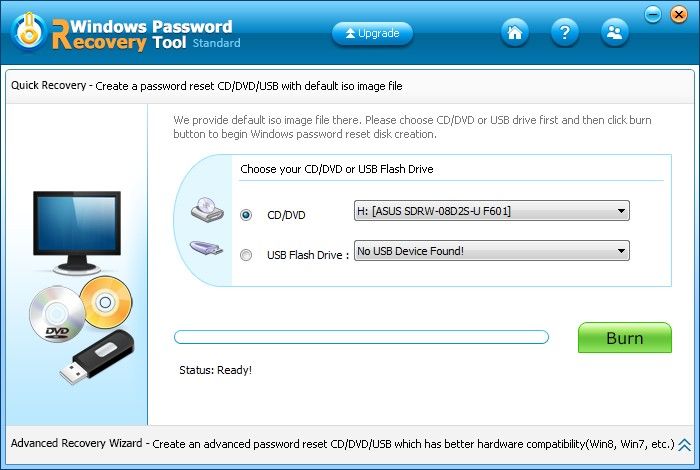 Step 3:
Insert the newly burned Windows 7 password recovery boot disk/USB, set bios to boot from it. Choose target Windows system (Windows 7) to which you lost admin password.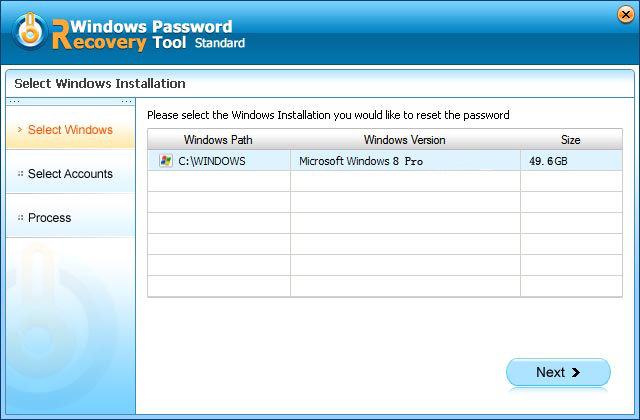 Step 4:
You now should be looking at a list of administrator and user accounts, then choose the target account and click "Next".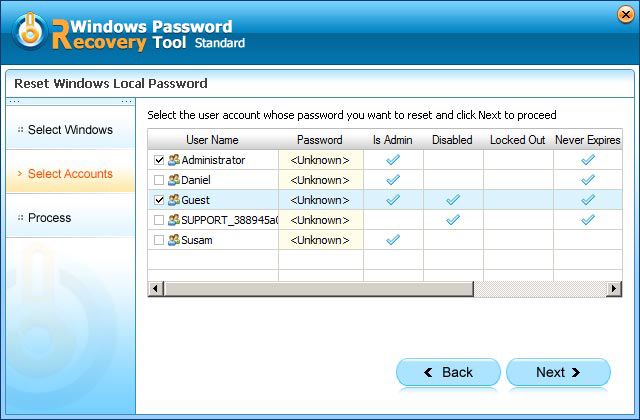 Step 5:
Wait for the program to complete the process, click "Reboot". And you are done!
Free Try Windows Password Recovery Tool
World's 1st Windows Password Recovery Software to Reset Windows Administrator & User Password.
Free Download
Free Download