"I can't save anything. When I try to save my files from applications in my Profile, I get a this error. C:\users\Bruce\documents\Vacation.docx. You don't have permission to save in this location. Contact the administrator to obtain permission. Would you like to save in documents folder instead?"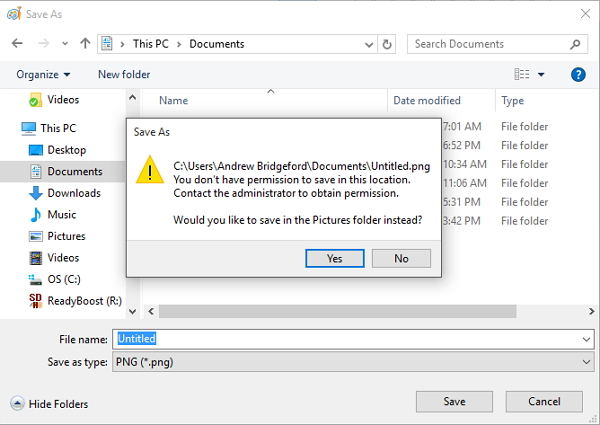 Many Windows 10 users have been facing this issue that Windows 10 says "You don't have permission to save in this location. Contact the administrator to obtain permission"; when they trying to save files.  If you get the error messages, follow steps below to have a fix.
Method 1: Change Member Group to Administrator
If you have no permission to save a document in Windows 10, you can follow steps below to change your user account member group.
Note: If you are unable to make the changes below, you may have to sign in as an administrator or request your administrator to do this.
Right-click on Start button to open the WinX Menu. Select Run to open the Run box and type netplwiz in the Run box. Hit Enter to open the User Accounts settings box.
Click on the Properties button and set the level of access that you want to give the user. Select Administrator and click Apply/OK and exit. Finally, restart your Windows 10 computer and see if it works.
Method 2: Resetting All Permissions For Your User Accounts
Another way to get permission to save files on Windows 10 is to reset all permissions for your user account. You can do the following:
Go to "C: Drive" >> "Users" >> Right Click on "Users" Folder >> Select "Properties" from the drag down list. Select the "Security" Tab >> Click on "Edit" button.
Next, click on the listed groups/usernames and check the Full Control box in the Allow column. Click Apply and OK to return to Security Properties.
Press the "Advanced Button";, a new window will open. Under "Permissions"; tab, Go to bottom-left corner and check the option "Replace all child object permission entries with inheritable permissions entries from this object"; and click on "OK"; button.
Method 3: Take Ownership And Get Full Access to Files and Folders In Windows 10
If the Windows 10 will prevent you from doing any operation on such files and folders , you need to get full access to some file or folder in Windows 10.
Right click an affected folder, click Properties.
And then click the Security tab and click the "Advanced" button.
On "Advanced Security Settings" window will appear, click "Change" next to Owner.
On Select User or Group window, type your username, click the "Check Names" button, then click OK.
Check "Replace owner on subcontainers and objects" under the owner's name. Click OK again. If you get a message saying "Do you want to replace the directory permissions with permissions granting you full control?", click "Yes" and you're done.
Now you need to provide full access to the file or folder for your account. Right-click the file or folder again, click Properties, and then click the Security tab. Click the Add button and Click "Select a principal" in the he "Permission Entry" window. Select your account.
Check "Full control" underneath it and click OK.
That's all for how to fix "Windows 10 says I don't have permission to save in this location";. Remember you need to have the administrator privilege to do the fix. If you unfortunately forgot your admin account password, Windows Password Recovery Tool can easily help you recover lost admin account password in Windows 10.
Free Try Windows Password Recovery Tool
World's 1st Windows Password Recovery Software to Reset Windows Administrator & User Password.
Free Download
Free Download