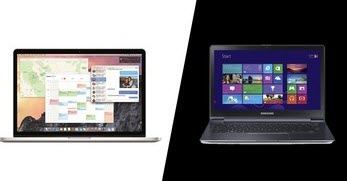 Apple has announced its next generation Mac OS X Yosemite while Microsoft also released the long-awaited Windows 10 Technical Preview to the public bringing some of the more jarring changes of Windows 8, including the return of the Start menu and improvements to how apps are displayed, etc., Let us take a look at the new features announced in OS X Yosemite and Windows 10, and make a comparison between them.
Can't Miss: 10 Things You Should Know Before Installing Windows 10 Technical Preview.
Mac OS X 10.10 Yosemite vs. Windows 10 features
1. Platform
Apple has both a solid desktop platform in OS X, and a hugely successful mobile platform in iOS for iPhone and iPad. iOS and OS X have by no means evolved into a single operating system.
On the contrary, Windows 10 will be the OS that works across mobile, tablet and desktop, with apps that work on all three platforms.
2. Redesigned and refined OS
Yosemite redesigned and refined with a fresh modern look where controls are clearer, smarter and easier to understand with translucent elements reveal additional content in your app window.
Windows 10 design is taking a step back from the often derided "Modern/Metro" interface, and the Start Menu will be a little closer to what Windows users are familiar with – there will be a Start button, even on your phone.
3. Continuity features
In Yosemite, when your iPhone or iPad is near your Mac, Handoff lets you start an activity on one device and pass it to the other. Instant Hotspot makes using your iPhone's hotspot as easy as connecting to a Wi-Fi network. Now the SMS and MMS messages appear in Messages on all your devices.
In Windows 10, there is no continuity features between Windows PC and Windows Phone.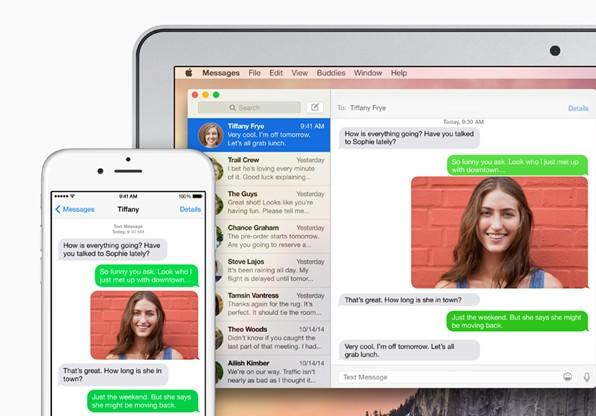 4. Notification Center
Mac OS X Yosemite brings a new Today view in Notification Center gives you a quick look at everything you need to know with widgets for Calendar, Weather, Stocks, Reminders, World Clock and social networks.
Microsoft does not have Notifications Center in Windows 10, but the concept of Live Tiles in Start have similar functions.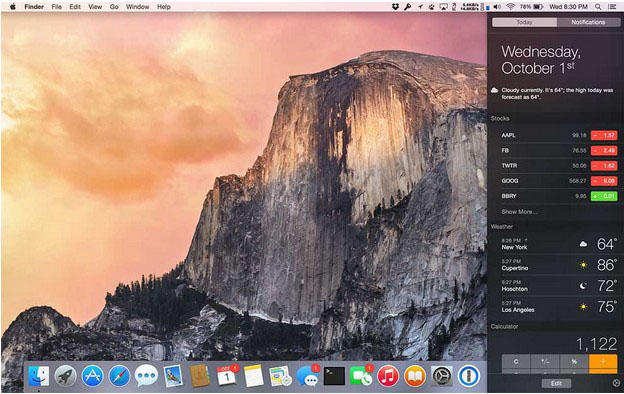 5. Task View and Mission Control
One of my favorite features in OS X is Mission Control. Mission Control allows users to see every running program window in an organized, heads-up fashion. It also allows the user to view multiple desktops and to add additional desktops with a quick click of a button.
In Windows 10, we have a new "Task View" which will show nicely sized preview windows of all your running apps. Again, this works with both touch and conventional control inputs – either a swipe from the left of the screen with your finger, or clicking on the taskbar with a mouse.
Screen does the same purpose.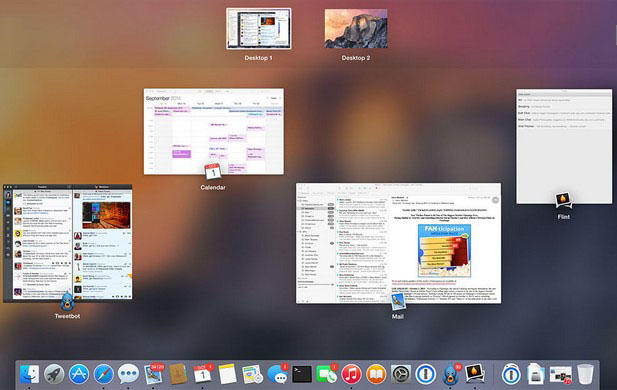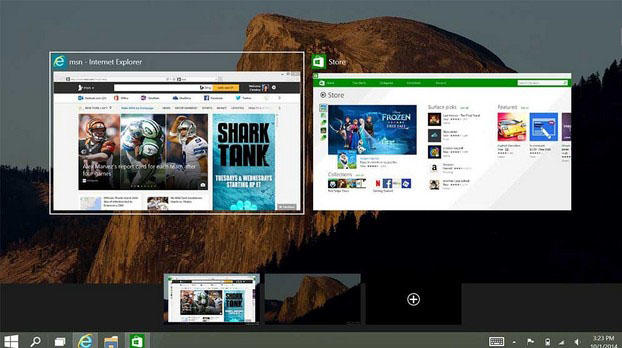 6. iCloud Drive and OneDrive
Yosemite has an iCloud Drive storing files of any type in iCloud®. iCloud Drive works like any other folder on your Mac, so you can drag documents into it, organize them with folders and Tags and search for them using Spotlight.
In Windows 10, it introduces OneDrive. It is a much better cloud storage solution than iCloud Storage with lot more features.
7. Mail
In Yosemite, with Markup you can quickly fill out and sign forms and even annotate images and PDFs from within Mail. Mail Drop allows you to easily send large videos, images or files up to 5GB from the Mail app to any email address.
Windows 10 default Mail app does not have any feature like Markup. But users can use OneDrive to send files of size in GBs and share links via Mail app, which is impossible in Mac OS X Yosemite.
OS X 10.10 Yosemite vs. Windows 10 release date
OS X Yosemite announced and released to developers on June 2, 2014, at the WWDC 2014 and it was released to public beta testers on July 24, 2014. Yosemite was released to consumers on October 16, 2014.
Microsoft already released the technical preview of Windows 10 and it is determined to launch the final code to multiple platforms in the middle of 2015.
OS X 10.10 Yosemite vs. Windows 10 Price
Apple gives away the most recent version of OS X for free.
Nothing solid is known about price of Windows 10, however, earlier rumors suggested MS is thinking of offering a free upgrade to Windows 8 users.
To sum up, we make a comparison between OS X Yosemite and Windows 10 from 3 aspects. We are happy to see both Microsoft and Apple are learning from each other and make the OS better and better. You can choose each one you like.
Free Try Windows Password Recovery Tool
World's 1st Windows Password Recovery Software to Reset Windows Administrator & User Password.
Free Download
Free Download