When setting up Windows 10, one of the first things you need to do is to create a Microsoft user account. What if you forgot the password for the Microsoft account? You'll find yourself in the mire. Your Windows 10 PC is locked and lots of sensitive and personal data are in danger.
With an online Microsoft account you can log into multiple Windows 10 PC computers or Windows 10 phones, access to the Microsoft Store to enjoy the thousands of apps, back up your data using free cloud storage, sync your browser bookmarks and all your Windows settings so that you can access in any Windows PC and wherever you are.
What should you do if you forgot the password? Generally you can click here to retrieve the Microsoft account password by providing the verification info Microsoft requests.
In some other circumstances, you may have to find a different solution to reset the password in order to log into your Windows 10. Windows 10 Password Recovery Tool is such software which can help you unlock the lost Microsoft account password on Windows 10.
Steps to Reset Microsoft Account Password to Log into Windows 10
Step 1: Download and Install Windows 10 Password Recovery Tool Ultimate
Download Windows 10 Password Recovery Tool Ultimate and install it to any PC you can access to, not the Windows 10 machine that you cannot login due to the forgotten Microsoft account password.
Step 2: Burn a bootable CD/DVD or USB Flash Drive
You need to create a bootable disk in order to boot your locked Windows 10. There are two options: Burn with default iso image file, or create an advanced password reset CD/DVD/USB. Check specific steps to burn CD/DVD/USB Flash Drive with the two options.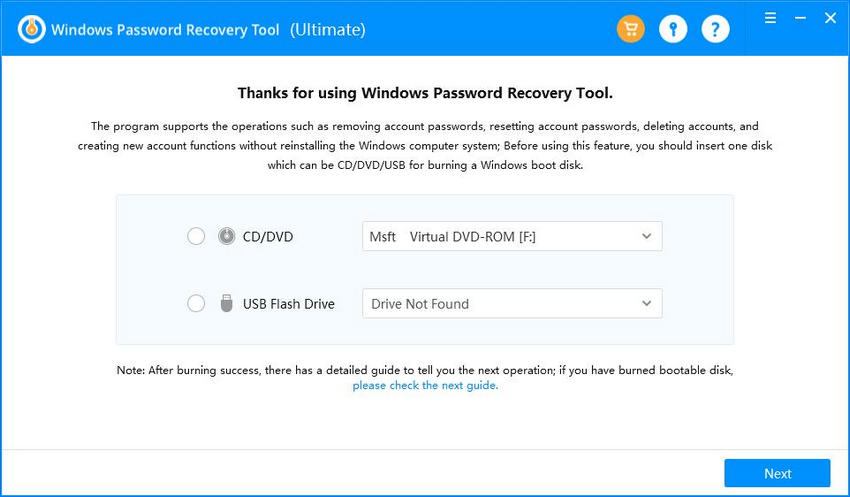 Step 3: Boot Locked Windows 10 Computer from the created disk
If you updated your PC to Windows 10 from older versions, you can simply set the BIOS to boot from CD/DVD-ROM or set the BIOS to boot from the USB drive.
For the computer with Windows 10 preinstalled uses UEFI Secure Boot, you should disable the Secure Boot first, and then access the BIOS in traditional way.
Step 4: Reset the Microsoft account password
Once booted successfully from the CD/DVD/USB Drive, select Windows and tick "Reset your password" option. Then you will see all user accounts including Microsoft account, Administrator account and other accounts.
Highlight the Microsoft account, and you can check the new password that is reset automatically.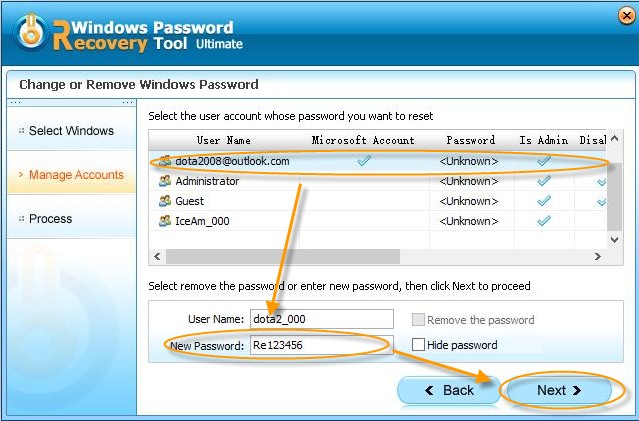 Click Next button to confirm the new password created. Now you can boot the PC and log into your Windows 10 with the new password of the Microsoft account.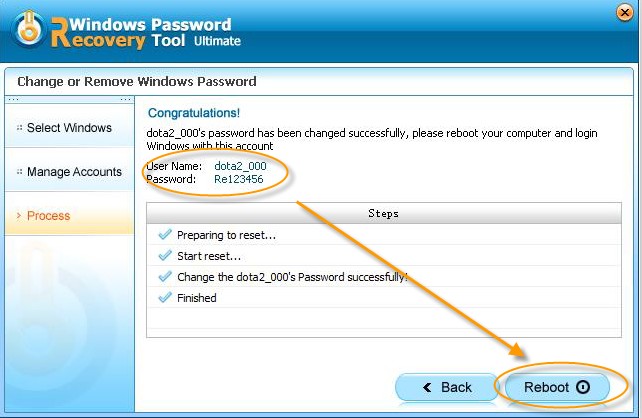 Free Try Windows Password Recovery Tool
World's 1st Windows Password Recovery Software to Reset Windows Administrator & User Password.
Free Download
Free Download