After installing a Windows update on your PC, you may find Windows 10 won't let sign into computer saying "That password is incorrect. Make sure you're using the password for your Microsoft account", and you are locked out of your computer. In this case, keep reading this post to find what the reason is and how to fix Windows 10 not accepting password after upgrade.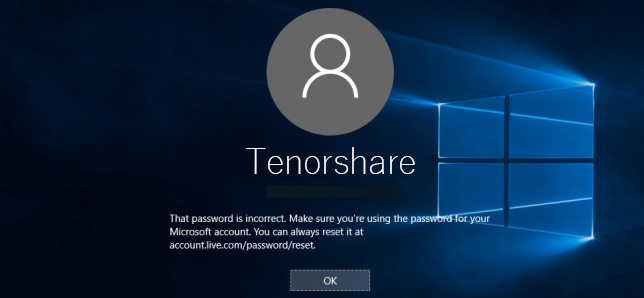 Common Ways to Troubleshoot Windows 10 Cannot Login Using Correct Password
The reason for password incorrect error after upgrade to Windows 10 varies with individuals, mainly due to the mixed-up profile user profile registry files. Below are some quick tricks you can take to check
1. Check the keyboard to see whether the Caps Lock and NumLock work as usual and whether there are typos when signing in Windows account with password.
2. Shut off you computer and reboot it for several times. Hopefully it may work out.
3. If you are using a live Microsoft account, for example, Hotmail.com, Microsoft Outlook to sign in to your Windows 10 PC, you can reset it online on any other available computer on Microsoft Password Recovery site. Change the old password Windows 10 won't recognize with a new one and login again.
4. If above tips still can't get past login screen windows 10, you may need to reinstalling the Windows operating system. With this method, you need to create or buy an installation media (DVD, USB flash, or ISO file) firstly since you are not able to access your password-protected computer. Then boot from the USB/DVD and get a clean update of Windows 10.
Quick and Easy: Fix Password Incorrect After Windows 10 Update
If you are using a local account to sign in your computer and in urgent need, we would like to suggest you reset windows 10 login password with the best password recovery software Windows Password Recovery. It can easily recover Windows password for both administrator and local user without system reinstallation and data loss. Even if you barely know about computer, you can change the password within three steps by yourself. Here is what to do when Windows 10 can't login after update:
1. Download and Run Windows Password Recovery on any other Internet-enabled PC/Mac and insert a blank CD/DVD/USB flash to burn ISO files. Taking an USB drive here for example, select the device from software interface and click Burn to proceed. Note this will format your external device so better to go with a vacant one.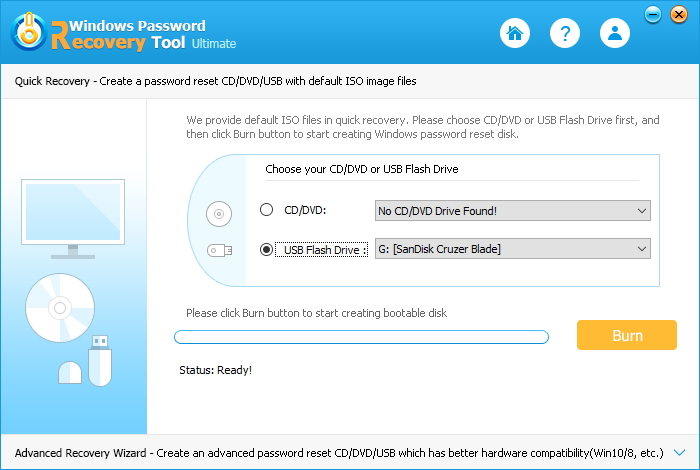 2. When the reset disk is ready, restart your computer and choose to boot from USB flash drive to launch the recovery utility.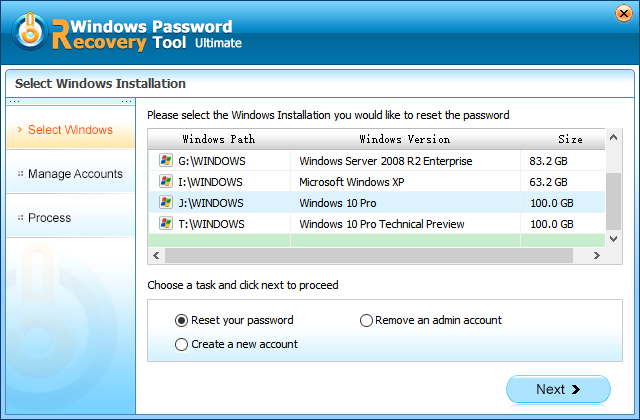 3. Select the Windows installation system and corresponding user name to remove or reset the password. You can even create a new user account to log in your computer with this tool.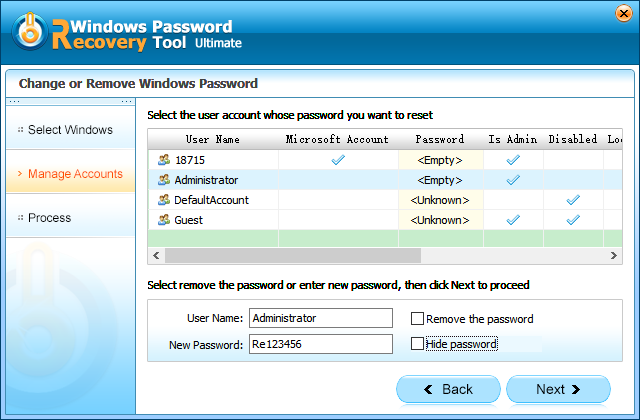 After that, click Reboot option restart your computer. Make sure the bootable device is ejected this time, then sign in with newly created password.
That's all about how to bypass login screen on windows 10 when the password is reclaimed to be wrong. Hope you can find a handy solution here.
Free Try Windows Password Recovery Tool
World's 1st Windows Password Recovery Software to Reset Windows Administrator & User Password.
Free Download
Free Download