[Fixed] Keyboard Keys Not Working on Windows 10

May 9, 2017 11:00 am / Posted by Ruby Johnson to Windows 10 Tips
Follow @Ruby Johnson
"I just finished upgrading to Windows 10 on my little ASUS 1225b laptop, and so far everything is great, except for one major problem. Immediately following the update, certain keys on the keypad stopped working. There is something wrong on the right half of the keypad, specifically the keys that are mapped with the number pad on them."
With the improved performance and high stability, Windows 10 has attracted a lot of fans since it was available. But there are also many bugs there, Windows 10 keyboard not working is just one of them. Some users said the number keys are responding, some complained all of the keys become dead. Luckily, this post has gathered several useful methods to help people fix keyboard function, media, volume and other keys not working on Windows 10 quickly.
Method 1: Use the Windows Key + Space
When some keys not responding on keyboard, they might be locked accidently. You can try to fix this by pressing Windows Key and Space on the keyboard and the locked keys will work. If only number keys not working on Windows 10 laptop, check the "Num Lock" key to make sure it's on.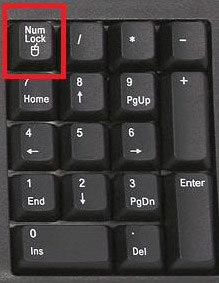 Method 2: Adjust Settings for the Keyboard
Sometimes Windows 10 keyboard still not working in search or cortana after unlock the keys from the keyboard, you need to turn off filter keys to fix this issue.
Open computer and click Start button, go to Control Panel. Click "Ease of Access" in the Category
Now you can see five options below, click "Change how your keyboard works" from them
Scroll down the page and make sure the "Turn on Filter Keys" option is clear, press OK to save the change
Method 3: Uninstall Synaptics Driver
If you have upgraded Windows 7/8 to Windows 10 and the laptop keyboard keys not typing letters correctly, it can be the incompatibility of Synaptics driver.
Click Start button and select Device Manager from the menu
Locate Synaptics driver when the Device Manager opens, right click it and choose Uninstall from the menu
Check the Delete the driver software for this device and click OK.
When uninstall the driver completes, restart your computer to check if the keyboard working or not.
Method 4: Install the Latest Updates
The new Windows updates are released to improve the performance of the current version. If the Windows 10 keyboard not working after sleep, upgrade, reboot or installing, you can install the latest updates to fix this error.
Click the Start button, enter "Windows Update" in the search box, and click "Windows Update".
In the left pan, click "Check for updates". On the "Select the updates you want to install" page, select the drivers you want to install.



Free Trial Windows Password Recovery Tool:
Buy Now Windows Password Recovery Tool:
Now you got to know how to fix keyboard keys not responding completely. If the keys still not typing, you can use a USB keyboard or go to the repair store for help.
comments powered by