What is Windows Password Recovery Tools
Windows password recovery tools are used to recover, reset or crack lost administrator and user log on passwords on Windows operating systems. If you forget the login password, you'll not be able to log into the system. Instead of reinstalling the OS, Windows users who are not tech savvy can use Windows password recovery software to recover the lost password. Below you'll find the best 3 free Windows 10 password recovery tools available in 2017. Honestly these programs not only work for Windows 10 passwords, but also Windows 8.1/8, Windows 7, Windows Vista, and Windows XP passwords.
Top 1: Free Windows Password Recovery Tool
The top 1 I recommend is a professional Windows 10/8.1/8/7 passwords cracking software. Having a neat interface, this Windows password recovery program supports to reset or remove a forgotten login Windows password in high speed. It can easily recover Windows 10 administrator password, Microsoft account passwords, and user passwords in minutes.
To use this program, you need to install it to another PC, and burn the ISO mage to a CD/DVD or USB flash drive. And then boot the password locked PC from the burned CD/DVD/ or USB Flash drive. Once you boot from the bootable disk, there are several ways to deal with the password. You can reset your password, remove an admin account, or create a new account.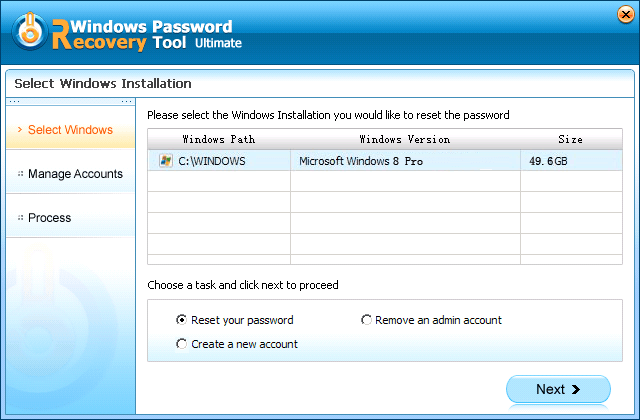 Follow the onscreen guide, you can reset a new password to log on your Windows, or you can remove the password by log on your Windows without entering a password.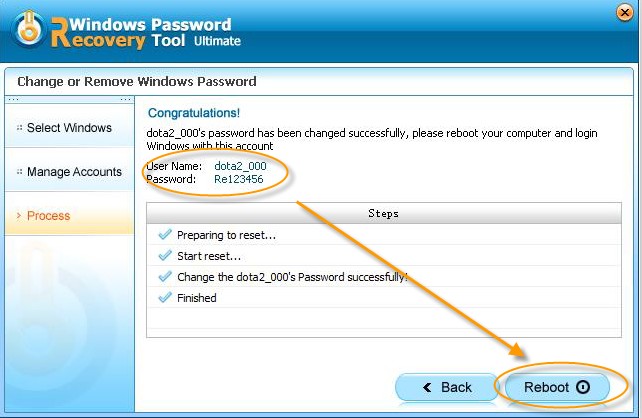 This Windows 10 password remover/cracker/recovery is trustworthy by many users. One can use it to recover Windows password without knowing much technical knowledge.
Free Download
Free Download
PROS: Easy to use, and recovers/removes/resets passwords with high success rate.
CONS: User needs to create a bootable disk before resetting the password.
OS: All Windows operating systems including Windows 10.
Top 2. Offline NT password & Registry Editor
The Offline NT password & Registry Editor is free and open source. Instead of recovering the forgotten password, this program will erase your Windows password. So it is more likely a Windows password remover tool.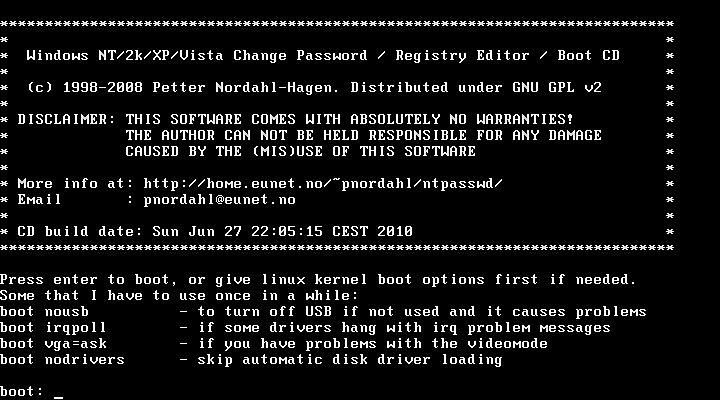 To get started, users will have to burn a CD and choose a few options in the menu. After booting from the burned disc, you can log in to your Windows account without entering a password at all.
Download Offline NT Password & Registry Editor
PROS: Deletes password very fast
CONS: User needs to create a bootable disk before resetting the password.
OS: All Windows operating systems including Windows 10.
Top 3: John The Ripper
John the Ripper is another free and popular password recovery tool to find Windows account passwords. It is worth mentioning that John the Ripper is operated at the command line making it a password cracking tool reserved for the very advanced user.
PROS: Fast, free
CONS: Requires technical background
OS: Windows 10, 8.1, 8, 7, XP, Vista
Download these free Windows password recovery software and use them to recover Windows 10 login password when you forgot or lost it.
Free Try Windows Password Recovery Tool
World's 1st Windows Password Recovery Software to Reset Windows Administrator & User Password.
Free Download
Free Download