My system is dell inspiron 13 7348. My Windows 10 admin account was locked, meaning I forgot the password. Laptop does not have optical drive. I tried to boot from USB flash drive but I was unable to even boot from usb.
I tried lot of options/Softwares to unlock it but can't be able to unlock. Please let me know what needs to be done to resolve the issue.
By sivakesava574, on Aug 14, 2015
Strong, unique password protects our account in most times, but things get tricky once you forgot your Windows password. How can we retrieve it and open our PC again? In this article, we would concentrate on how to recover forgotten password in Windows 10 on Dell Inspiron/XPS/Alienware/Chromebook/Deals. As we know that most Dell laptop are designed with no optical drive to make it more portable. So to get back your forgotten password with password reset disk does not work. Considering this, I sort out two methods for you on Windows 10/8.1/8/7 Password Recovery on Dell Laptop.
Method1. Recover Windows 10 Forgotten Password on Dell Laptop with Built-in Administrator
If you have enabled the built-in admin account on your laptop, then to reset your passphrase with a default built-in administrator can be a good idea.
Step1. You can see the user account named Administrator on your sign-in screen (on the lower left corner). Select it and tap Sign in to login Windows 10.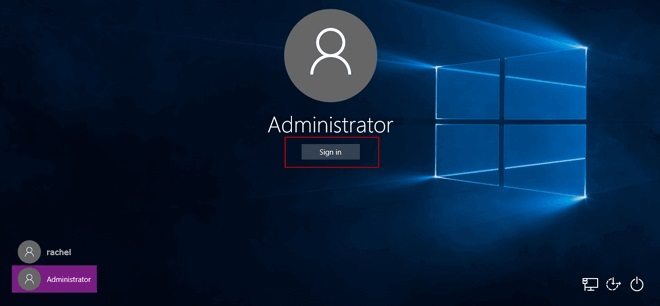 Step2. Then it is to change the lost password with Command Prompt. After you access Windows 10, go to settings>> Account >> Other users to view the account you have created. Then press Win + X, choose Command Prompt (Admin), and click Yes to start the Command Prompt. Type command net user rachel abc and press Enter.


The Command Prompt would response with message "The command completed successfully" instantly, which means the user account "rachel" has replaced the password as "abc". The next time you sign in Windows with rachel and new password is workable.
(Note that the default built-in administrator is disabled by default and cannot be seen unless you turn it on when the laptop is still accessible. Type the command net user administrator /active:yes to enable it)
Method2. Crack Windows 10 Lost Password on Dell Laptop with Windows Password Recovery Tool
What if you haven't turned on the built-in administrator? Then it is time for you to try on the ultimate solution—to get back the forgotten password via a Windows password rescuer, Windows Password Recovery Tool. No system reinstallation, no reset disk, no data loss. Just three simple steps, you can recover the missing password! Multiple choices for you and you are the password expert too!
Step1. Download and install the Windows Password Recovery Tool on an accessible pc. Then burn it to CD/DVD/USB.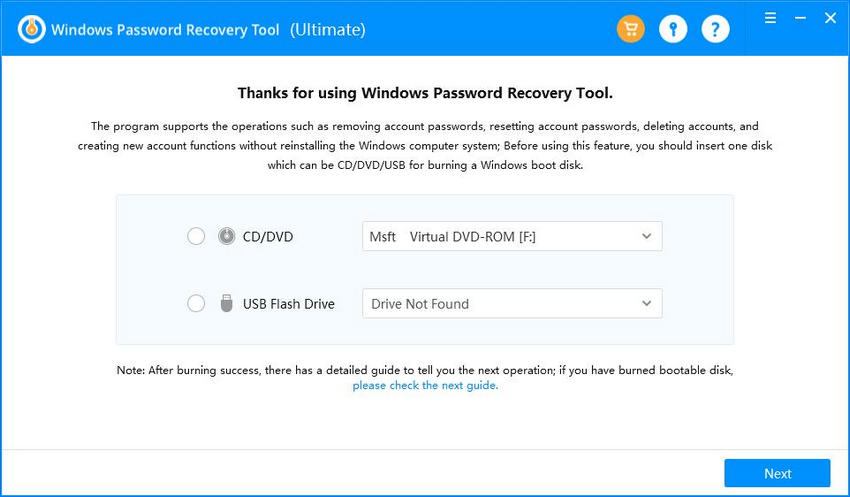 Step2. Remove/Reset Windows Password with the newly-created disk/USB.
(NOTE: If you're using Windows 7 and older versions or have installed Windows 8 on an existing computer that uses the legacy BIOS system, you can simply set the BIOS to boot from CD/DVD-ROM or set the BIOS to boot from USB drive. For the computer with Windows 8 preinstalled uses UEFI, you should disable UEFI Secure Boot firstly, then access the BIOS in the traditional way.)
After the USB/CD/DVD boots and your computer reboots, you will enter the main interface of the software. If you have forgotten the password in your Windows 10 Dell laptop, you are advised to remove/change Windows password.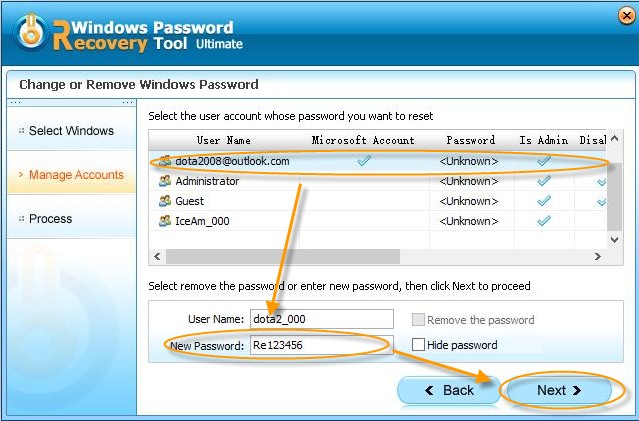 Forgot Windows 10 password on Dell laptop, how to reset? Here are two ways for you to solve this problem. For more, you can go to the official websites to gain more Windows-related knowledge from tech experts. Thank you!
Free Try Windows Password Recovery Tool
World's 1st Windows Password Recovery Software to Reset Windows Administrator & User Password.
Free Download
Free Download