"I have a brand new Toshiba laptop with Windows 10 installed, and I forgot the password now there is no way I can get into the computer, I have tried everything and I sent a letter to Toshiba but failed. Is there any way to unlock Toshiba Windows 10 laptop without data loss?"
- Jewell
Password forgotten is really common today! A strong login password for your computer can effectively password protect your laptop and stop unauthorized users, whereas it will lock yourself out of your PC once you lost the password to login. If you unfortunately locked out of Windows 10 Toshiba laptop/tablet, this article give you a solution.
Method 1: Unlock Toshiba Laptop Password Windows 10 with Password Reset Disk
Never to worry about it if you create a password reset disk after password protecting your PC. Take out this disk, insert it in your Toshiba laptop and reset the lost password as follows:
click on the "Reset password" link showed up under the password field when you type the wrong password. This will kick off Password Reset Wizard, click next to continue.
Pick the right disk if you have more than one, and type a new password, and a new hint for your password. Now you can login to your laptop with the new password.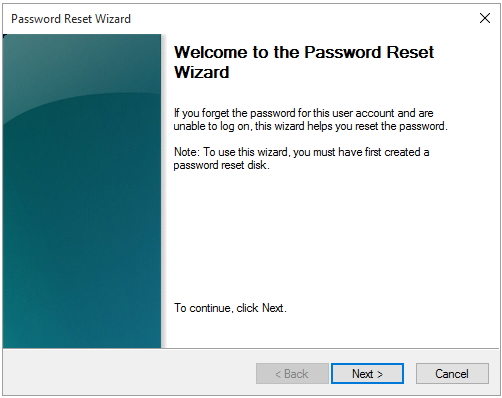 Method 2: Reset a Toshiba Laptop/Tablet Password Online
Windows introduce Microsoft account since Windows 8. If you use the Microsoft account to sign into your laptop/tablet, you can reset your forgotten password online as below:
Open the Microsoft Account Password Reset page from any browser on any computer or device. Click https://account.live.com/password/reset to go to Microsoft Account Password Reset page.
Enter your email address in the Microsoft account field and enter the verification code provided. Click "Next" to go on.
On the next screen, there are two options: Email me a reset link and Send a code to my phone. Choose an option to reset your password.
For more details, read about How to Reset Your Microsoft Account Password?
Method 3: Unlock Windows 10 Toshiba Laptop/Tablet with Windows Password Recovery Tool
Didn't create a password reset disk? Failed to reset your Microsoft account online? No worry! Windows Password Recovery Tool give you the ultimate solution to unlock Windows 10 Toshiba laptop/tablet (including Toshiba Satellite, Toshiba Qosmio, Toshiba Tecra, Toshiba Portégé, Toshiba Kirabook).
Below I will show you how to unlock toshiba laptop password windows 10 with versatile Windows Password Recovery Tool. To get started, free download and install this tool in an accessible computer.
Insert a CD/DVD disk or USB flash to the workable computer and click "Burn" to start burning a Toshiba password reset disk.
Take out the password reset disk and insert it into your locked computer. Set your computer to boot from the CD/DVD-ROM/USB. (Learn how to set BIOS to boot from the CD/DVD-ROM/USB).
Now Windows Password Recovery Tool appears on your screen. Follow the wizard to either reset or remove your login password.
To sum up, we have covered 3 ways to unlock forgotten Windows 10 password on Toshiba laptop/tablet. Choose the best way for yourself to unlock your computer.
Free Try Windows Password Recovery Tool
World's 1st Windows Password Recovery Software to Reset Windows Administrator & User Password.
Free Download
Free Download