When your computer response slowly, software can't work normally and PC crashes or freezes during game process, it's time to check CPU usage on Windows. The high CPU usage may cause bunches problems which are harmful for your PC. To help you get out of this trouble, the post will describes what CPU usage is and how to check CPU usage on Windows 7, look over Windows 8 CPU usage as below.
What Is CPU Usage
The CPU (Core Processing Unit) is the brain of your computer. CPU usage refers to your computer's processor and how much work it's doing. A high reading means your computer is running at the maximum level or above normal level for the number of applications running.
How High CPU Usage May Be Caused
1. Running too many applications at once
Many CPU issues are because of an overload of processes running, and too little resources to handle all of them.
You need to find which processes are clogging up your computer's performance and remedy them. You can download a program such as Windows Care Genius which can help you find out the programs which are giving you a high CPU use reading.
2. Not enough virtual memory
You may need to change your computer's virtual memory settings.
3. Other reasons are:
Overheating/Poor ventilation
Virus/Malware infections
Out-of-date drivers
How Do I Check My Windows CPU Usage
Method 1: Check CPU Usage in Task Manager
Method 2: Check CPU Usage via Windows Care Genius
;Method 1: Check CPU Usage in Task Manager
Use the Performance tab in Task Manager to view how your computer's central processing unit (CPU) is being used by Windows and other programs running on your computer
1. Open Task Manager by right-clicking the taskbar and then clicking Task Manager.
2. Click the Performance tab.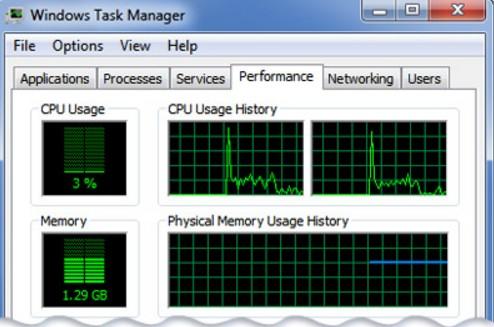 ;Method 2: Check CPU Usage via Windows Care Genius
Windows Care Genius is a professional cleanup and speedup tool for Windows 10/8.1/8/7. It supports to one-click to checkup PC health. This feature offers the way for how to check CPU usage on your computer which enables you to know how much your computer has consumed. The program will automatically scan, rate and analyze the whole PC status with one-click and provides effective solution to improve PC performance. You can also set schedule task to regularly clean up your PC.
First, download, install Windows Care Genius.
Step 1: Launch the program, click "Checkup" button, then the software will automatically find the CPU usage and potential security problems.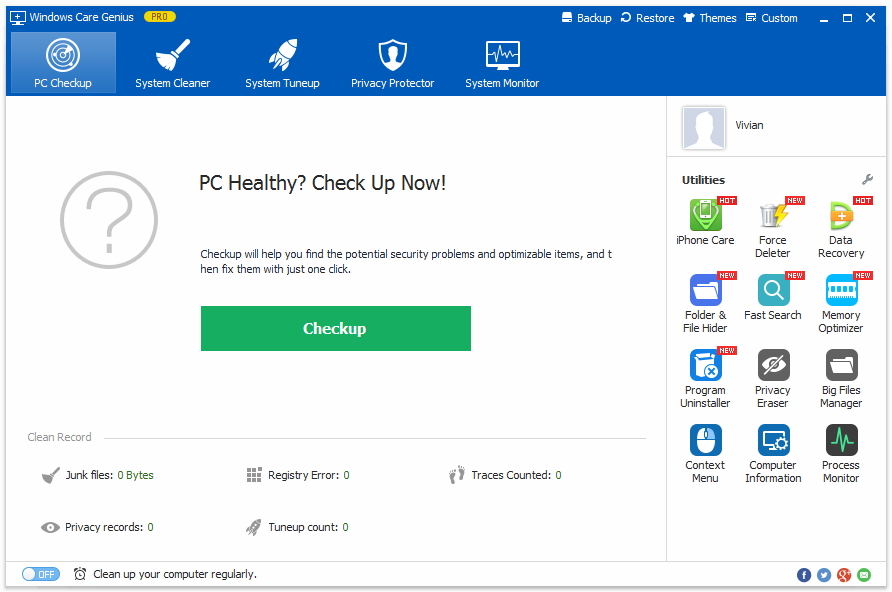 Step 2: After the scanning is finished, you will see the whole health state of your PC showing with score 0 to 10. Click "Fix" button to starting fixing all these problems in one click.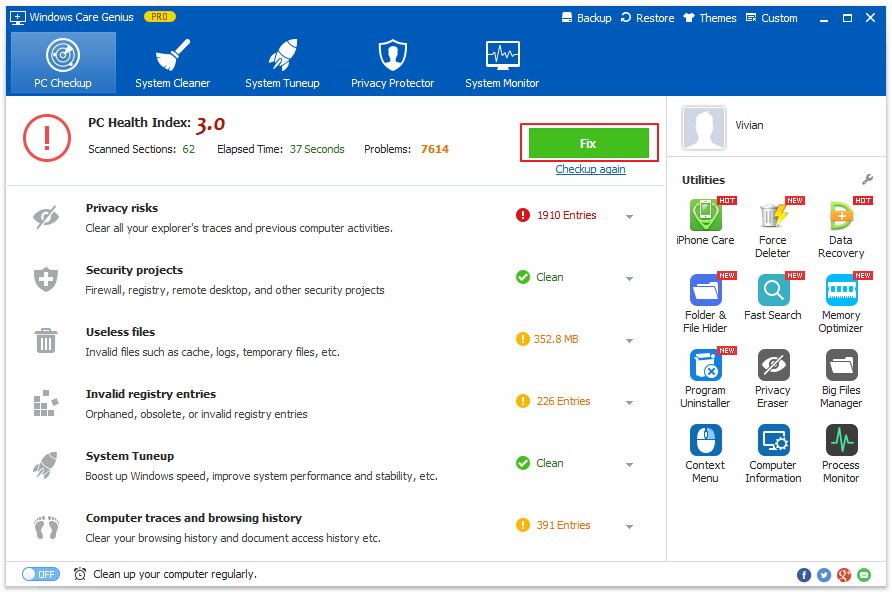 Step 3: After the fixing process, PC cleanup is complete, and you will see your PC get the highest mark 10, which means your computer is at its peak performance now.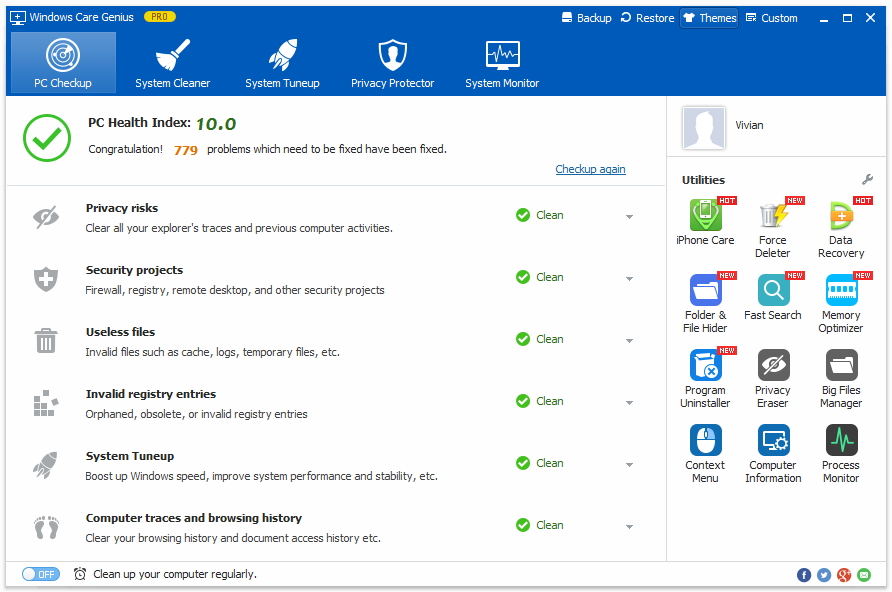 That's all for how to check CPU usage on Windows 7 or other Windows version. Try the methods above and check the CPU usage condition for health keeping!