"I am facing a problem with my own PDF file which has been encrypted and I am not able to edit or print. I am eager to unlock this essential PDF files without any data loss. How can I unlock this PDF file for printing and editing?"
Normally, quite many of the users would like to set owner passwords as an encryption for the PDF files in case of privacy revealing and protect the contents. It will be impossible for you to print and edit the secured PDF documents if you can't remove owner password. What to do if you want to access to the protected PDF data in urgent? No worries. You don't need to be crazy to go out and look for tools and utilities. Learn how to easily and quickly crack a protected PDF file for editing by following the simple steps below.
PDF Password Recovery is the best PDF unlock software that can help you unlock the password of any protected PDF files and let you open, edit, copy and print as you hope. This program is an extremely well-designed PDF password remover for Windows users to remove PDF password restriction and let you access it in a super fast speed.
Top Reasons You Need It
Instantly Remove PDF Password and Restrictions
Unlock a secured PDF file without modifying PDF content
Recover the User/Open Password within minutes
Remove restriction on PDF copying, editing, and printing directly
Disable the restrictions in standard password protected PDF file
Download and follow the step-by-step guides to recover PDF user password and PDF permission password to break PDF encryption.
How to Use PDF Password Recovery
Step 1: Import Encrypted PDF File
Launch PDF Password Recovery. Click "Open" to find out the encrypted PDF file and import it to this program by manual.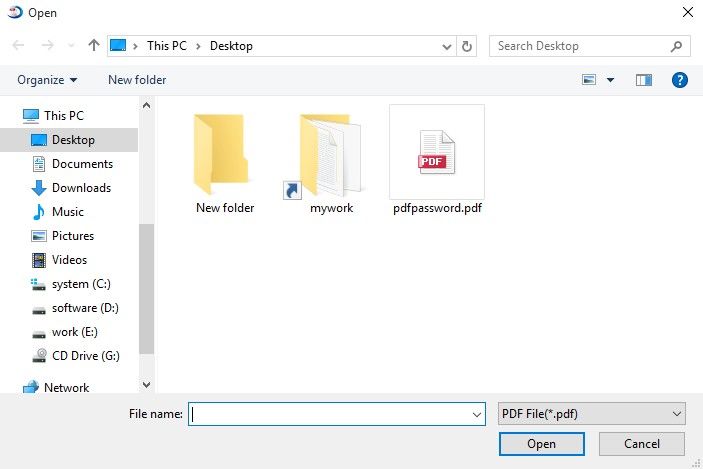 Step 2: Choose Type of Attack and Deploy Settings
There will be three attack types for you to unlock PDF.
If you have no clues about your forgotten PDF passwords, please Select "Brute-force Attack".
Select "Brute-force with Mask Attack" if you can remember a part of the secured passwords.
"Dictionary Attack" choice can be considered if you have a dictionary which is just a Unicode text file with one word at a line; lines are separated with line breaks.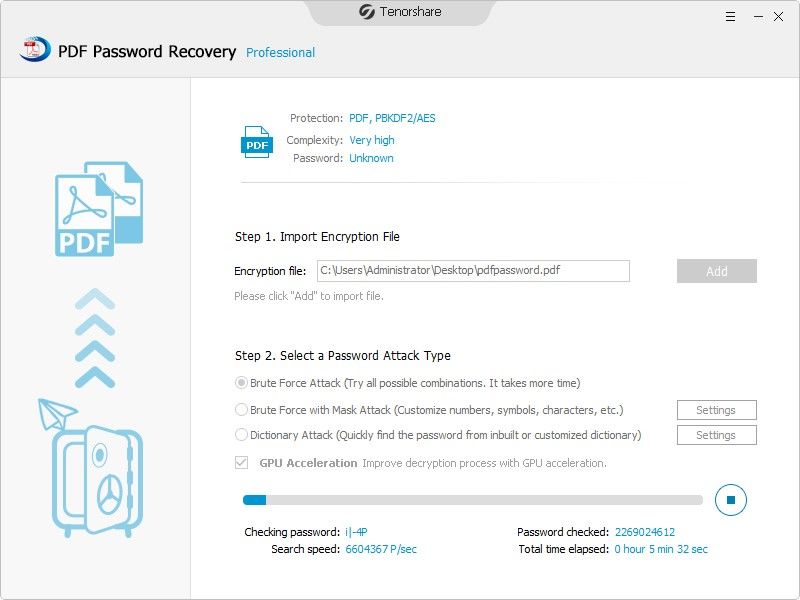 Step 3: Start to Recover PDF Passwords
Move to click "Start" to initiate the PDF decryption and later a window pops up with the open password. With this recovered open password, you can click on "Remove" to remove both open password and permission password directly.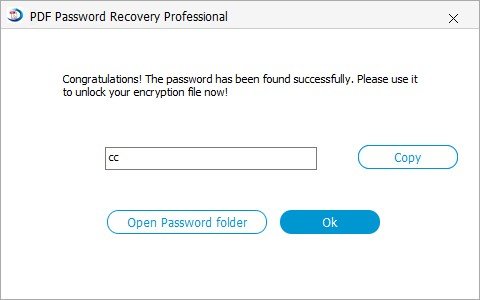 Within these three steps done, you can unlock secured PDF files for editing now. If you think it is helpful to circumvent PDF editing security, please share it with your friends.
Addition: Difference between the user password and owner password of PDF
The user password is to open a PDF. Acrobat/Reader will prompt a user to enter the user password if you don't have the user password, you will not able to open the document.
The owner password is set with the permission for printing, editing, extracting, commenting, etc. of the PDF content. Acrobat/Reader will ask for a password if you want to access the password-protected PDF files.
Free Try Windows Password Recovery Tool
World's 1st Windows Password Recovery Software to Reset Windows Administrator & User Password.
Free Download
Free Download