Rufus is an open source and totally free software for Windows XP/7/8/10. Though small in size, it helps millions of users to format external disk and create bootable USB flash drives from ISO images. Rufus can be especially useful when you need to burn Windows installation disk or create a password reset disk.
However, Rufus is not available on Mac OS computer, making it the biggest weakness. So here I would like to introduce the Rufus alternative for Mac users to burn ISO to DVD/USB pen drives.
Top Ranking iSO Burning Software Alternative to Rufus for Mac
A bootable flash drive is necessary when you need to troubleshoot for some particular computer issues, or reset Windows login password. You are always recommended to create bootable USB from ISO with Rufus or other similar software in advance. However, you may not have a reset disk in hand when Windows computer is locked or crashed, and if it's the case, there is no way to access your PC.
Luckily, if you own another computer, being it Windows or Mac, you can extract iSO image to USB drive or CD/DVD and boot up the password-locked machine from this disk. Rufus does a good job in putting password rest disk ISO into an external drive but fails to support Mac OS. That's why Windows Password Recovery Tool for Mac coming out. Unlike Rufus, you don't have to download extra ISO files since this tool will provide you with default ISO images that allow you to reset password in WinPE. With it, you can easily create Windows password reset disk on Mac or Windows computer.
How to Create Bootable USB Drive from ISO on Mac with Rufus Alternative Tool
If you need to burn password reset ISO image into disk on Mac, the professional ISO burner Windows Password Recovery Tool for Mac is always here to help. Before start, you are recommended to prepare an at least 4GB USB drive or DVD.
1.Start with launching this program and inserting your UFD or DVD into Mac.
2.When detected, click Burn button to copy ISO image files to your USB flash drive or other disk. Note that all data stored on your drive will be formatted.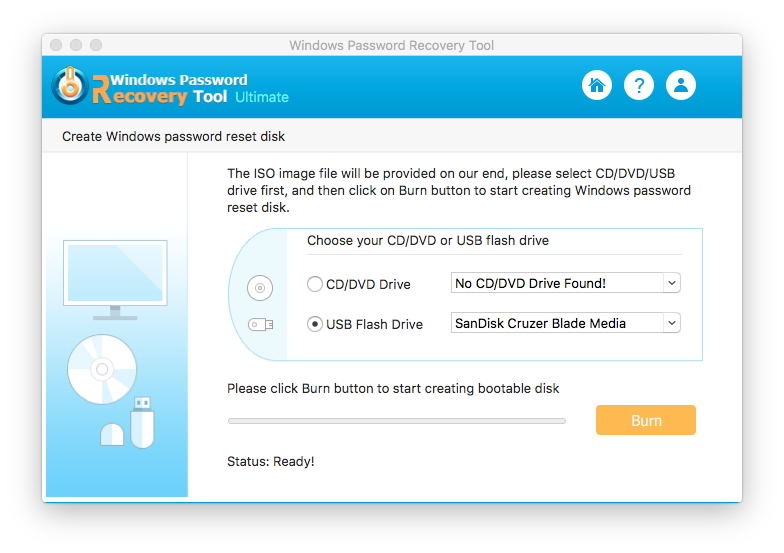 There you go. Now you have successfully made a bootable password reset disk by yourself. So what can you do with it? Basically, it applies to recover or reset Windows 7/8/10 user password when you are lock out of computer.
To do this, you just need to boot your password-locked computer from the bootable USB drive and when you enter Windows Password Recovery Tool interface, you can either choose to reset the Admin or local password or remove it.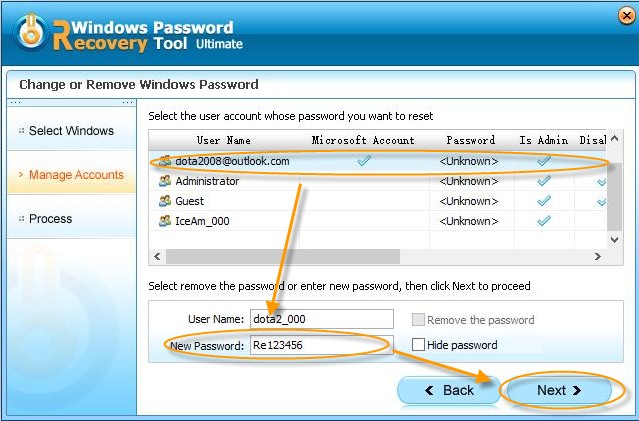 Here is the end of this post. Now you should have a better understanding about Rufus alternative software for Macbook/iMac as well as how to create a bootable disk with Windows Password Recovery Tool.
Free Try Windows Password Recovery Tool
World's 1st Windows Password Recovery Software to Reset Windows Administrator & User Password.
Free Download
Free Download