"Kon-Boot failed resetting my password. Forgot login password of Win 10 PC and I was advertised by my friend to install Kon-Boot to sort it out. It says the password was reset but the computer still asks me for password in next bootup. Anyone know how to fix this?"
Kon Boot has been a great tool to help reset passwords on your computers. It allows you to get into your user account on your machine without requiring a password. This then allows you to recover your data, get access to the files you could not before, and so on. There are some times, though, when the tool does not work. In those cases, you may want to look for a Kon Boot alternatives for password reset.
There are a number of Kon Boot alternatives available in the market. However, not all of those work the way you want them and that results in disappointments. In the following guide, we are going to take a look at what issues you could possibly face with Kon Boot and what alternative to use if Kon Boot does not work for you at all.
Part 1. Review on Kon Boot
As mentioned before, Kon Boot has been a great tool but it has recently started creating issues. Users have been complained a lot about the tool lately and we thought we compile a list of all the issues you could ever face with the tool.
Issue 1. Hang Issues
One of the many issues the tool often causes is hang issues. Many users complain that the tool does not move past the first screen. No matter what keys you press, the program just stays stuck on the first screen. Since it does not get past the welcome screen, there really is no way you can get it to work on your computer
Issue 2. Menu Redirection
Another issue that some of the users face is the tool often redirects them to other menus. For example, if you are in one menu, then the tool will automatically launch other menu on your screen. It is really annoying as it does not let you do what you want to do with the tool on your computer.
Issue 3. Disables Antivirus
Most antivirus software detect the tool as a virus because it is something that lets you bypass the login on your computer. This is why you need to disable antivirus before you can run the tool. Disabling antivirus may let other viruses enter your computer at the same time as you run Kon Boot. This is not recommended if you care for the files you have on your computer.
Issue 4. Encryption Issues
What Kon Boot cannot do is it cannot help you remove encryption from your drives. If this is what you wanted it to do, you are out of luck.
Issue 5. USB and DVD Boot
Kon Boot runs off either a CD/DVD or a USB flash drive. If these boot options were disabled before you protected your computer, you will not be able to use the tool on your machine.
Part 2. The Best Kon Boot Alternative Free Download – 2019
With all the problems Kon Boot comes with, it is not worth using it to reset your passwords. Fortunately, you do not need to be stuck with it. You have a great alternative available and it is called Windows Password Recovery. This software lets you easily remove passwords from your user accounts on your machine.
Top Features of Windows Password Recovery
Instantly remove/reset Windows password with easy steps.
Create password reset disk for locked PC.
Reset passwords for Microsoft account offline.
Create new admin account without logging in.
Works on Windows 10/8.1/8/7/Vista/XP.
Support for dozens of computer brands including HP, Dell, Asus, Lenovo, Acer, etc.
Free Try Windows Password Recovery Tool
World's 1st Windows Password Recovery Software to Reset Windows Administrator & User Password.
Free Download
Free Download
Part 3. How to Reset Windows 10/8/7 Password with Kon Boot Alternative
Using the software is like walking in the park. In no time, you will have your password reset on your computer. Here is how you do it.
Step 1. Download and open the software on your computer. Insert a blank disc or USB flash drive into your computer, select it using the dropdown menu, and click on Burn.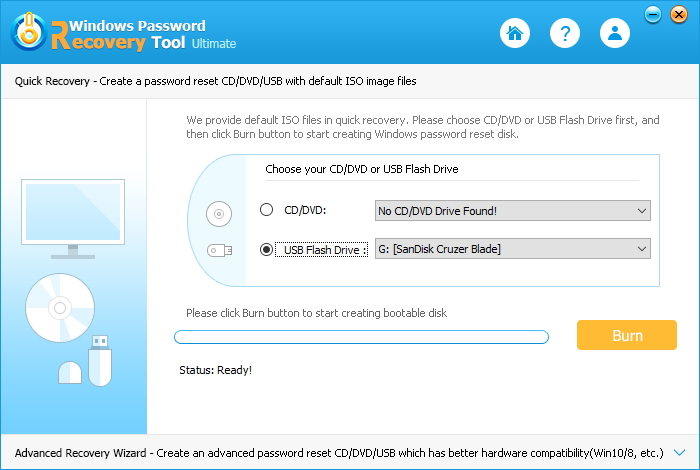 Step 2. Boot your locked computer from this new boot media drive. Select your installation of Windows, choose Reset your password, and click on Next to continue.

Step 3. Select the user account whose password you want to reset. Edit the password in the "New Password" box to change the passowrd. Finally click "Reboot" to restart your computer and login Windows system with the new password.

This Kon Boot alternatives for password reset is really easy to use and gets the job done. Kon Boot used to be a good software to help you reset passwords for your machines. However, with it containing new issues in newer versions, people are moving to its alternatives. Windows Password Recovery is a great alternative to it as shown in the above guide.
Free Try Windows Password Recovery Tool
World's 1st Windows Password Recovery Software to Reset Windows Administrator & User Password.
Free Download
Free Download