"What to do if I want to encrypt some important files and folders in my Windows 10 computer? I don't want my privacy is accessed by others who use my computer or under the condition that when my machine is invaded. Any suggestion would be appreciated? Thank you for your time."
Wondering how to encrypt files and folders to secure your privacy protection? It's really important for us to password protect all files to avoid your data being concealed from somebody who has an axe to the grind. Actually, many of us have the ideas to improve the security of their documents but they don't know what the best way to make files protect exactly is.
There are a lot of effective methods for you to create a password protected folder, file or document. Here will be the most feasible one with in-depth steps below with a third-party software—Roboform. RoboForm Enterprise is an advanced, full-featured Password Management Solution, that your employees will actually appreciate. RoboForm securely stores your usernames, passwords and other confidential information on your computer using powerful AES encryption. When you visit a password-protected website, RoboForm automatically retrieves your data and logs you in with one click
How to password protect a folder in Windows with Roboform?
In order to encrypt and password protect the files, please go to download a handy tool-Roboform firstly. Please note that once the Roboform is installed, it will show the windows to require you to create a Master password with the aims to protect your logins, indentity and safenotes, keep anyone else from your privacy.
In-Depth Steps to Make Files Password Protected
For how to step up a password for your documents with Roboform, please follow the simple steps below.
Step 1: Click on "Roboform" icon and move the arrow to click on the "options".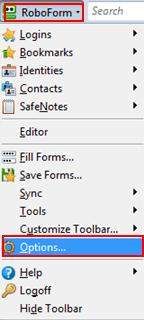 Step 2: Find the "Security" and then click on "Set Master Password" to set a master password to password protect your folders and files.

Step 3: You can perform the same steps again: Options>>Security, which is allowed you to make sure all of the new files are encrypted with password.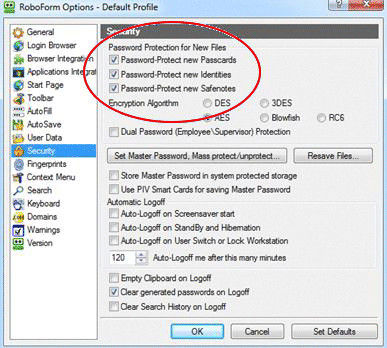 To password protect files, folders, documents with encryption with the help of Roboform, all you need is to complete all of the brief steps above. It is so easy and quick to create a master password for you to secure your privacy in a safe way.
Additional: Two Things You Should Remember If Password Protect Files and Folders
1. Roboform can stop many of users accessing your files but not all. There are so many different kinds of password unlockers in the market now, which is a horrible thread for your password-protected files. You are advised to use a commercial tool to keep your sensitive data in a safe environment.
2. If you forget the PDF password one day, don't be nervous! Navigate to your non-password protected backup files immediately to recover data you need. If you don't have a backup, what to do? Here is a recommendation for you—PDF Password Remover, which is professional and wonderful handy too to help you remove the password limits and let you access your files.