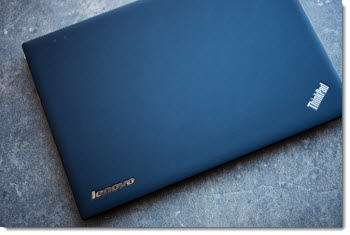 IBM/Lenovo ThinkPad applies various methods to protect the security of ThinkPad, allowing users to use different passwords to safeguard data in their laptop. These passwords are like insurance for our confidential information. But the problem is that with so many passwords to remember, it is easy to forget the ThinkPad password. We couldn't help wondering: is there a quick solution for Lenovo ThinkPad unlock and IBM ThinkPad unlock?
Before we learn how to unlock ThinkPad password, let's first have a quick look at what passwords do we get to protect ThinkPad. Totally there are four types of password for ThinkPad computer: Windows password, the Power-on password, the Hard drive password (master and user), and the Supervisor password.
Unlock ThinkPad Login Password
Windows login password or what we call Windows password is most commonly used by the majority as a way to improve IBM/Lenovo ThinkPad security.
In this case we need to download a ThinkPad password recovery program first, and burn it to a bootable CD/DVD or USB. Then boot your locked ThinkPad from it to unlock user ID in IBM ThinkPad. I've tried a few such tools and the one I would like to share with you is called Windows Password Reset (ThinkPad Password Unlock tool), a pretty easy-to-use and convenient Windows password recovery tool for ThinkPad and other computers running Windows. Steps to use are as below:
1. Download and install ThinkPad Password Unlock tool to a computer you have access to (For local account password reset, please download ThinkPad Password Unlock tool Standard; Microsoft account password reset, download ThinkPad Password Unlock tool Ultimate).
2. Burn a bootable CD/DV or USB flash drive via default ISO image or Advanced Recovery Wizard.
3. Reboot your locked ThinkPad from the bootable CD/DV or USB flash drive (Here you need to change the BIOS sequence to boot the computer from USB or CD/DVD-ROM and if your computer is preinstalled with Windows 10/8.1/8, you have to disable UEFI Secure Boot before the BIOS setting).
4. Unlock Lenovo ThinkPad with a few clicks of your mouse.
If you want to know how to unlock Lenovo 410 laptop, how to unlock t43 ThinkPad laptop, or Lenovo 1304 unblock, you could also try this way.
Unlock ThinkPad Supervisor password (BIOS password)
A Supervisor password protects the system information stored in the BIOS. The user must enter the Supervisor password in order to get access to the ThinkPad BIOS Setup Utility and change the system configuration. If the Supervisor password is forgotten there is no way to reset it to enter the BIOS configuration. To regain access, you need to reset the BIOS password by doing things like locate the jumpers or solder beads, or just contact the computer manufacturer or motherboard manufacturer for resetting forgotten Supervisor password.
Unlock ThinkPad Power-on password (POP)
A Power-on password protects the system from unauthorized power-on. If the Power-on password is forgotten and the Supervisor password is known, simply go into the ThinkPad BIOS setup utility and reset the Power-on password, otherwise try the following: Turn off the computer. Remove the battery pack. Then turn on the computer and wait until the POST ends. After the POST ends, the password prompt does not appear. The POP has been removed. Reinstall the backup battery and the battery pack.
Note: Some ThinkPad systems have the ability to reset the Power-on passwords in the ThinkPad BIOS setup utility if a Supervisor password has been set.
Unlock ThinkPad Hard Drive Disk Password
There are two hard drive passwords: a user hard drive password for the user and a master hard drive password for the system administrator. The administrator can use the master password to get access to the hard drive even if a user has changed the user hard drive password.
When forget Hard drive password, check whether a master Hard drive password has been set. If it has, we can use it to access to the hard drive. If there is no master hard drive password available, or if the administrator forgets the master hard drive password, then the hard drive must be replaced. In this case you need to ask help from the computer manufacturer to reset forgotten HDD password.
After reading this stuff I am pretty sure that you may find that forgot password on ThinkPad is no big deal, and you will never be bothered by how to unlock a Lenovo ThinkPad or how to unlock IBM ThinkPad as long as you keep these methods in minds.
Free Try Windows Password Recovery Tool
World's 1st Windows Password Recovery Software to Reset Windows Administrator & User Password.
Free Download
Free Download