"I recently installed 64bit Windows 7 Ultimate on my PC and I want to use the iPhone backup files. However I don't know where it is located under Windows 7. Does anyone know where? Any help would be greatly appreciated."
This may be part of your conversation with friends using iPhone (Att or Verizon iPhone X/8/8 Plus/7/7 Plus/SE/6s/6s Plus/6/6 Plus/5s/5c/5/4S/4), and the topic "iPhone Backup files" constantly occurs when people chat. Today I'd be happy to give you some information about "iPhone Backup files".
Free Download
What are iPhone Backup Files
iTunes can back up most data on your iPhone, iPad, or iPod touch. And these data that are located in a specific place of your computer are called iPhone backup files which could be used to restore data in your iPhone if you accidently deleted something in iPhone, buy a new iPhone, etc.
Backed-up information includes purchased music, TV shows, apps, and books; photos and video in the Camera Roll; device settings (for example, Phone Favorites, Wallpaper, and Mail, Contacts, Calendar accounts); app data; Home screen and app organization; Messages (iMessage, SMS, and MMS), ringtones, and more. Media files synced from your computer aren't backed up, but can be restored by syncing with iTunes.
If you're looking for the location of your iPhone Backup files, then look no further. Whether you use Mac OS X or Windows, the iPhone backup process is basically the same, iTunes backs up all your iPhone files and identifier information to a specific directory in the locations that we are about to talk. OK let's start to find iPhone backup files.
Where are iPhone Backup Files Located
Now I will show you how to locate backup file for iPhone in computer:
iPhone backup files on Mac OS X -- ~/Library/Application Support/MobileSync/Backup/
The above tells where iPhone backup files in Mac OS X are, and the "~" symbol stands for your home directory which is the same place where all your other personal documents are stored.
iPhone backup files on Windows Vista and Windows 7/8/8.1/10 -- C:\Users\user\AppData\Roaming\Apple Computer\MobileSync\Backup

iPhone backup files on Windows XP -- C:\DocumentsandSettings\user\ApplicationData\Apple Computer\MobileSync\Backup
Obviously if your main drive is not C, then you'll have to change that. The same goes for "user". For instance, if the user name is "Andy", you will have to change "user" in location to "Andy".
Since iPhone backup files are important, losing iPhone backup password causes a lot of trouble. Then what should we do when we happen to come across such miserable things? Is there a way to unlock iPhone backup files?
How to Unlock iPhone Backup Files
To unlock iPhone backup files, we will need the help of a software tool called iPhone Backup File Unlocker which has a superb performance and could unlock backup password in iTunes for any iOS products like iPhone X/8/8 Plus/7/7 Plus/SE/6s/6s Plus/6, iPad Pro, iPad Air and other iOS 11/10/9.3/9.2/9/8.4/8.3 devices.
Step1. Add Key Container File to iPhone Backup Unlocker
When encrypted, there will be a file called "Key Container File" in the iPhone backup files, which the software could be able to detect and find directory of automatically once you click "Open".
Step2. Choose an Attack Type and Set Accordingly
Three attacks are provided in the "Type of Attack" bar - Brute-force Attack, Brute-force with Mask Attack and Dictionary Attack to unlock backup password iPhone. Here we take Brute-force with Mask Attack for example.
Before setting for the attack, left click your mouse to choose the attack.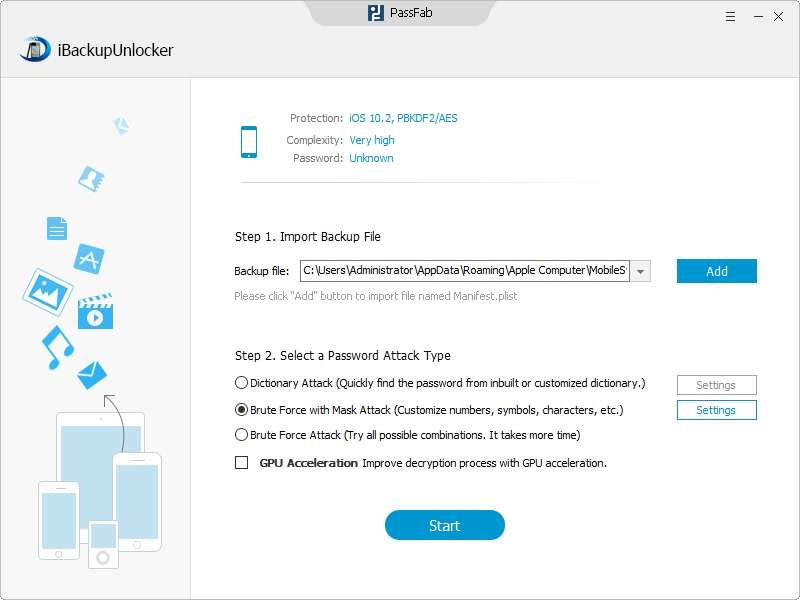 Next you should click "Settings" besides the attack, and you would get a window showing "Password Length Options", "Character Range Options" and "Affix Set". You are required to set these options according to how much you could recall of the password. Set accurately and properly, the decryption speed would be greatly speeded up.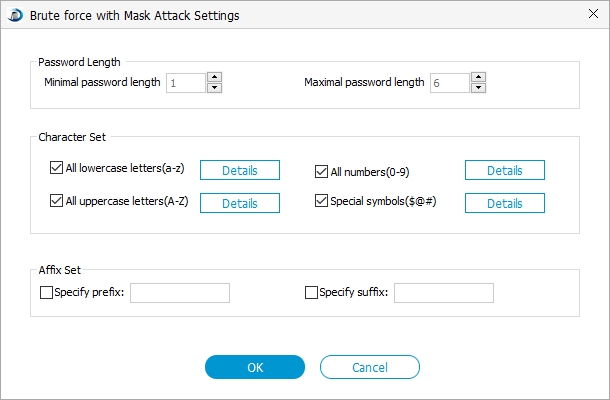 Step3. Start Unlocking iPhone Backup Password
Press "Start", and the program would get your order and start to run the program. Within a few minutes, your password for iPhone backup files will be displayed in a pop-up window.
In this article, we've talked about what are iPhone backup files and location of iPhone backup files; finally we learnt an efficient way to unlock iPhone backup files. It is highly suggested that you keep these in mind clearly for future use.