Encrypt iPhone backup is a way to protect your personal privacy from being trespassed by others, however, let's just say, a few months or years later, when we come to do a iPhone backup restore in iTunes, we find ourselves get blocked by the password we set before.
There's another scenario, some didn't recall setting a password, but were prompted for a password when trying a backup restore in iTunes. Tried all the possible passwords but still no luck? Should we set up the device as new and give up on months or years of photos or contacts or saved games in it?
Get your hopes up, you know, "when god closes a door, somewhere he opens a window, but it's up to you to find it", and iPhone Backup Decrypter is the door that leads you to decrypt iPhone backup files. Let's learn how to decrypt iPhone, iPad, iPod backup without password, etc.
Download iPhone Backup Decrypter first and run it on your computer where you have your encrypted iPhone backup files from which you wish to restore.
Note: iPhone Backup Decrypter is powerful to decrypt iTunes backup for all iOS devices:
1. Decrypt iPhone backup
2. Decrypt iPad backup
3. Decrypt iPod backup
All the operations are the same, in this article, we'll take iPhone for an example to show you how to decrypt encrypted iOS device backup files.
Done installing, follow the 3 Steps below to decrypt iPhone backup:
Free Download
Step 1: Click "Open" to Import iPhone/iPad/iPod Backup Files
Choose the target backup file under the directory iPhone Backup Decrypter has located for you. So it doesn't bother if you don't know where the iPhone/iPad/iPod backup files locate.
Step 2: Check one type of attack to Decrypt iPhone/iPad/iPod Backups
You'll see "Brute-force Attack", "Brute-force with Mask Attack" and "Dictionary Attack" under "Type of attack".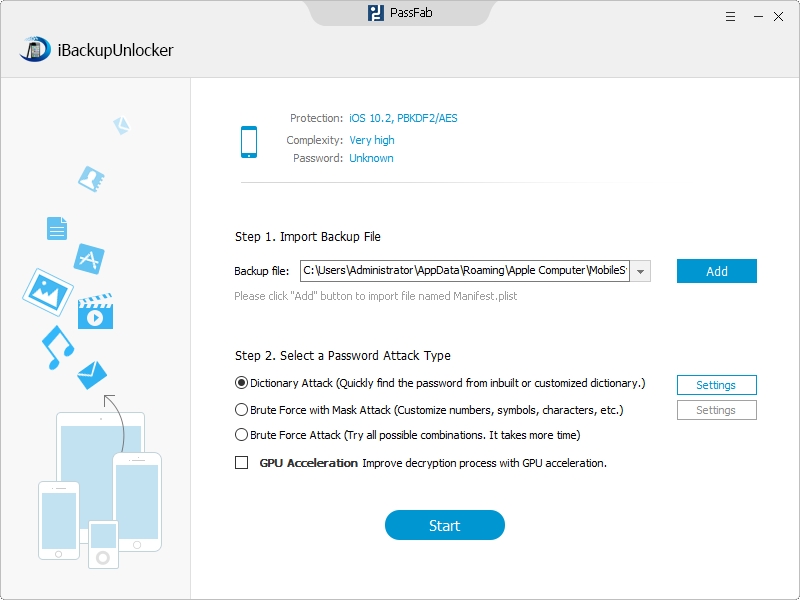 I'd recommend you "Brute-force Attack", choosing this type of attack can skip the settings part which it's necessary under other two types of attack. If you don't have a clue about your encrypted iPhone backup password, "Brute-force Attack" is your ideal choice though it may a little longer to decrypt encrypted iPhone backup files.
If you choose "Brute-force with Mask Attack", you need to define following parameters by clicking "Settings", you'll see: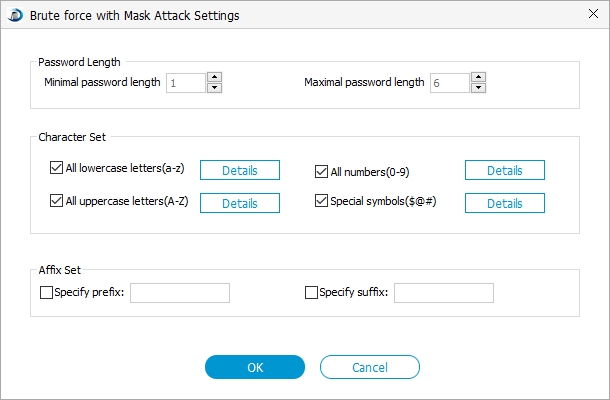 If you choose "Dictionary Attack", you'll have to choose from a default dictionary or text file dictionaries you've created yourself in which all the possible passwords or hints to your password are listed, see below: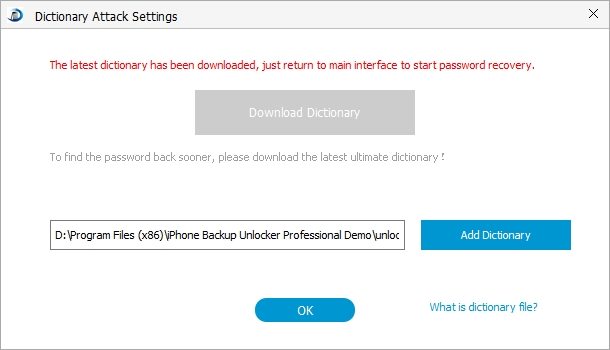 Done choosing one type of attack, defining settings, go to step 3.
Step 3: Start to Decrypt iTunes Backup Password to iPhone/iPad/iPod
Simply click "Start" to kick off the process of iPhone backup password crack. And you can see the status bar:


Within few minutes, the decrypted password will be shown in a window: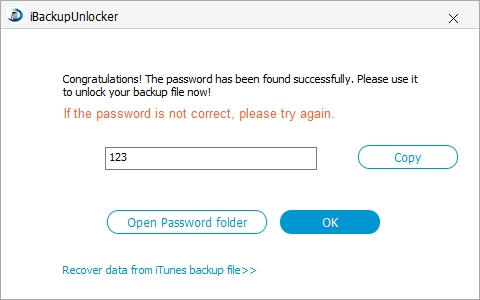 If you want to remove iPhone backup password, you are able to decrypt iPhone backup with the password that you just decrypted to uncheck "Encrypt local backup".
This tool is easy to use and efficient, but you may pay some for this, you can try the free trial first.
I think it's totally worth it comparing with years' worth of photos of your child or your school life, contacts, saved games, etc. You do the math, good luck!