""iPhone 4 backup password incorrect", says iTunes. Does iTunes ask for a password you don't recall? Or forgot iPhone 4 backup password?"
"YES, I've got the same problem!!"
"You know, I've tried to do a backup restore for my iPhone 4 and I was asked to enter a backup password, but I don't remember my iPhone backup password!! Honestly, I don't quite remember ever being asked to create one or checking "Encrypt backup files". I went to a local Apple store, I was told it's a software flaw, but unfortunately, now I have to uninstall my iTunes, backup ALL my music files up on an external hard drive, and then reinstall iTunes. While all I really lost is all of my text messages and weeks worth of photos. Help!"
Fortunately, there's such tool called iPhone 4 Backup Password Recovery that can decrypt iTunes backup password in a pain-free manner whether the iPhone 4 encrypted backup password is that you remember of or not. It's able to find lost or forgotten backup file password for iPhone 5/4/4s, etc. And it's compatible with iOS 5/6 or older operating systems.
Here's 3-step guide on how to unlock iPhone 4 backup password.
Step 1: Import iPhone backup file
Download iPhone 4 Backup Password Recovery and run it.
Click "Open" to choose the target file under the directory.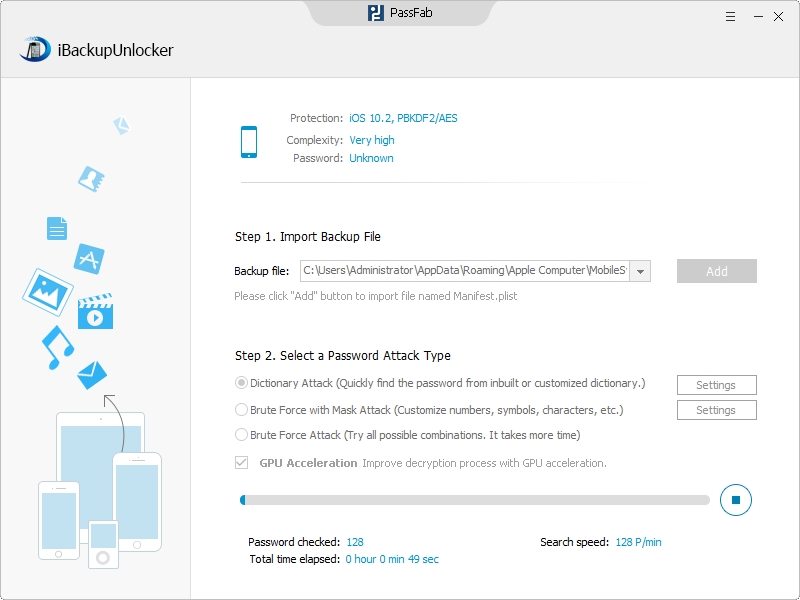 Step 2: Select a type of attack and define the settings
In order to recover your lost iPhone 4 backup file password and find password to unlock iPhone 4 backup file, iPhone 4 offers you three types of attack, namely, Brute-force Attack, Brute-force with Mask Attack and Dictionary Attack.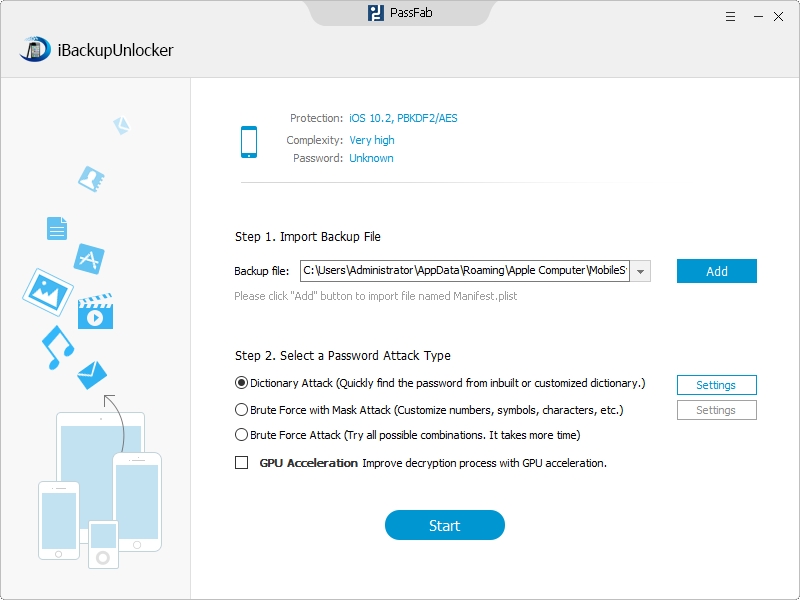 1. Choose Brute-force Attack if you don't have the faintest idea of your iPhone backup file password. Under this mode, no settings are necessary.
2. Choose Brute-force with Mask Attack if you recall some characters or symbols of the password. After choosing, click "Settings" to set up related parameters.
3. Choose Dictionary Attack if you have a local self-created text file of all the possible passwords or you could use a dictionary embedded in the program by default. After choosing, click "Settings" to set up related parameters.
Step 3: Start to Unlock lost iPhone 4 backup password
Now you've come to the last step. After choosing one type of attack accordingly, click "Start" to recover iPhone 4 backup password. Wait patiently, it won't take long.
Within minutes, your forgotten iPhone backup password is presented in front of you. Copy and enter your backup password in iTunes.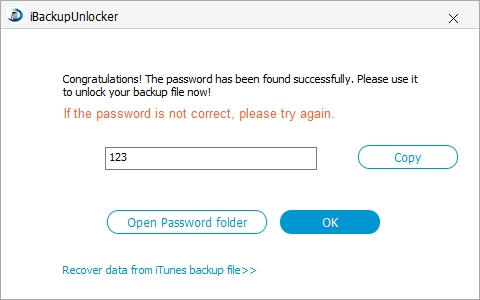 With the unlocked password, your previous photos, contacts, calendar, SMS will be restored in no time!
With this tool, you are allowed to reset iPhone 4 backup password when you forgot it. Just follow the above mentioned steps to retrieve the lost iTunes backup password, and then complete by checking "Change your password" for backup in iTunes.