"My son loves to play with my iPhone, usually he could not unlock my iPhone, so I just let him have this "toy". But yesterday he unlocked my iPhone somehow and deleted many things in my phone - contacts, messages, photos, apps and so on. Then I remembered that I have backup iPhone data. When I opened iTunes, it asked for backup password! I have tried all sorts of variations of my children's names and birthdays, just in case, knowing it was a waste of time."
Then how to crack iPhone backup password? Actually, if you choose the right way, cracking iPhone backup password could be extremely simple. The way I am going to introduce uses only three steps to accomplish this. Watch and learn.
Free Download
How to Crack iPhone Backup Password with only Three Steps
To crack iPhone backup password with only three steps, you need an iPhone back up cracking tool and you can have my recommendation here: iPhone Backup Cracker. Besides cracking encrypted iPhone backups, it could crack iPad and iPod backup passwords as well.
Step 1. Import iPhone Backup Key Container File to Crack
The tool is quite user-friendly in that it could lead you to the destination folder when you click "Open" button on the interface, which is time-saving. You then need a few clicks of the folder to finish importing.
Step 2. Set and Define Attack Types
After importing key container file you will see the below interface which shows you three types of attacks for cracking encrypted iPhone backups.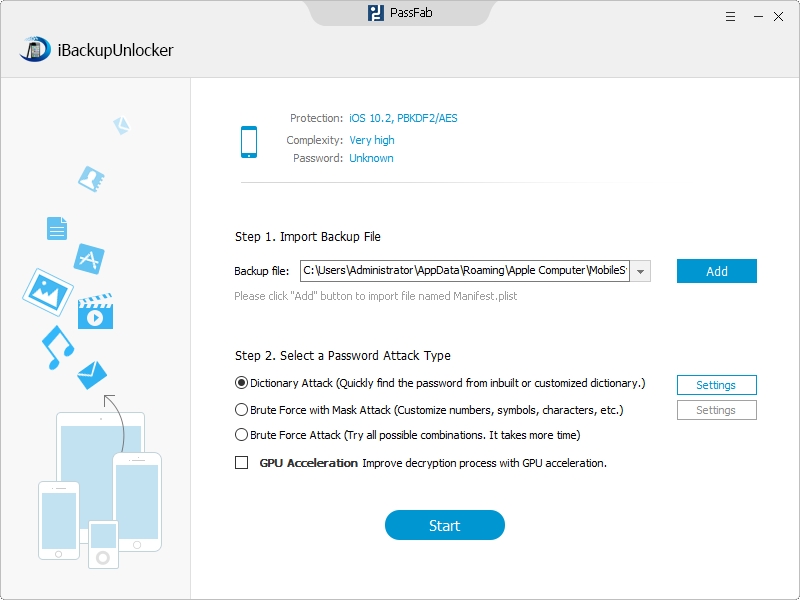 Choose one and then click the "Setting" button next to the attack types to define the specific items about each attack. If you choose Brute-force Attack, you do not have items to define. Defined properly the cracking I give you an example of the settings.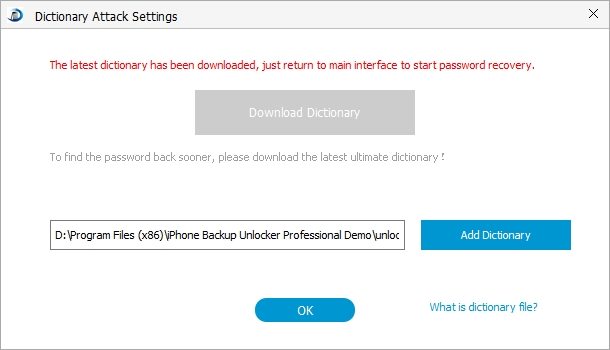 This is a picture of the Dictionary Attack Settings. You are required to set up a text files that contains all the possible passwords for the reference of the program.
Step 3. Start the Cracking iPhone Backup
Finally you click the "Start" button on the bottom of the interface, and the password will be displayed like the picture below, signifying that you have successfully cracked backup password for iPhone.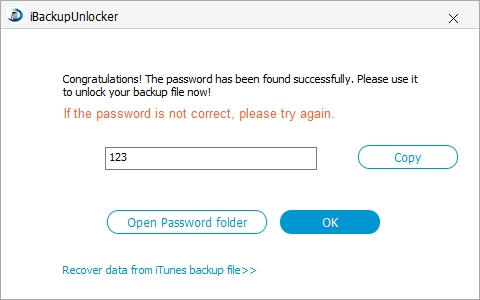 Now you can use the password to open the backup files and get back all your photos, videos, contacts, messages, etc. if you need to restore them from iTunes backup.