Case 1:

"Well, my iPhone 5c got stolen the other day and I would really like to recover my notes and contacts from the last iPhone backup that iTunes made. Is there any way to recover particular data from an iPhone backup without having to restore the whole backup?"

Case 2:

"I recently backed up and restored my iPhone 6 and l lost all my things but the most important is the only pic I have of me and my grams who passed recently): is there any way to recover it?"
It is really a common phenomenon that we need to recover only a particular type of file from iPhone backup, e.g. we accidently delete some items when we are browsing; we want to extract the data of apps that we downloaded before without covering the new ones...
If you directly restore your iPhone from iTunes backup, all files in your iPhone will be overwritten. In other words, after restoring, you can only see items included in your iTunes backup.
To extract data (like contacts, photos, app data or other specific items) from iPhone backup, you need to use iPhone backup extractor (iPhone Data Recovery) for help. All iPhone including red iPhone 7/7Plus, iPhone SE, iPhone 6s/6s Plus, iPhone 6/6 Plus, iPhone 5s/5c/5, iPhone 4s/4, iPhone 3GS running iOS 10.3, 9.3, 9.2, 9, 8.1, 8, 7.1, etc. are supported.
Download this iPhone backup extractor and install it on the computer where your backup is located.
1. Extract Contacts, App Data from iPhone Backup File from iTunes Backup
This iPhone backup extractor allows you to extract data from iTunes backup. This extractor is very mighty: first, you can preview and select specific items in the iTunes backup to recover; second, even the backup file that you have deleted can still be recovered.
Step 1
Launch this data recovery software. Select "Recover from iTunes backup files" in the top menu. Then the program will automatically detect iTunes backup files on this computer.
Step 2
Select your wanted backup file and click on "Start Scan". If the backup is not here or you have delete the backup, you can use "Import Backup File" or "Go get back deleted iTunes backup" to help you.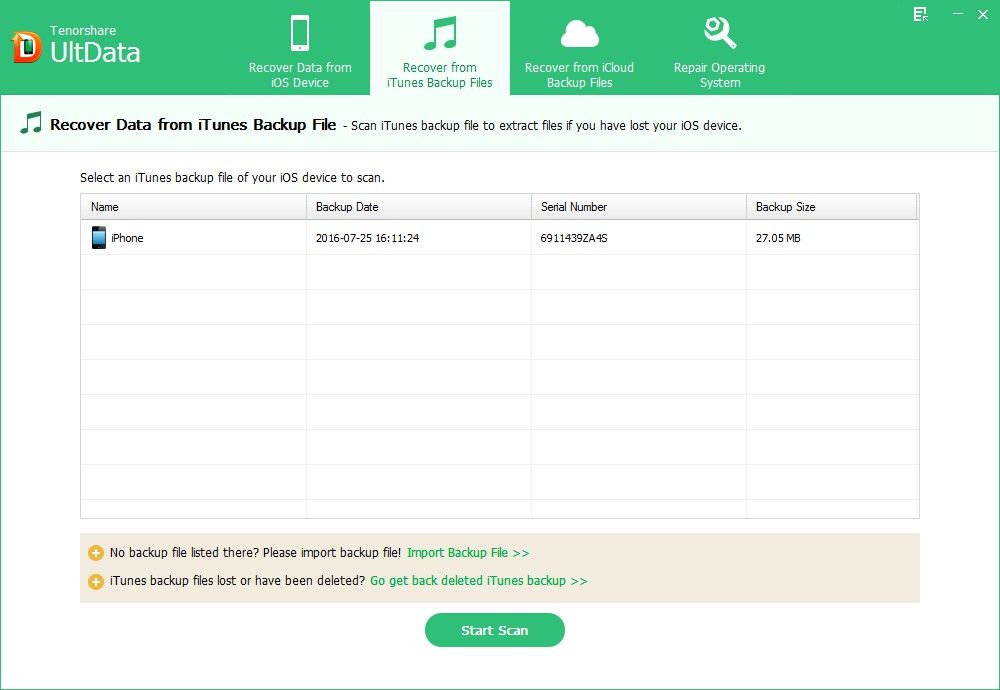 Step 3
Preview and select items that you want to recover to Windows or Mac computer, then tap on "Recover" button.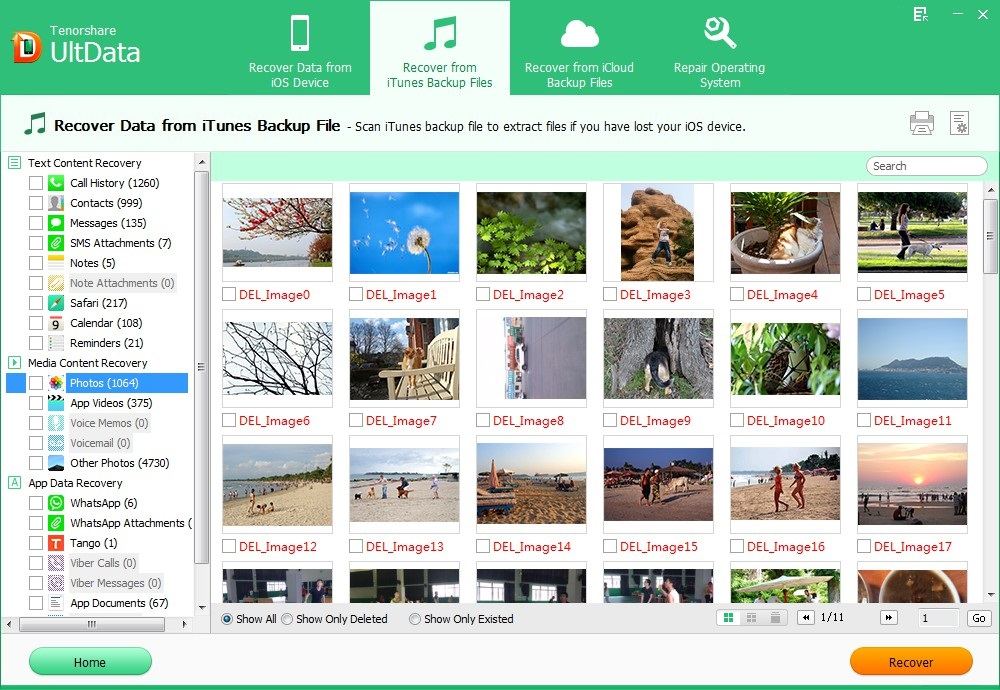 2. Recover Particular Data from iCloud Backup for iPhone
The other iPhone backup you can use to recover data from is iCloud backup. The performance of recovering specific data from iCloud backup is similar to that of iTunes backup.
Step 1
Run this iPhone backup extractor, and select "Recover from iCloud backup files".
Step 2
Step 2. Log into your iCloud account.
Step 3
Step 3. Select the targeted iCloud backup file and download it.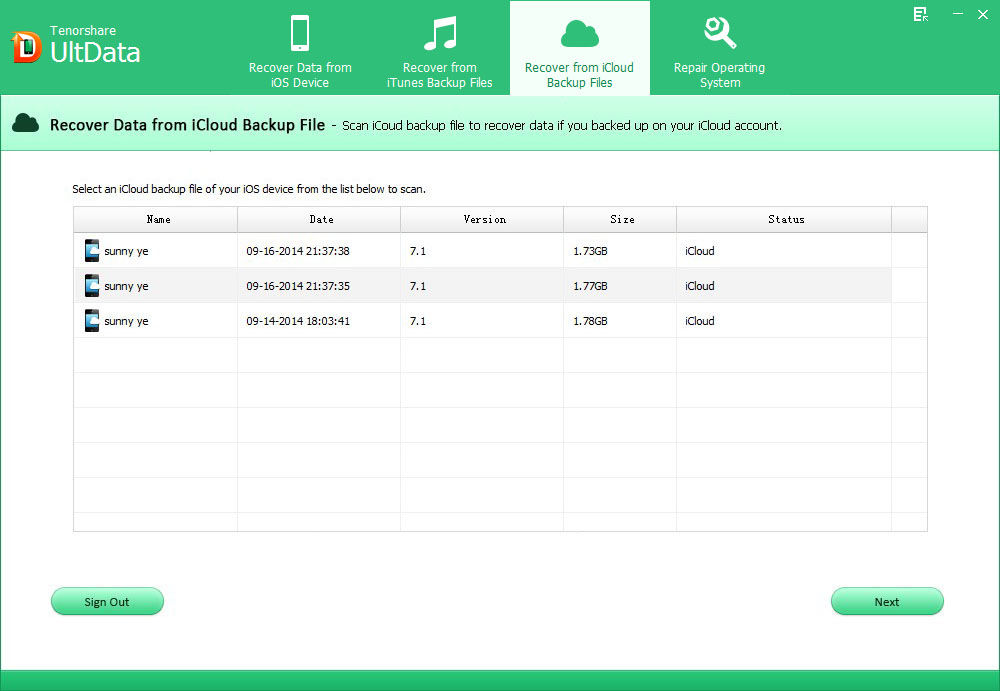 Step 4
Preview and select items to recover.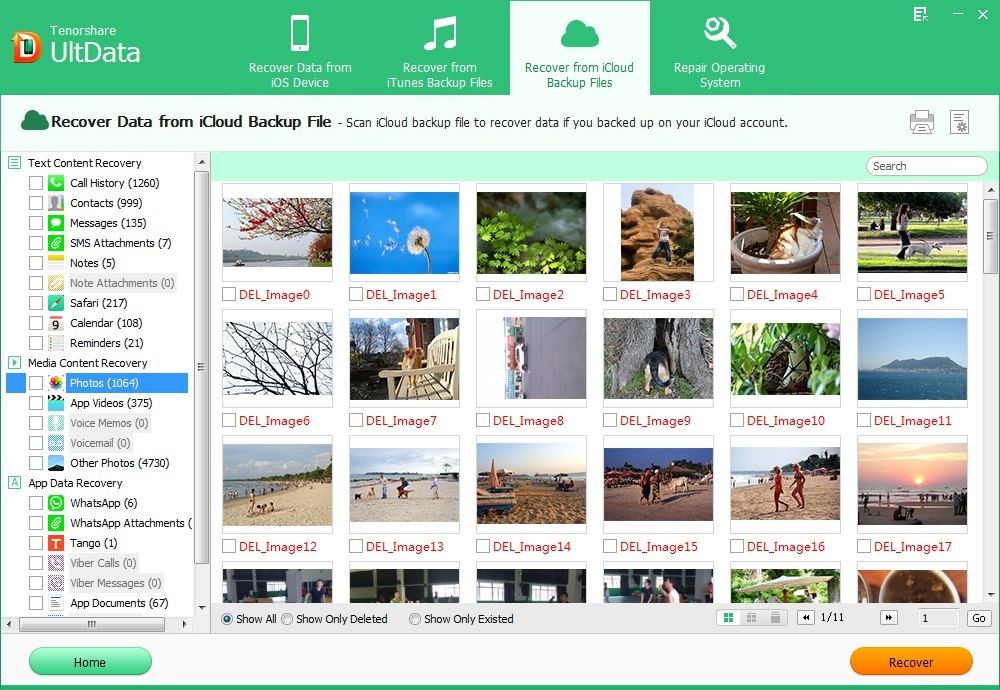 Except for recovering data from iTunes and iCloud backup, you can also recover data directly from iPhone itself, and print contacts, text messages, photos, notes from iPhone 6/6 Plus/5s/5c/5/4s/4.