"I accidentally deleted a few contacts and text messages on my iPhone 6S when cleaning up the device. I have backed up my iPhone a few days before. So I planned to restore the deleted items from the iTunes backup. However, when I restore my iPhone with iTunes, it asks me to input a password. I tried a few ones most used by myself but without any luck. Is there any way to restore my iPhone from the iTunes backup?"
iTunes makes it possible to encrypt iPhone backups when syncing your device. If you unfortunately forget this password, you'll not be able to restore your device from the backup, and even worse, Apple does not provide a way to recover the iTunes backup password. This article shows you a list of top 3 free iPhone backup Unlocker tools that help recover iTunes backup password when forgotten or lost.
Top 1. PassFab iPhone Backup Unlocker
This is the best iPhone backup password recovery tool as I've tested. Featuring GPU acceleration, the cracking speed can be 1000 x faster than regular iTunes backup recovery software. It offers three methods to 100% ensure you can recover your iTunes backup password.
Right now this iTunes backup password cracker works on Windows only. Click "Add" to import the encrypted iTunes backup.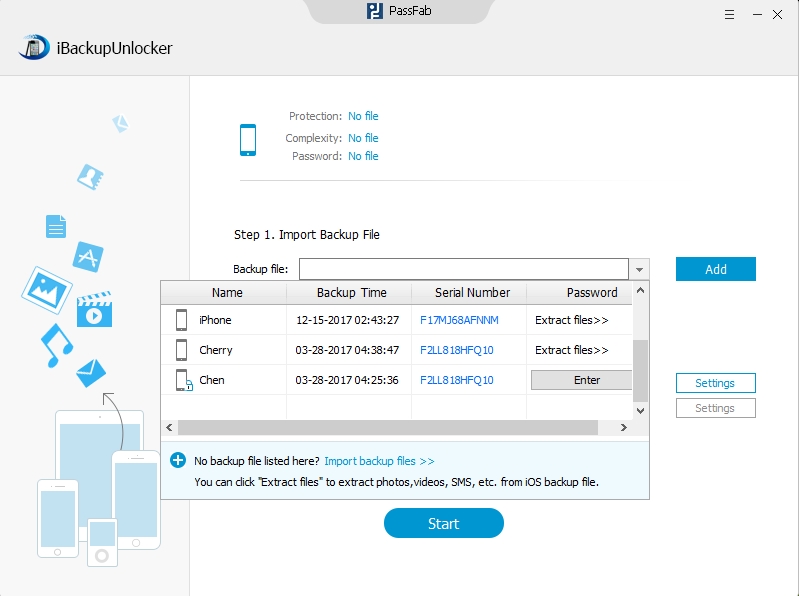 Choose a suitable password attack type. You can even mix these attack types to increase success rate.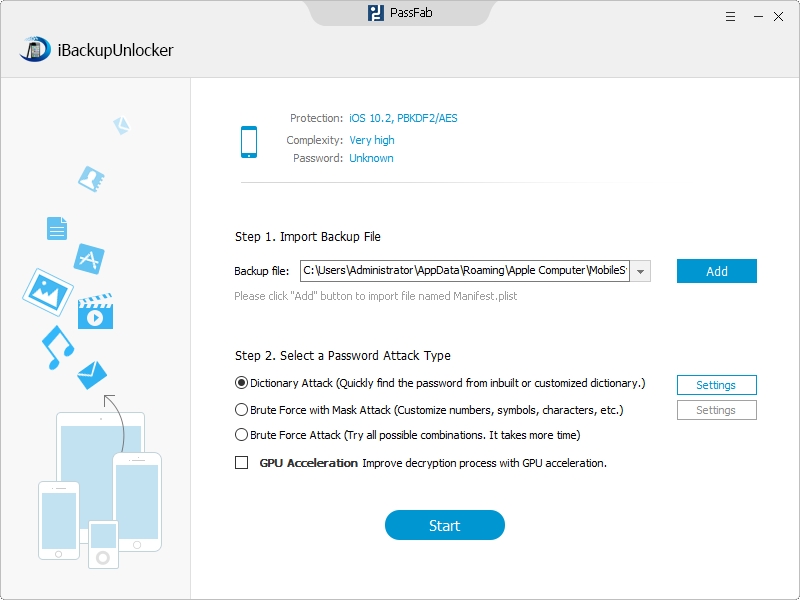 The searching time depends on the password length. In a test on an encrypted iPhone 6s backup with 6 characters using the Dictionary Attack, it takes 6 hours to find the password.
Top 2. iSeePassword iTunes Password Recovery
iSeePassword also provides a solution to help you decrypt iTunes backup password. It works similar like PassFab's iPhone backup unlocker, but it does not support Dictionary attack at present. You'd better remember part of your password like length, affix, etc. to speed up the search time, or it will take infinite time to unlock a strong password.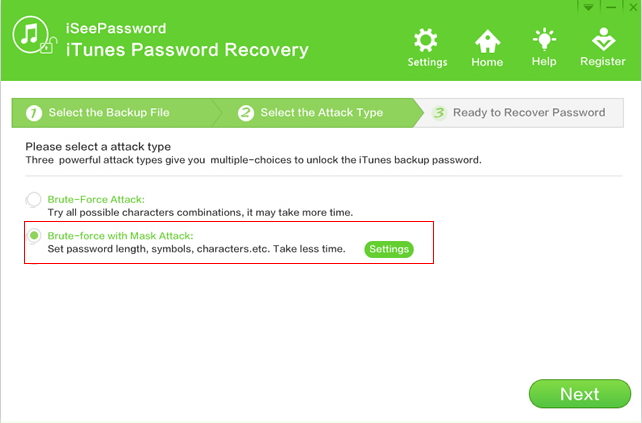 Top 3. Jihosoft iTunes Backup Unlocker
Jihosoft iTunes Backup Unlocker offers easy and effective ways to recover iPhone backup password, so that you can access to your iTunes backup file. It provides three decryption methods to retrieve iTunes backup password and supports GPU acceleration. I tested an iTunes backup with 6 characters using the Dictionary Attack, it takes 22 hours to decrypt the password, a bit longer time but it indeed works.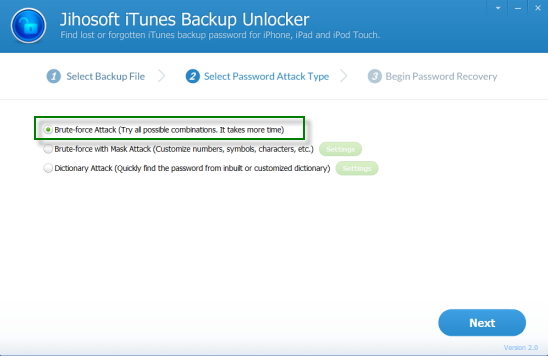 Which One to Choose?
| | | | |
| --- | --- | --- | --- |
| Features | PassFab iPhone Backup Unlocker | iSeePassword iTunes Password Recovery | Jihosoft iTunes Backup Unlocker |
| Support iOS 10, 9, 8, 7, and below | | | |
| Support red iPhone 7/7 Plus/SE/6s Plus/6s/6/6 Plus/5s, etc. | | | |
| Support iPad and iPod touch | | | |
| Brute-force Attack | | | |
| Brute-force with Mask Attack | | | |
| Dictionary Attack | | | |
| Remove iTunes backup password | | | |
| GPU supported | | | |
| Free Download iPhone Backup Unlocker | Download | Download | Download |