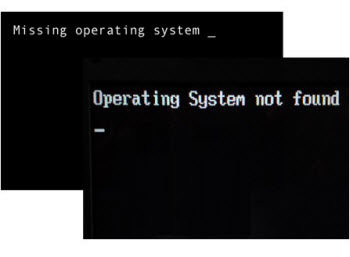 My son's PC displays message when booted up "Missing Operating System". It is an older laptop running Windows 7. Any suggestions? It was working fine the day before.
Getting "Operating System Not Found" o r "Missing operating system" error message when you start your PC? Windows 7 upgrade gives error "missing operating system"? Now you can't boot to your PC and don't know what to do? Don't worry; here we share 2 efficient methods to fix Missing Operating System in Windows 7.
Method 1: Fix Windows 7 Missing Operating System with Windows DVD
This method requires the Windows DVD that you used to install Windows 7. If you don't have this DVD, refer to Method 2 for help.
Start your PC, insert your Windows DVD and hit a key when you are asked to boot from DVD. Click on "Repair your computer" not "Install now" on the screen.


The installer will now search for Windows installations on your PC and list them all. Select your Windows 7 installation and click on next.


Then, open the command prompt. Enter the following commands one after the other and hit Enter after each:
bootrec.exe /fixmbr
bootrec.exe /fixboot
bootrec.exe /rebuildbcd


Finally, reboot your PC and your problem will be solved properly.
Method 2: Fix Windows 7 Missing Operating System with Windows Boot Genius
Another way to get back missing operating system is using Windows Boot Genius, no Windows Installation DVD needed. This software can create a Windows boot disk to boot your problem PC and then fix all boot issues including operating system missing issue for your Windows compute.
To get started, free download and install Windows Boot Genius in a computer which can boot normally and run this software.
Buy Now
Run Windows Boot Genius and insert a blank CD or USB into the workable computer and click "Burn" to create a bootable CD or USB.


Insert the bootable CD or USB to your problem computer and press F12 to access the Boot Menu. Select the CD or USB as the first boot device.


When successfully get into WinPE environment, you will see the icon of Windows Boot Genius. Launch Windows Boot Genius to get into Windows Rescue mode. In the Solution Center, run "Crash before loading bar" to fix it.


If methods above still can't solve your problem, I'm afraid you have to reinstall your Windows. Never mind, Windows Boot Genius also can help you find your Windows CD key, no extra money needed.