"Help. My Windows 10 system restore just doesn't want to work! I can find my System Restore in Windows 10, but it just doesn't work. I have tried using it many times but nothing help. I have scanned my system with various antivirus and antimalware programs and found nothing. I have checked services and Volume Shadow Copy is on Automatic. Also checked Windows Manager and it is OK. I have also tried System Restore in Safe Mode with same results. I tried everything short of complete reinstall, which I really do not want to do. Can Anyone HELP! I hope you and the other members can help me out."
-- from CNET Forum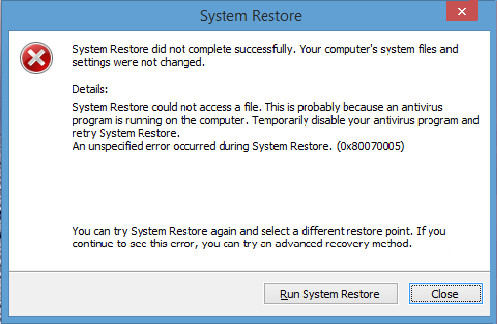 Windows 10 System Restore is able to follow the trail of driver changes, software installations and updates. It allows Windows 10 users to recover their PC to a prior state if it causes an unexpected issue. For an instance, System Restore is able to backup the driver of a PC before you install a new one. Once the new drive gives rise to an accident, such as black screen, reduced resolution, or distorted colors, it will restore Windows system back to the foregoing working graphics driver. However, sometimes System Restore may go wrong and not working on Windows 10.
What if Windows 10 System Restore Not Working
If you, for some reason, discover that your Windows 10 system restore is not working, what can you do? At this time, you need to reboot the Windows 10 computer. However, if the restart is still not working, you can actually use the Windows Boot Genius to fix Windows 10 stuck instead of using System Restore. This software is designed to fix computer won't boot, black/blue screen of death, computer freezes and especially Windows crashes. Most worthy of mention is, it contains more than 40 Windows repair tools.
How to Fix System Restore Not Working in Windows 10
As Windows Boot Genius is able to fix Windows crashes, now let's see how to fix Windows 10 System Restore not working with a few troubleshooting steps.
Step 1: Download and install Windows Boot Genius free trial to another accessible computer. Purchase it and update it to the full version. If you continue to use the free trial, some of the functions can't be used.
Step 2: Prepare a blank USB drive and insert it to the accessible computer. Then the software will recognize it. Open the program and then choose USB flash drive and click Burn button.


Step 3: After that, reboot your locked machine and then press F2/F10/Delete button instantly to enter BIOS setting before you see Windows loading bar. Then exit BIOS and reboot it again.
Step 4: Insert USB drive to the locked machine and then you are about to see the Windows Boot Genius software. It contains 4 parts, directly click Windows Rescue.
Step 5: Choose "Crash after loading bar" from the Solution Center. Then wait for the process to finish it.


Additional Tips: How to Enable System Restore in Windows 10
Start Windows 10 normally until you see the Windows desktop. You can enable Windows 10 system restore from the Control Panel. It will occupy several system storage space, therefore, if your Windows 10 computer is cheap with only low storage space, probably you are not willing to do that. Given that System Restore is disabled in default by Microsoft, we can learn how to enable it as below:
Step 1: Click Start button and then in the Search box, type "system restore" and then to see the "Create a restore point" from the search result.


Step 2: Just click it and then you will be leading to the "System Protection tab of System Properties" window. This system protection is actually where system restore located.


Step 3: To enable Windows 10 System Restore, just select your drive from the list and click Configure. Then you need to click the option labeled "Turn on system protection" in the pop up window.


Well, that's all about how to enable Windows 10 system restore and how to fix system restore stuck in Windows 10. In summary, when the system restore in Windows 10 not working, you can reboot the computer, if rebooting does not work, try Windows Boot Genius. Hope you the guys can get the point from this article. For any other Windows problems, please click here.