Easybcd of Neo Smart Technologies is a powerful software utility that lets you control and configure bootloader for Windows, known as its multiple functions and professions. It allows users to add, edit, and manage boot entries, which is very useful dual-boot users. However, its functions also are limited. As far as I'm concerned, I don't think it will be working well for common Windows users because of its complicated terminologies and deepened features. Hence here I would like to introduce an Easybcd alternative and similar program for Windows 10/8.1/8/7/XP – Windows Boot Genius. It is an all-in-one Windows optimizer that can fix various daily and common issues you may meet.
Buy Now
Let's have a close look at why Windows Boot Genius can be the best alternative to Easybcd? – More easy-to-use, operable and practical for Windows family users.
1. One-Click to Create Bootable USB/DVD/CD
As you can see clearly from the picture, Windows Boot Genius has the concise interface so that you can create bootable USB/DVD/CD with the easiest steps – just insert your have drive first, choose the burning modes from the list, lastly click Burn to finish. In addition there is a button named How to boot windows from CD/DVD or USB in the left bar of the interface shows you how to get into your password-locked or unbootable computer and fix it in a safe way in detail.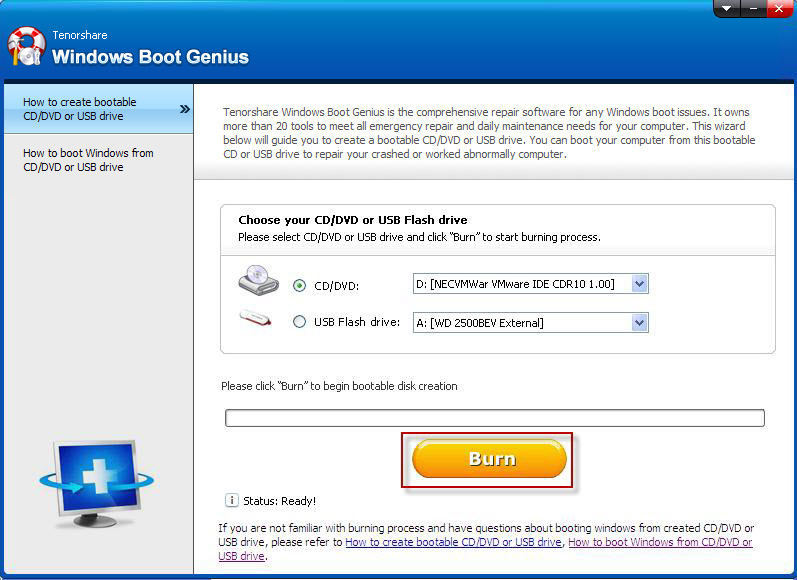 2. Fix Various Crash Issues on Windows
For most of the Windows users, they are always plagued with the issues that computer crashes and error reports for many reasons. Windows Rescue offers two smaller centers – Solution Center and Function Center. Solution Center is designed to fix Windows crashes before/on/after loading bar. At the same time, you can easily check what errors occur after computer crashes on the right. Professionally, Function Center offers recovery modes to restore system files that will cause crashes once it is lost and corrupted. Basically, those solutions can completely deal with the most of the crashes issues on your PC.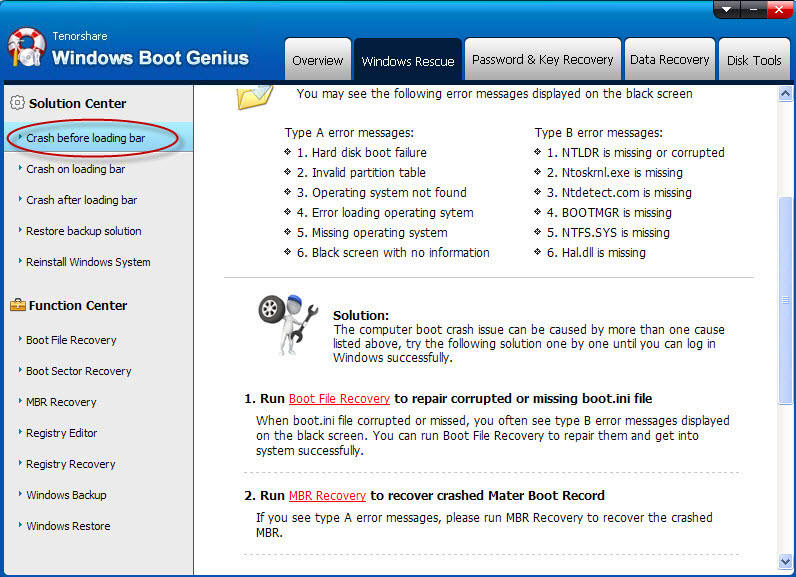 3. Recover Windows Password and Product Key
It is one of distinctive features of Windows Boot Genius, but easybcd don't have. Since most of Window users are subject to lose and forget Windows login password after put computers aside for a long time, this features allows you to recover start password with one click. Meanwhile, you are allowed to find product key that is necessary before you are going to reinstall system and Microsoft office suits.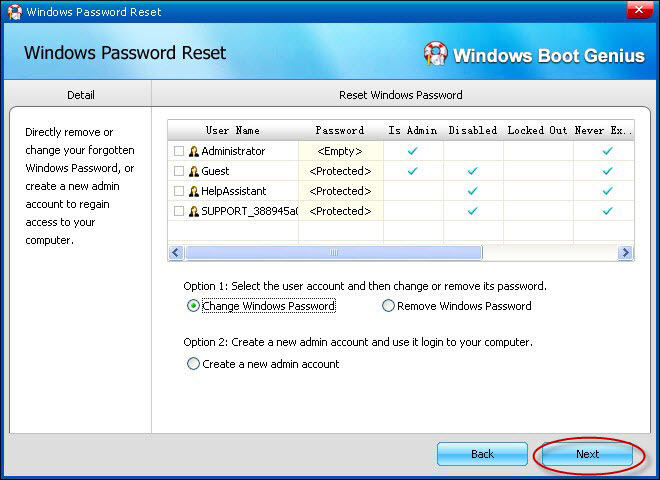 4. Recover Lost Data from Different Location
In daily life another common problem for a large number of Windows users is data loss for many reasons such as mistaken deletion, system crashes, Windows update and so forth. Windows Boot Genius takes those possible situations into consideration in advance and offers the best solutions. Four recover models can be applied to restore lost files on Windows. Regarding to this point, Windows Boot Genius is more considerate than easybcd.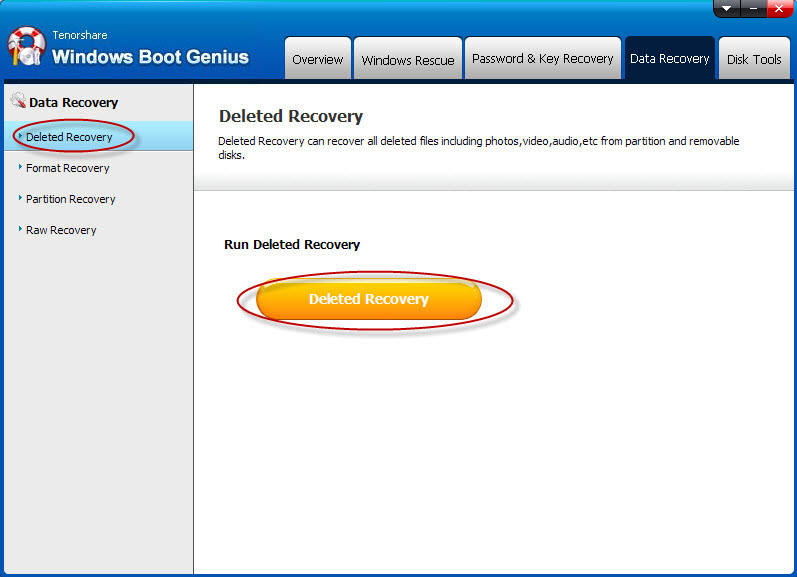 5. Offer Toolkits to Make Partition Management Easier
Disk and partition is one of most important components in Windows that stored not only precious data but also essential system files. Backup&Restore allows you to have partition and disk backed up and restored from Windows either selectively or wholly. Once you are going to replace disk with new one and distribute same system to multiple computer, it can be much useful. In addition, you are allowed to resize, delete, create and move partition and erase data completely from being tracked.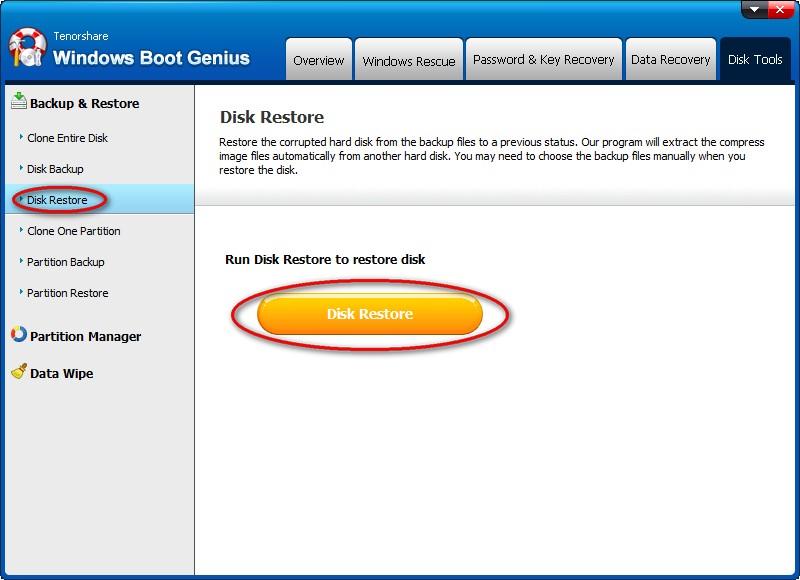 This is a barely brief introduction to Windows Boot Genius. In general, from the perspective of the usage Windows Boot Genius is more useful for common users than easybcd and can be the best alternative to easybcd on Saumsung, Dell, Toshiba, Lenovo, HP, IBM,etc undoubtedly. Go download and have it a try now. If you have any question, please feel free to leave it under the comment section.