I have a hard disk that does not detect in BIOS at all. The hard disk is powered on but not detecting at all. Does anyone know of any hard disk repair software that will repair the hard disk?
Your computer won't work normally if hard disk got damaged due to bad sectors, registry or Master Boot Recorder. You may be unable to access data. Consequently, the operating system freezes when trying to read or copy data from your disk. In general, if the HDD damaged physically, there is no appropriate HDD repair software can help you solve the problem. If it is software problem or system issues, you can perform disk repair with Windows Boot Genius, which is the 20-in-1 disk repair software.
Windows Boot Genius bundles a large number of disk repair tools including Boot Sector Repair, Boot File Recovery, MBR Recovery, Registry Recovery, etc. They can help you fix all hard disk error like blue screen of death, Black screen of death, system crash, corruption, etc. Follow the tutorial below to learn how to repair hard disks and recoup data.
Buy Now
Three Simple Steps to Fix Disk Boot Issues with Disk Repair Tool
Step 1. Created a Disk Repair CD/DVD or USB Drive
Download HDD repair software and install it in any available computer. Launch the program. Then insert one CD/DVD or USB drive to the computer and click "Burn" button to begin creating.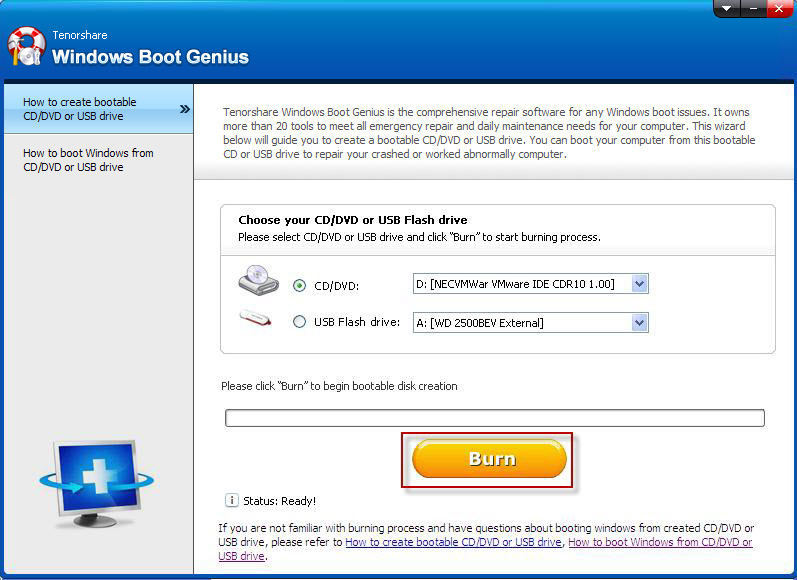 Step 2. Boot up Hard Drive from Newly Created CD/DVD or USB drive
Plug CD/DVD or USB drive to the hard disk crashed computer and start it. When the system begins loading, please press "F2" or "Delete" to go to the Device Boot Menu. And set the computer to boot from CD/DVD or USB drive.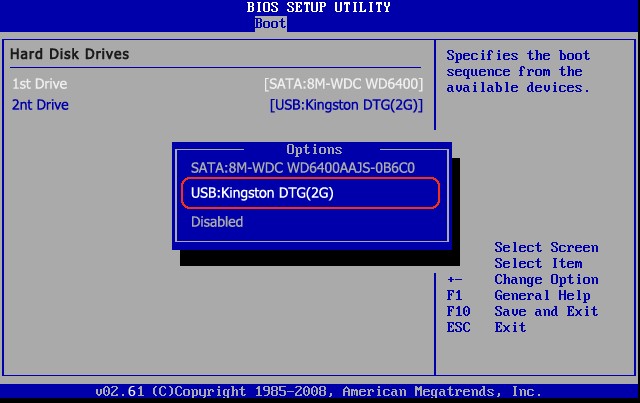 Step 3. Repair Hard Drive
Here you will see Windows Boot Genius icon. Click it to run it. In the Home interface, select "Windows Rescue" menu, in the function center, you can select any tool to repair the corresponding registry, MBR, boot sector or go to the solution center to fix issues according to the error messages you have come across.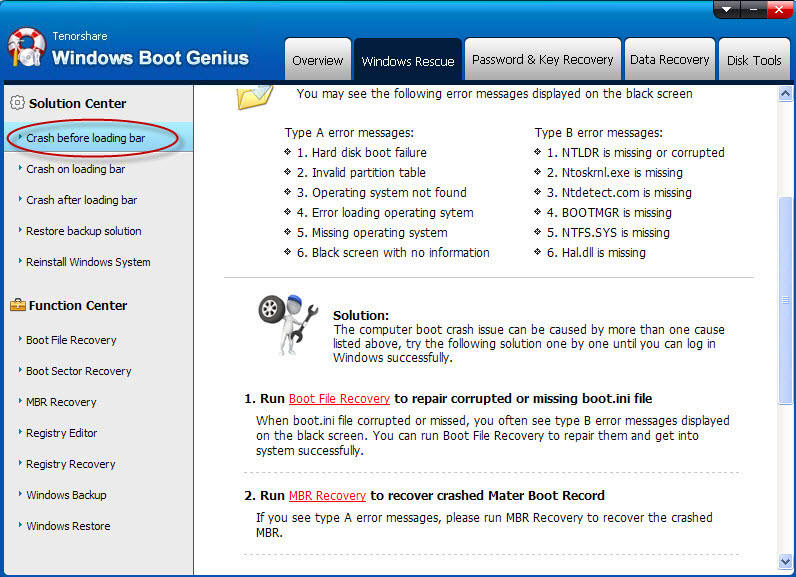 Recover Data in Hard Disk
In the Home interface, choose "Data Recovery" menu. Here you are allowed to recover deleted, formatted photos, videos, audio files and documents, etc. You can also restore partition tables to original state.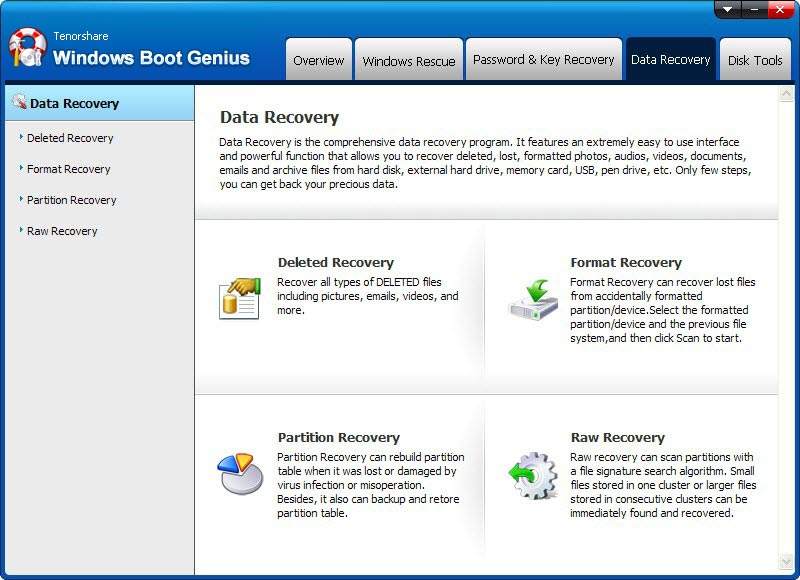 Note: You are highly suggested not to save the recovered files to the damaged hard drive. You can save them to the secondary hard disk or other removable media.
After finished hard drive repair, please unplug the CD/DVD or USB drive and restart computer as normal.