You will have to update your drivers when they are out of date and fail to work properly. The problem is, there're so many drivers on your Windows computer, and you don't have enough time and patience to check for available update one by one. That's why many would search for a free driver updater tool. Here in this post, I'd like to introduce to you the best driver update software of 2017 — SllimDrivers Free.
Editor's Note: There are times that your computer fails to work properly because of other hardware issues like Windows blue screen of death, freezes after startup, etc. For such cases, go find Windows Boot Genius to repair Windows operating system.
The post can be divided into 3 parts:
SlimDrivers Free Review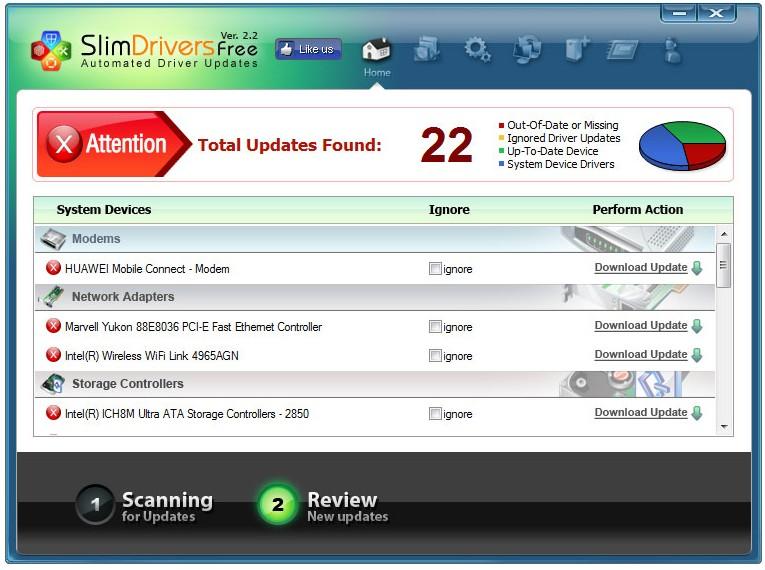 Driver update software comes in a variety of flavors. To be the best one, it must, first of all, contain no malware or virus. During the test, SlimDrivers Free detects the largest number of outdated drivers. It scans for available updates for all of the hardware drivers, and enables users to manage the download and installation process, saving a lot of trouble and time. Published in August, 2016, the latest version 2.3.1 integrates security patches and heightened compatibility with Windows 10. Amazing features of this driver update software include:
Scan your PC for missing, broken or out-of-date drivers
Download drivers update manually for free
Updates driver software for all popular Windows computer brands (32 and 64 bit)
Easy to navigate with a clean and pleasant interface
Check the list below to see more details about SlimDrivers Free.
| | |
| --- | --- |
| File Size | 1.03MB |
| Latest Version | Version 2.3.1 |
| Supported Operating System | Windows XP/Vista/7/8/10 |
However, SlimDrivers Free is not 100% perfect. Still there're things that I don't quite enjoy.
Backup and restore drivers with cloud technology only available for paid version
Only registered users can download driver updates
Download drivers automatically only available for paid version
The download takes quite a long time
It features a lot of banner and pop-up ads promoting other programs
SlimDrivers Free Download
SlimDrivers Free download is available on CNET, and SlimWare's official website. I only trust these two websites. You can be rest assured that both of them are safe.
Download from CNET
Download from SlimWare's Website
Extra: Should I Keep My Drivers Up to Date
Maybe you've long been advised to keep your software up to date for concern of security and stability. However, it's quite different with hardware drivers. The update of drivers might come with stability and compatibility problems. So, if the drivers are working just fine without big issues, don't update. After all, a new version of driver would not bring you any new feature.
If you do need to update drivers, the post: How to Update Windows Hardware Drivers the Easy and Safe Way might come in handy.