A massive cyber-attack that has hit 200,000 organizations in 150 countries since Friday with Britain's health system suffering the worst known disruptions. The attack can lock access to user files and demands money - in the form of the virtual currency Bitcoin - in order to decrypt them. In this article we collect some specify information about this cyber-attack and how to protect your computer against ransomware.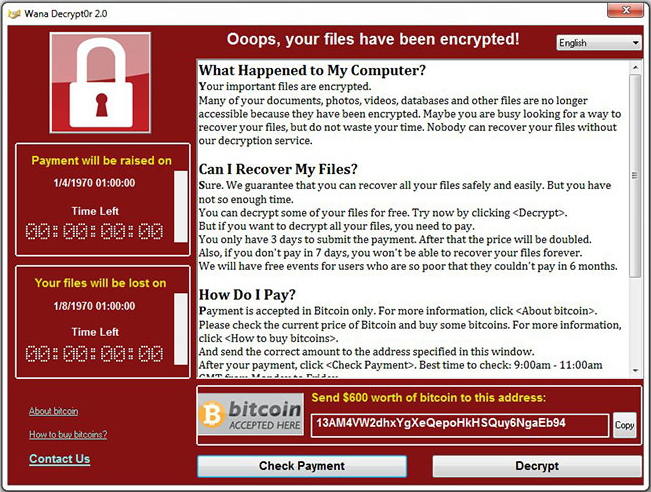 What You Need to Know About this Ransomware Cyber-attack?
The software is a variant of ransomware called WannaCry. It encrypts afflicted computers' files -  displaying a message that reads, "Oops, your files have been encrypted!" - and demands a payment of about $300 in Bitcoin, an online cryptocurrency, in order to restore access.
The attack exploited a flaw in the Windows operating system identified by the National Security Agency last August and released publicly in a trove of files ;leaked last month ;by a hacker group called the Shadow Brokers.
Now the attack has affected ;more than 200,000 victims had been hit in more than 150 countries. High-profile victims include hospitals in Britain, the Spanish telecoms giant Telefonica, French carmaker Renault, US package delivery company FedEx, Russia's interior ministry and the German rail operator Deutsche Bahn.
Is The Spread of the Ransomware Cyber-attack Affair Stopped?
A 22-year-old UK cyber security researcher "accidentally" managed to stop the spread of a ransomware attack that hit the ;NHS ;and organisations across the globe. The researcher, who tweets under the name MalwareTech, registered the domain being used by the ransomware and managed to activate the switch.
How to Deal with Your Affected Files?
For those already infected, it's a little too late for MalwareTech's efforts to save them. As with multiple NHS organizations, many will have to ;rely ;on whatever ;contingency plans and backups they have in place. ;In which details are given on how to and what happens next. ;Do Not Pay! Because even you paid for the money, your locked files still cannot be recovered.
How to Protect Your Computer Against Ransomware?
If you or your organization have not been a victim of this WannaCry cyberattack, please do the following now:
1. ;Make sure that all hosts are running and have enabled endpoint security solutions.
2. Install any software updates immediately and make it a regular habit. Turn on auto-updaters where available (Microsoft offers that option). Microsoft also recommends running its free anti-virus software for Windows.
3. ;Install the official patch (MS17-010) from Microsoft, which closes the affected SMB Server vulnerability used in this attack.
4. If you don't already backup your computer, start now and regularly save copies of all your files on a server, external storage device, or some other means that does not have access to the internet so that you won't worry about losing them even they get affected.
5. ;Be aware that emails are one primary way in which WannaCry and those like it infect computers. If you receive an unexpected email, do not click links, or open attachments.
Remember it is never too late to take measures to protect your computer such as setting login password, encrypted important files. If you unfortunately forgot login password on Windows PC, refer to Windows Password Recovery Tool, a professional tool to recover lost admin and user account on Windows 10/8.1/8/7.
Now you must have a clear idea about how to protect yourself from the massive ransomware attack. If you have any other advises or solutions to fix wannaCry ransomware after the cyberattack, please  share with us at the comment place.