"When I start my laptop in Windows 7, it always freezes at Windows 7 logo. I have tried so many tips online but the issue still exists. Please tell me whether is it possible to run CHKDSK utility during boot up in windows 7 or not? If yes then how to run Chkdsk in Windows 7 on boot?"
Quite a lot of users complain online they come across the annoying bugs in their Windows computer but they get confused of how to run the Chkdsk at startup to solve their problem about hard drive errors. Do you have the familiar problem? No worries. To fix this issue, I will offer a full guide for how to run Chkdsk in Windows 7 from the command line.
Part 1: How to Run Disk Chkdsk in Windows 7 Manually
Part 1: How to Run Disk Chkdsk in Windows 7 Manually
Actually, The chkdsk or "Check Disk" is a heady Windows tool that is used to check your entire hard drive to find problems. Learn how to run Chkdsk in Windows 7 from command prompt and fix your Windows PC in any version with the help of the below tips.
Click on Computer or My Computer icon on the desktop. There will be a list of all your drives. Choose the drive you need to check for errors.
Move the Mouse and click on Properties from the menu. In the pop-up window, select the Tools tab and you can decide if you want Chkdsk to remove errors and try to recover bad sectors. Then click Start.


This way is not very convenient, but you are advised to run through a check disk every month or two to keep your Windows 7 running in a good status.
Part 2: 1-Click Checkup Your Windows System
If you have performed Chkdsk on windows 7 but got none help, the problem still exists in your computer/laptop, turn award to an ultimate software to get rid of you trouble is a better choice.
Windows Care Genius is an all-in-one utility designed to take care of your PC every day. It will greatly help you to keep your Windows system in the best performance. PC Checkup feature of this superb tool will scan through all of the system and help to fix errors.
How to Use Windows Care Genius to Check Your Hard Disk for Errors in Windows 7
Step 1. Click "Checkup" button, then the software will automatically find the potential security problems.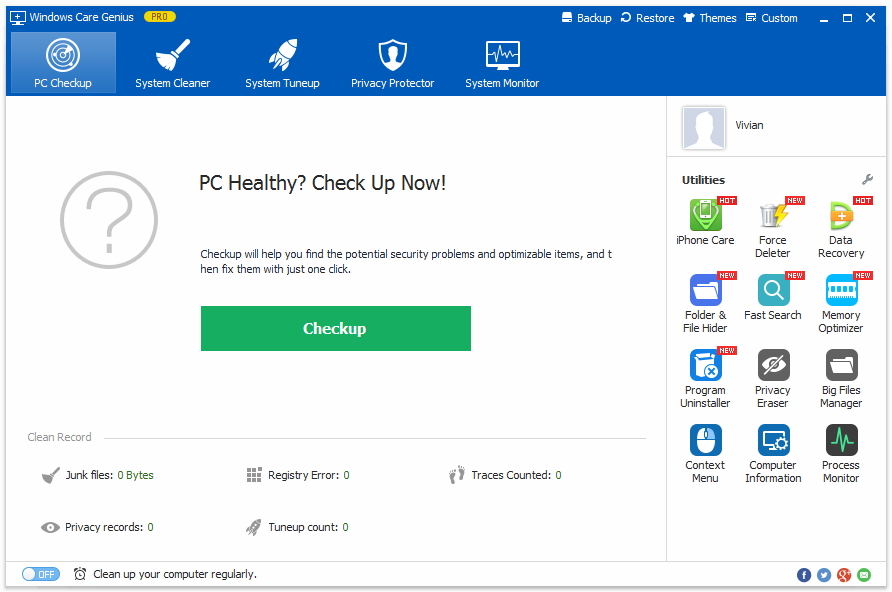 Step 2. After the scanning is finished, you will see the whole health state of your PC showing with score 0 to 10. Click "Fix" button to starting fixing all these problems in one click.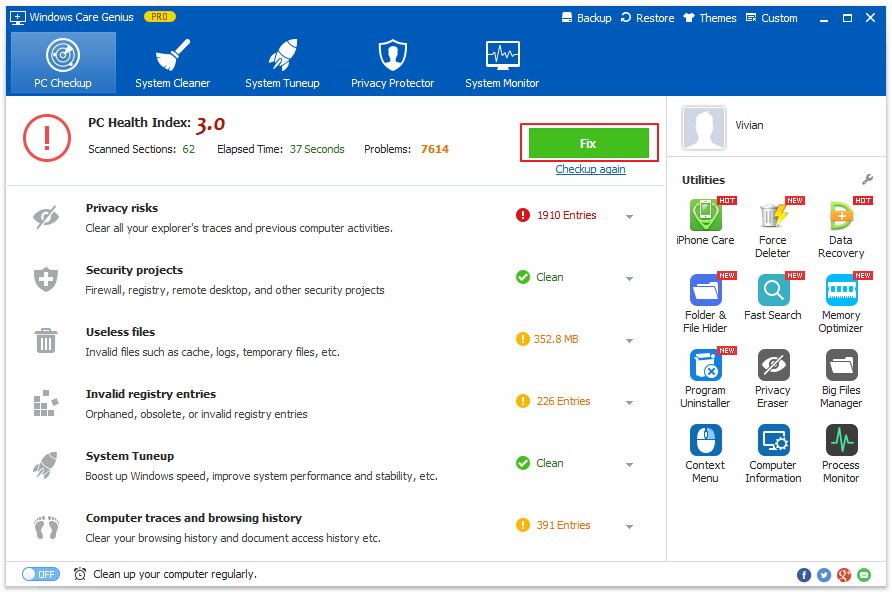 Step 3. After the fixing process, PC cleanup is complete, and you will see your PC get the highest mark 10, which means your computer is at its peak performance now.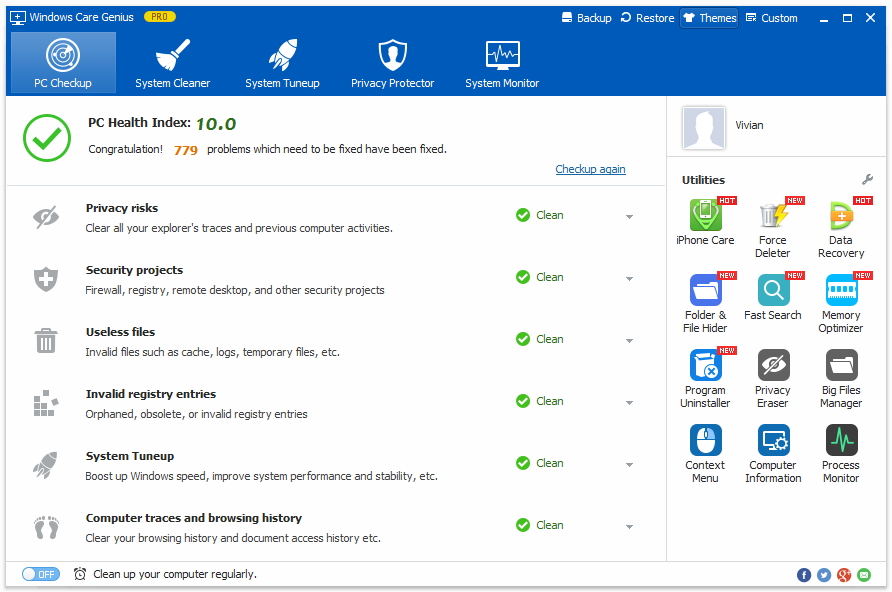 That's done. To own the Windows Care Genius, you can easily use it every day to make your Windows 7 computer run more smooth and faster.