An administrator is someone who can make changes on a computer that will affect other users of the computer. As a result of losing administrator right on your system, you may have difficulty in using Windows Apps, installing software and hardware and even accessing all files on the computer.
Recently, I heard of many Windows 8.1 users complain about they have lost administrator rights on their computer and thus they were not be able to manipulate their system or make changes to it. And I found most of users who have lost their administrator right have only a single account on their system, which was of course the administrator account. Consequently, how do you log in as an administrator in Windows 8.1 again? Try to perform refresh or reset and see if it helps you.
How to Login Windows 8.1 as an Administrator?
Step1. Start your computer and press Winkey+Q. Type use accounts on the search bar and click on the result. Then select your User Account and click manage another account.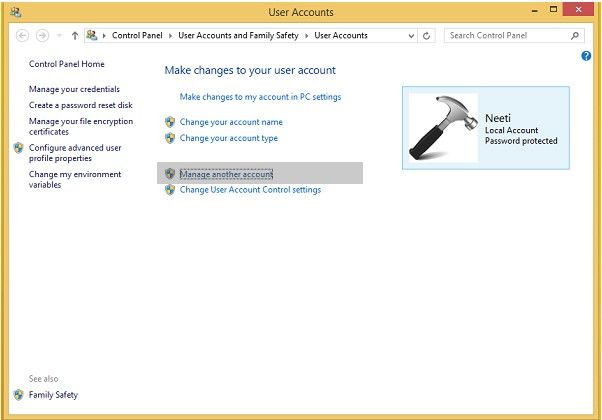 Step2. Click Add a user account option in this page to create a local account user. Then click Sign in without a Microsoft account (Not recommended).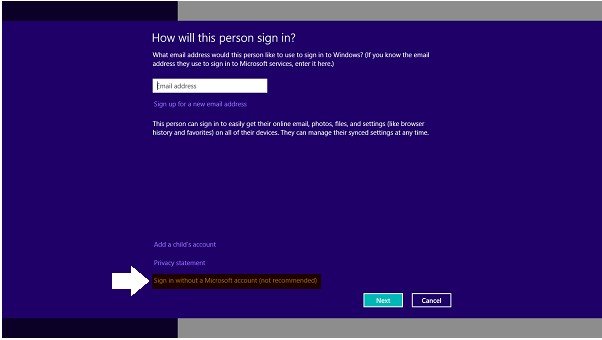 Step3. Click Local account and fill the details on the screen to add local account. Then click Next to move on next steps.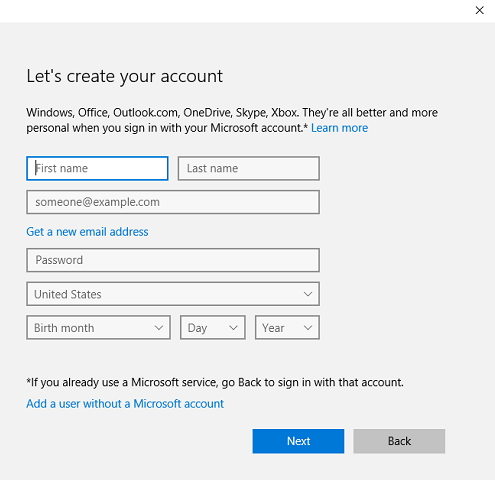 Step4. Press Windows Key+Q and type cmd and then click Command Prompt. Type shutdown/r/o and hit Enter Key. This step will make your computer boot into Safe Mode.


Step5. Here, press Windows Key+Q and type user accounts. Then you will find two accounts on your system. One is your issued administrator account and second one is local account which you've created in step3. Select local account.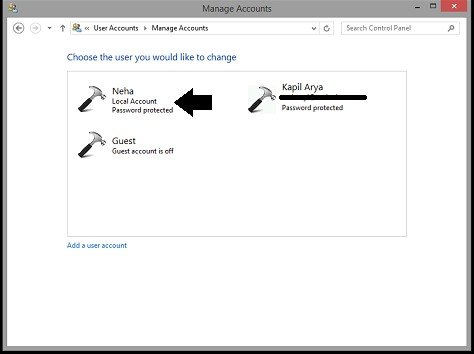 Step6. Now click Change the account type to change the account status from Standard to Administrator. Click Change Account Type.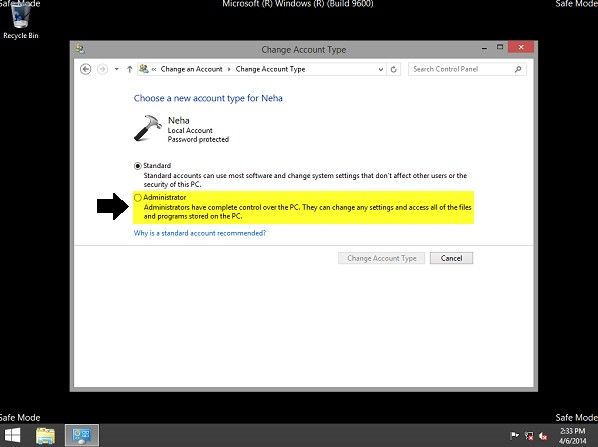 Now, you can restart your computer and log into this system with administrator you've created before. As it will enable you to have administrative privileges now, you can back your documents and other files from the old administrator account up. Finally, you can delete the old administrator account and switch to your created account. Then your system will act normally with full administrator rights in your hand.
Hope this article can help you more or less. If you have any questions about it, you can leave your comments in the comment section. Click Computer Helps to learn more tips about Windows.
Free Try Windows Password Recovery Tool
World's 1st Windows Password Recovery Software to Reset Windows Administrator & User Password.
Free Download
Free Download