When you boot your PC running Windows 8 or when you wake up your Windows 8 system from sleep, it will appear a screen different from the sign-in screen, which is called lock screen. So what is it and how to disable Windows 8 lock screen on your PC?
Free Download
Free Download
What Is Windows 8 Lock Screen?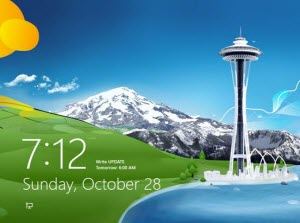 The Windows 8 lock screen is a full-screen, Metro-style experience that appears when you boot PC or when you wake up Windows 8 that is asleep. In the interface of lock screen in Windows 8, you can see information like the time, date, weather and other settings like network and power.
Windows 8 lock screen is modeled after the Windows Phone lock screen. And by default, it is not easy to bypass Windows 8 lock screen, the new mobile-based experience, to move to the sign-in screen after booting your PC or waking up your sleeping Windows 8. It seems to be an unnecessary extra step for users to login PC and if you prefer to remove windows 8 lock screen, you can try the following methods.
How to Disable Windows 8 Lock Screen on Your Desktop or Laptop?
There are 2 solutions to remove lock screen in windows 8: using Group policy settings and Registry Editor.
Solution 1: Using Group Policy Editor to Disable Lock Screen in Windows 8
Before you are going to use the Group policy settings, you need to login your Windows 8 using an administrator account to perform these steps. If you forget your password, use Windows Password Recovery Tool to help you recover Windows 8 administrator password.
Step 2: Navigate to Computer Configuration > Administrative Templates > Control Panel > Personalization.
Step 3: Double click "Do not display the lock screen", select "Enable" from the pop-up dialog and click "OK".
Now you are successful to change Windows 8 lock screen on your PC and it disappears immediately.
Solution 2: Using Registry Editor to Remove Windows 8 Lock Screen
Try to remember your Windows password and use any user account to login Windows 8 on your PC. Then you can take the below steps to disable your lock screen. If you forget your user account password, try Windows Password Recovery Tool to help you reset Windows 8 password and login your PC.
Step 1: Press Windows Key + R, type "regedit" and press Enter to open Registry Editor.
Step 2: Go to HKEY_LOCAL_MACHINE\SOFTWARE\Policies\Microsoft\Windows\Personalization. If you can't find the key, create it manually.
Step 3: Create a new DWORD NolockScreen and set its value to 1.
Step 4: Close Registry Editor and reboot your Windows 8 to disable lock screen. In some cases, your Windows 8 may turn to black screen upon boot. Then fix the black screen on Windows 8.
If you want to check whether you have disable the Windows 8 lock screen or not, you can type WINKEY + L to lock your PC. Then the sign-in screen will be displayed instead.
Free Try Windows Password Recovery Tool
World's 1st Windows Password Recovery Software to Reset Windows Administrator & User Password.
Free Download
Free Download