As you may know, bloatware have been a tough and annoying problem that slow Windows 10 device running speed? Then you are supposed to start by removing the bloatware to accelerate your PC. During the following tutorial we will show you how to remove bloatware on Windows 10 PC in a minute or less.
Before getting started with our tutorial, you should know what we understand when talking about bloatware. In this way you can be sure that you are using the proper solutions for speeding up your Windows 10 tablet, laptop or PC. So, before applying the solutions from below, read all the following lines and make sure that you understand all the aspects that will be detailed.
What is Bloatware?
Bloatware, also known as crapware, is unwanted computer software that makes your Windows PC run slow and sluggish. Nowadays, most brand new computers ship with a wide array of pre-installed software, most of which is often considered by many users as bloatware or crapware. While some of these programs can actually be quite handy, most are not, and they can be difficult to fully uninstall.
How to Remove Bloatware
Now you know what crapware and bloatware are, and you probably want to get rid of them. Luckily, you can easily remove them without any harm to your computer. There are a couple of ways to get rid of windows 10 crapware from your computers, here's how.
Solution 1: Remove Bloatware Manually from Windows 10
If you don't have a big amount of bloatware installed on your computer, the most straightforward way to get rid of bloat is to uninstall it manually, you can download a proper uninstalling tool and delete all unwanted software manually. You can search for the proper uninstaller to help you remove those annoying bloatware, the best programs for this are CCleaner, Revo Uninstaller and IOBit Uninstaller. You can choose either of them depending on your needs.
So, download your desired uninstalling tool, open it, search for all programs and features you recognize as bloatware/crapware and simply uninstall it.
Before getting rid of start destroying all unwanted programs, you should take another look, and don't uninstall something you have no idea what is. So, before you delete some unknown program or feature, you should make sure what it is first.
Solution 2: Remove everything from Windows 10 at once
If you have a lot of bloatware on your computer, uninstalling them one by one could be boring and time taking. So, it is a much better solution to uninstall them all at once. You can't do it with an usual uninstalling tool, but fortunately, there's a program which allows you to delete more programs at once.
Here we recommend the program called Decrap, it will completely scan your computer for installed programs, and you can easily uninstall everything you want. Here's how to properly use Decrap to get rid of the unwanted software:
Step 1: Download and install Decrap from this link to your computer.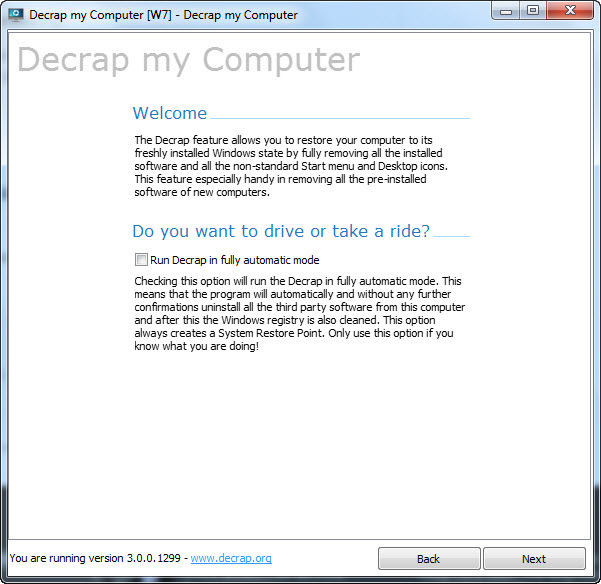 Step 2: Let it scan your computer for the installed software, once the scan is completed, just check all programs you want to uninstall (Bloatware is usually placed under "Automatically Starting Software" or "Third-party Software).

Step 3: Click Next and create a restore point when prompted
Decrap will ask you if you want to uninstall all checked programs automatically, or manually. Make sure that you checked the right programs, and you can uninstall all of them automatically.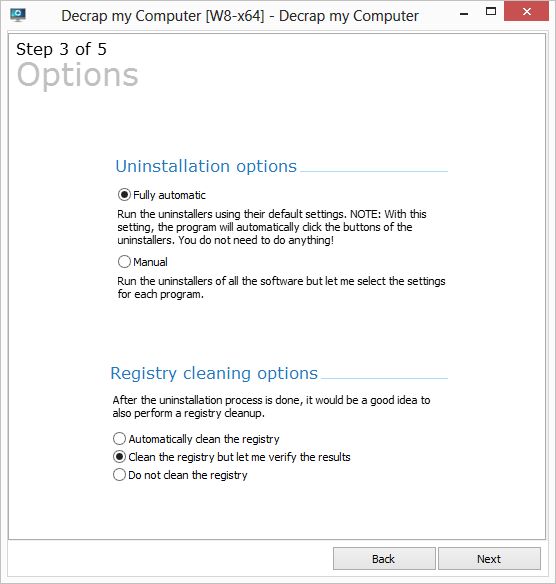 Step 4: Once the installation process is done, you'll have bloatware-free computer.
With the help of those methods above, you can learn how to remove bloatware from Windows 10 laptop. If you want to avoid other problms. For example, it has been reported that your Windows 10 your PC has been locked due to forgetting the password. No worries, you can give Windows 10 Password Recovery Tool a free try, then tell us your experience with it in the comments, we will reply as soon as possible.
Free Try Windows Password Recovery Tool
World's 1st Windows Password Recovery Software to Reset Windows Administrator & User Password.
Free Download
Free Download