Have you ever met the similar trouble as below when you want to permanently delete file trace and make deleted files unrecoverable:
"I have a few files in my Trash Bin that are locked and cannot be emptied when i try to empty my trash bin with other files in it. It removes unlocked files but the folders still remain. I've tried clicking "Remove All Items" but they do not get removed."
You may don't know that even if you empty the recycle bin, the files are still recoverable. Therefore, for your data security, you should learn how to permanently delete file traces and make deleted files unrecoverable on Windows 10/8.1/8/7 instead of simply deleting manually.
Why are Files Recoverable after Delete Them?
When you delete a file in Windows, it isn't really gone. Windows merely deletes the information about where the file is located on the disk, and marks the space it occupies as available for new files. That's why it's sometimes possible to recover deleted files, so long as new files haven't been written over them.
Steps to Delete File Trace and Make Deleted Files Uncoverable
To permanently remove deleted files trace on Windows and make the deleted ones unrecoverable, you need a professional program to do that. Windows Care Genius is such a tool designed to erase files permanently for Windows. This program is an all-in-one utility, which can thoroughly delete any traces of your computer operation, completely remove deleted files, shredded files from your PC, to make sure they can never be recovered.
In the following tutorial, We will show you how to permanently delete a file and make it unrecoverable.
Step 1: Install Windows Care Genius on a Computer
Please download and install the free version of Windows Care Genius on your PC, then launch the program when installation is completed.
Step 2: PC Checkup
Click "Checkup" button, then the software will automatically find the potential security problems. After the scanning is finished, you will see the whole health state of your PC showing with score 0 to 10.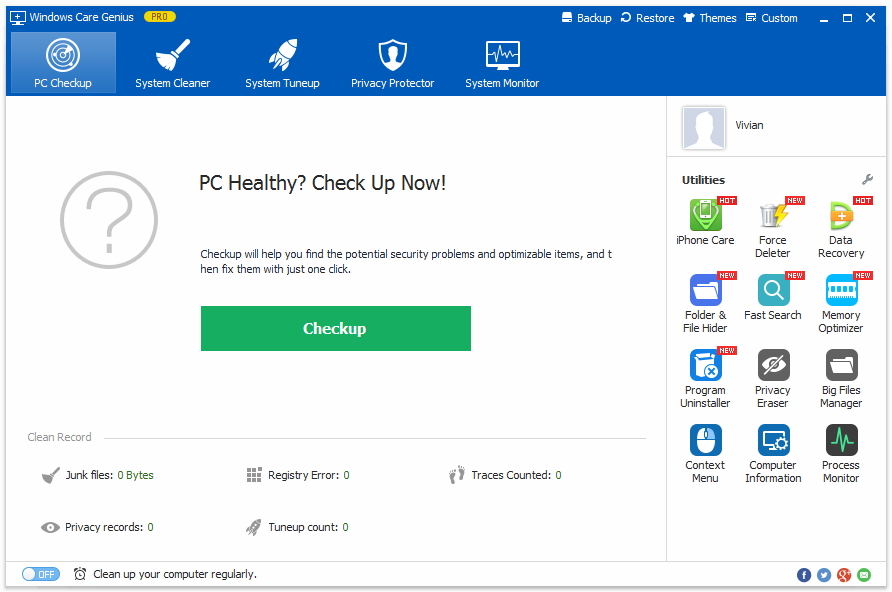 Click "Fix" button to starting fixing all these problems in one click. After the fixing process, PC cleanup is complete, and you will see your PC get the highest mark 10, which means your computer is at its peak performance now.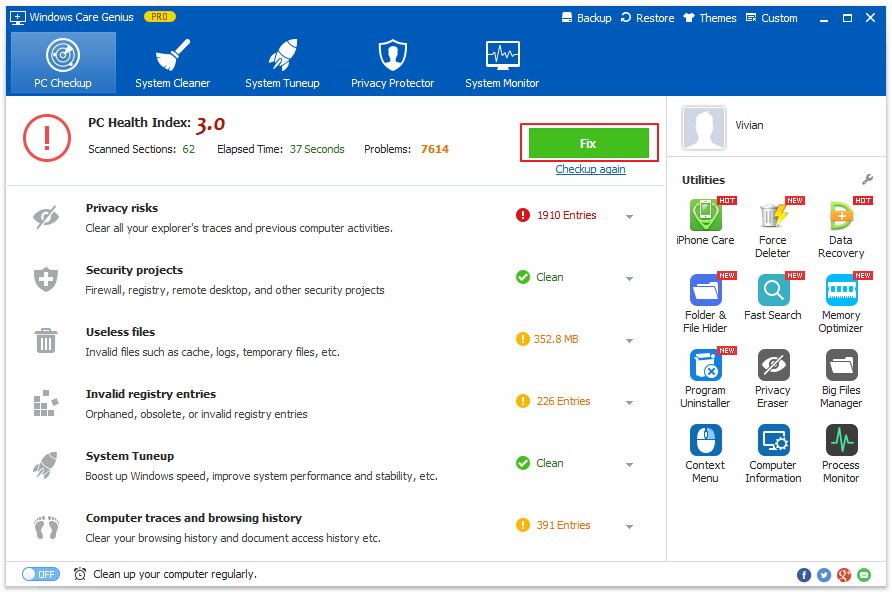 Step 3: System Cleaner
Select "Common Cleaner", which is able to clean useless files and traces in computer, including downloaded history, browsing history, form history, invalid shortcuts, traces, caches, cookies, etc. Click on "Scan" button to start an instant scanning and then click "Clean" will remove junk files you don't need.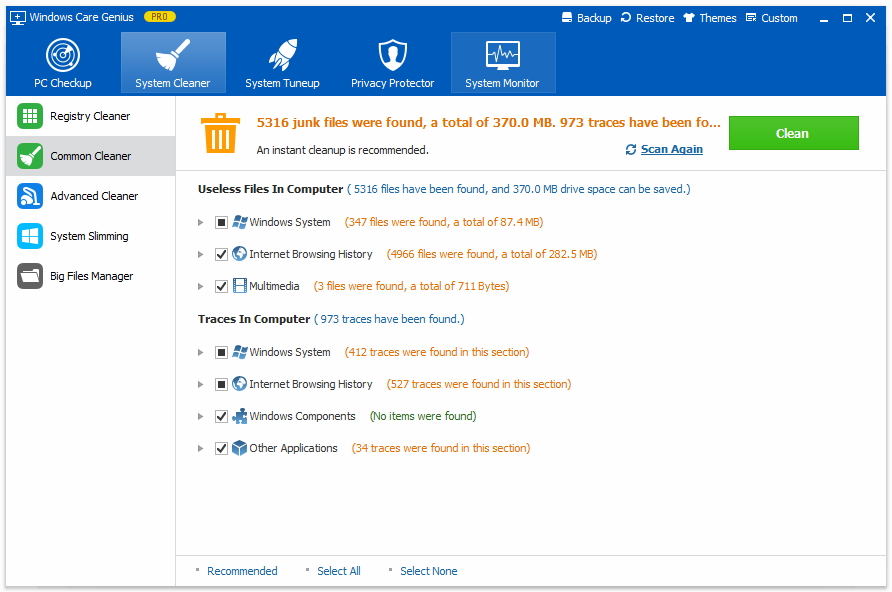 Now files have been deleted permanently, you can feel confident in knowing that your data has actually been removed on Windows 10/8.1/8/7 and will no longer be recovered by anyone (not even by you).