Computer picks the worst time to have problems. One of the most frustrating things when you are using a computer is you encounter the issues like:
Your computer freezes during Windows startup.
Or your computer freezes on the Windows splash screen, in which case you have to restart it manually, only to freezes at the same place again.
Or maybe your computer freezes, where the mouse and keyboard become unresponsive and programs hang, Windows might seem like it's trying to start but eventually you have to manually restart it, only to see the same behavior again.
Computer freeze is typically easy to fix if it's an isolated problem. But if your computer freezes up on a regular basis, your computer may have a more serious issue. If these are the cases, you have to find a method to fix the issue if your computer freezes.
Fixing computer freezes requires a third-party program. Windows Boot Genius is one of the most effective or easiest utility I have ever tested. It creates a bootable disk and starts up your computer from it. That's to say, even though Windows freezes on start up, you can thoroughly fix the issues no matter Windows 10 Freezes, Windows 8.1/8 freezes, Windows 7 freezes, Vista/XP freezes.
Regardless of the specifics, this is the troubleshooting guide to use if Windows freezes. Here we take laptop freezes for example.
Buy Now
Easy Steps You should Know if Laptop Freezes
Step 1: Create a Boot Disk
Since your Windows computer freezes at the time you unexpected, sometimes it occurs at starting Windows screen, this Windows Boot Genius enables you to create a boot disk even if you can't login Windows system. Insert a blank CD/DVD or a writable USB to a working computer. Launch this software, you will get an interface like below. This program checks the boot media automatically (if not, check it manually). Click "Burn" to start burning a boot disk.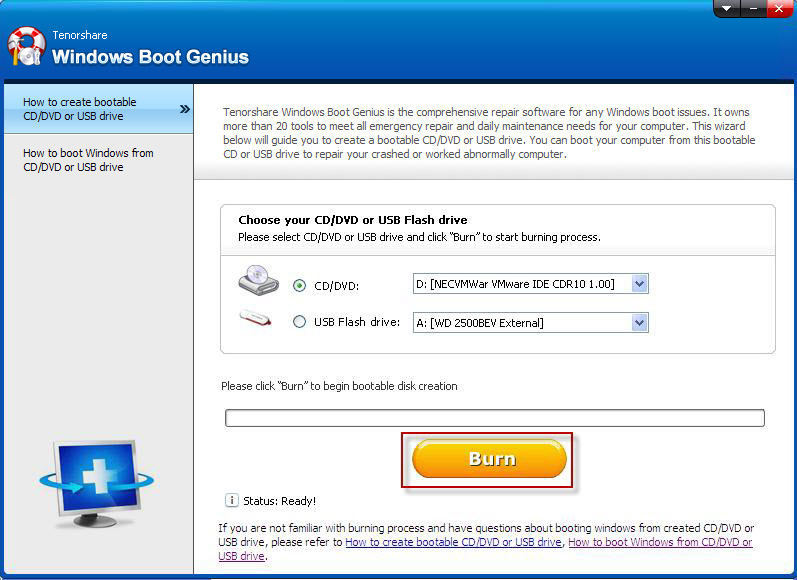 Step 2: Boot the Freezing Laptop from CD/DVD/USB
Then turn to the freezing laptop: insert the boot disk to this laptop. Start it and set the boot order to set the CD or USB as the first boot device in BIOS. Press "F10" to save the settings. Then your laptop will reboot automatically, and attempt to login into the Windows which is burned on the boot CD/USB.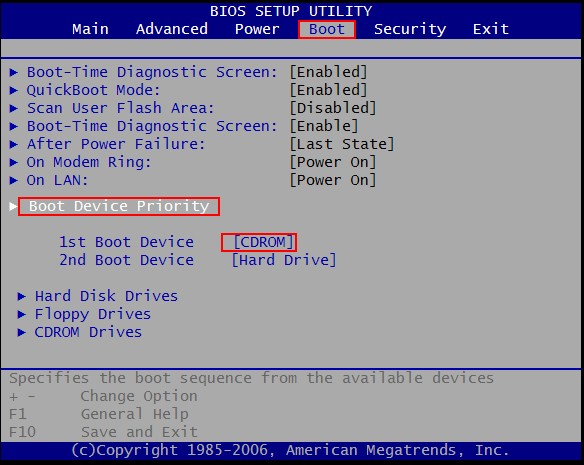 Step 3: Fix Computer Freezes
After a while, you will enter a system with WinPE technology. Double click the icon of Windows Boot Genius to launch this software. Go for "Windows Rescue" to choose the resolution according to your computer's symptoms: choose "Crash before loading bar" if your computer freezes on startup; choose "Crash on loading bar" if your computer freezes on the Windows splash screen; choose "Crash after loading bar" if your computer freezes randomly.